When it comes to mother of the bride hairstyles, everyone has the same question; "what's my perfect look?". To help answer this question we've put together this style guide for all hair types and lengths, dress cuts, and all varieties of wedding themes.
There are plenty of classic styles to consider, and a lot of newer hairstyles for mother of the bride that you'll want to be introduced to. We've considered layers, braids, updos, and all of the accessories that you could want.
There's also a few tips – like making sure not to outshine your daughter on her big day – and guidelines to follow, so click through and stay tuned.
Photo 1-6: Mother Of The Bride Hairstyles – Updos
The first thing to consider when choosing your bridal hairstyles is the wedding theme. A traditional wedding usually calls for a more formal hairstyle. Outdoor, rustic, and boho wedding themes allow more flexibility like loose and wild curls.
The gown style also plays a major role. A long and flowing dress usually pairs best with long hair worn down. A tighter fit or lower neckline looks gorgeous with updos.
The final main ingredient is the length of hair you are working with. Extensions are very much an applauded option, but if you want to stay with what you already have, short, medium, and long hair all have their restrictions and opportunities.
Updos are the first look you should consider. Updos offer a variety of styles that will fit any theme, any dress, and most hair lengths. For modern and traditional themes alike, if you opt for an updo go with, our favorite, the chignon. Pronounced "shen-yan", this style pulls the hair back into a beautiful bun or knot which is very flattering and a lovely look for the glowing mother of the bride. This is an especially attractive style for mothers who wear bangs. Together, this hairstyle creates a delicate feel and a great frame for the face.
The Audrey Hepburn inspired look can be worn soft and classic, dressed up with intricate braid work, or dressed down as a 'messy bun' for outdoor weddings.
Source: El Stile, bridal_hairstylist via Instagram, Julia Mejkaz via VK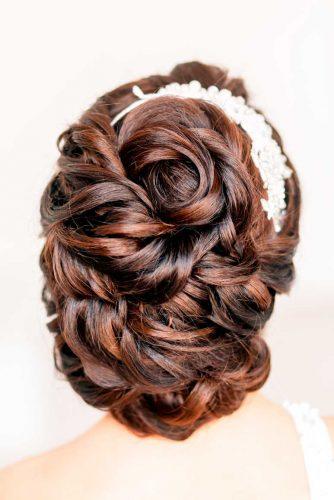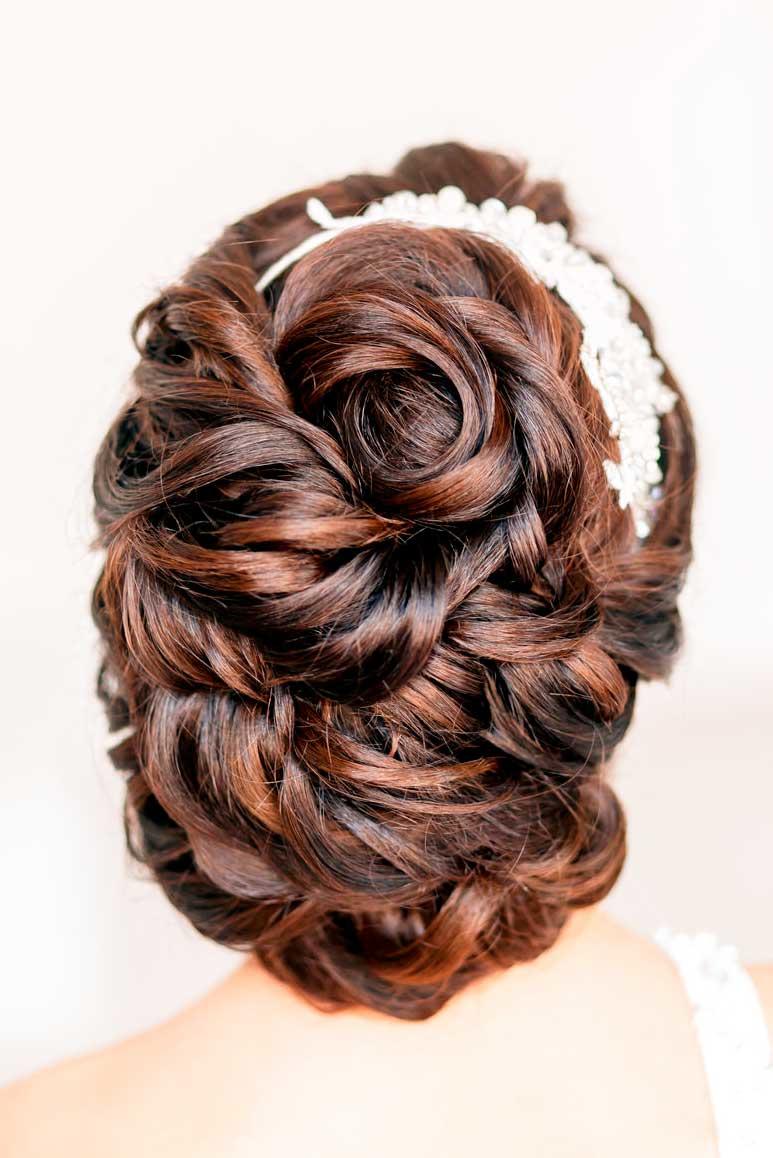 Creative curls
There are lots of variants of the mother of the bride hairstyles updos, but this one is probably one of the most creative ones. Just loop your hair through and add a little twist. Curl up loose strands.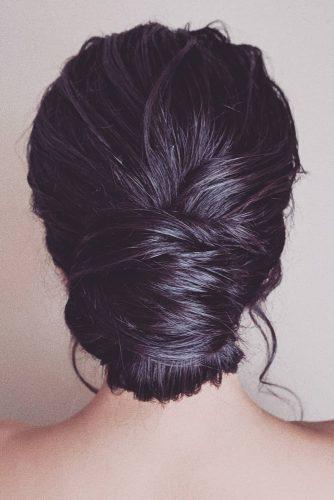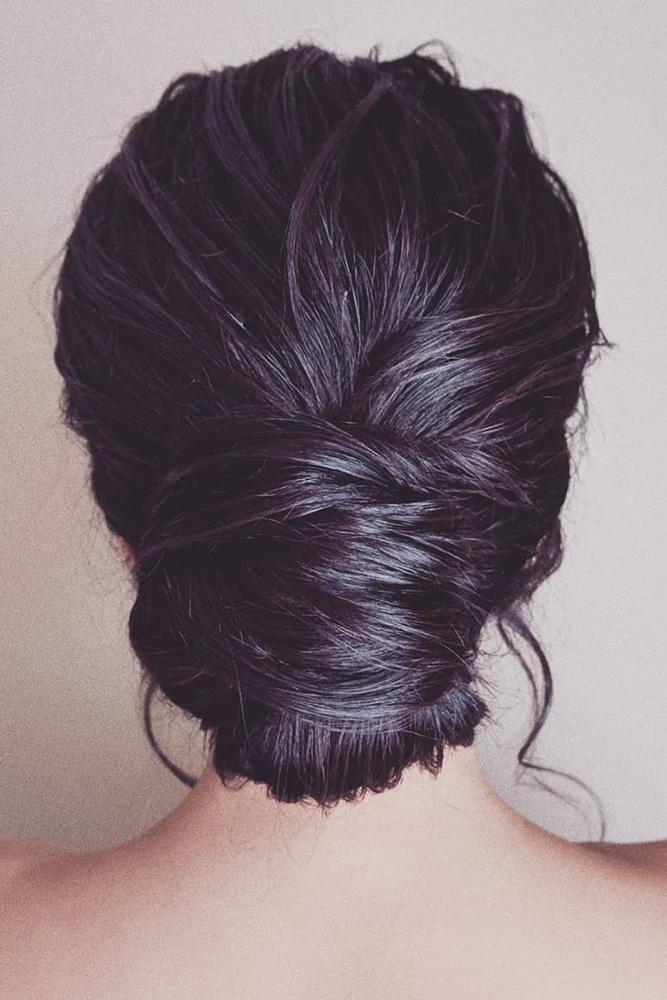 Vibrant hair knot
If your mother has a fresh vibrant hair color, show it off with a smooth and sleek hair knot. Smoothness will add extra shine to the hair color. Looks best with aubergine, bright red and other bright colors.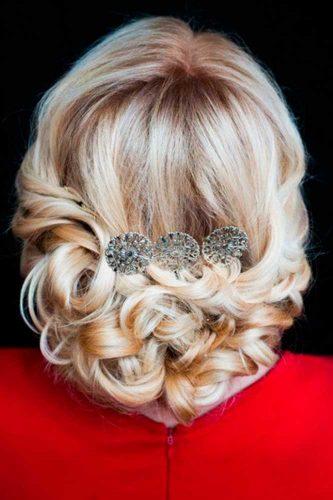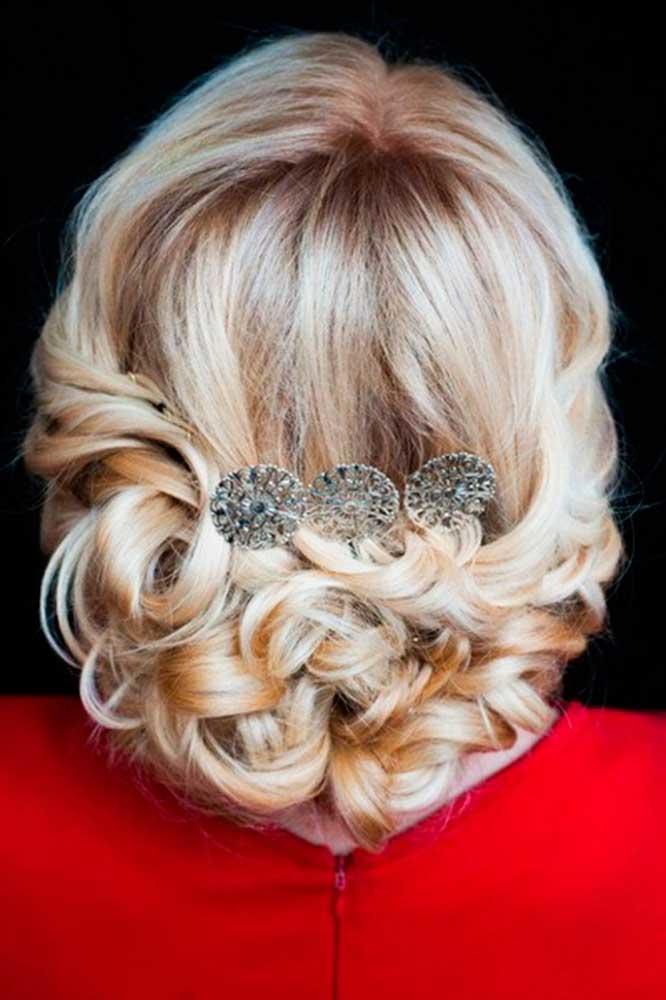 That retro look
There is hardly anything as stylish, as retro. Grab your hairpins and put your hair up. Add some volume for an old-school Hollywood look! A great idea for a themed wedding.
Source: tonyastylist via Instagram, tonyastylist via Instagram, Julia Mejkaz via VK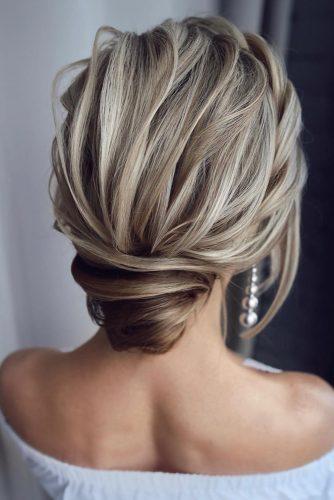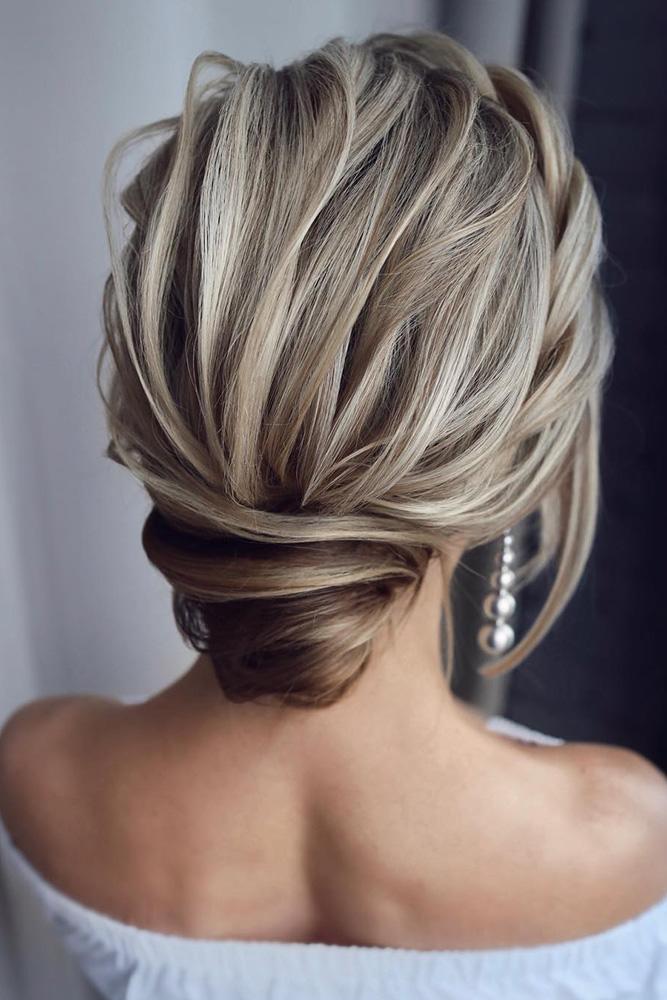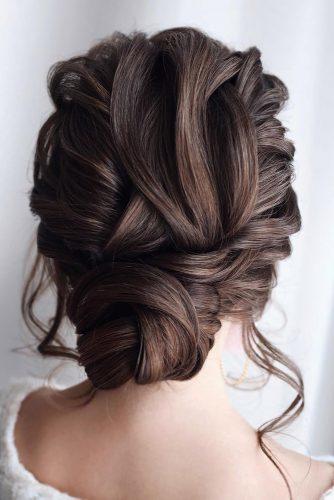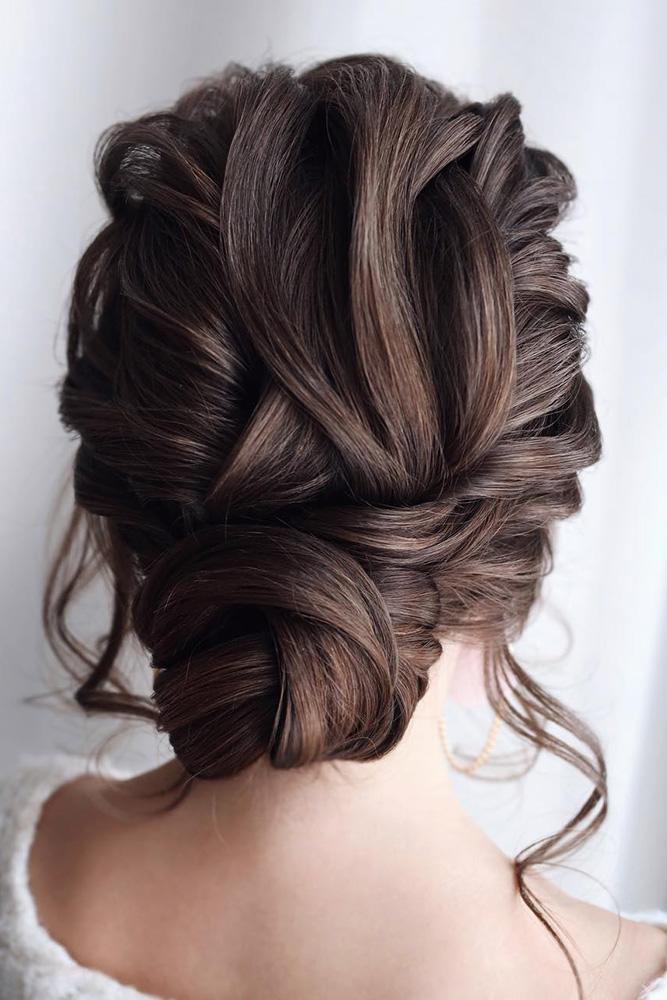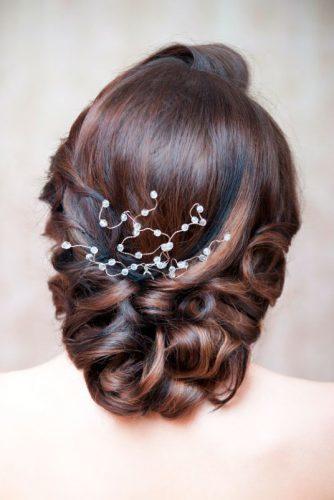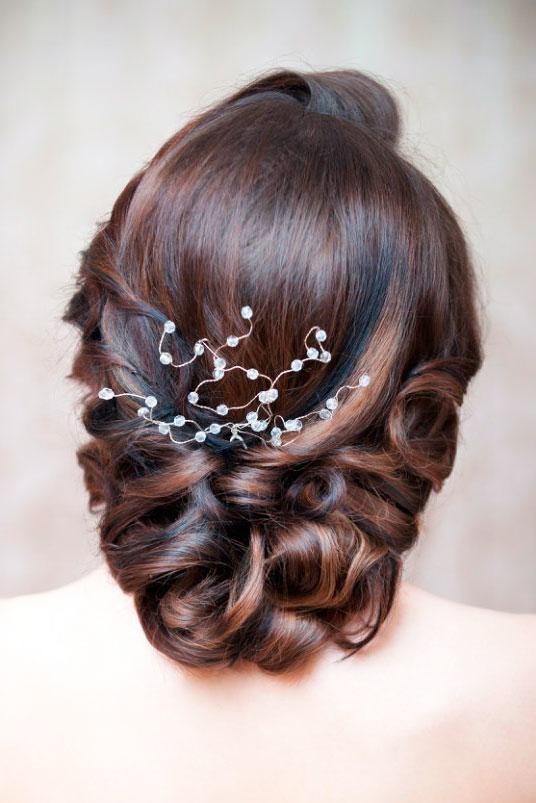 Looking for wedding hairstyles ideas? Check out top Pinterest trends!

Photo 7-12: Mother Of The Bride Hairstyles For Short Hair
If you are in search of mother of the bride hairstyles for short hair, the first options to consider are updos or half up, half down dos. Updos offer great versatility when it comes to straight, curls, and weaved style options. This hair length is absolutely fantastic with hair accessories. One tip to pay attention to is not over shining the bride. With this in mind, you'll want to avoid a tiara or elaborate headband. But, combs and pins are highly recommended.
Again, you'll want to weigh your options against the gown you'll wear as well as the wedding theme. Excellent options include pearls, jewels, and anything delicate and ornate. Our preferred short wedding hairstyle if the French Knot.
Stylish mothers who are adventurous with new and retro trends can add some flare to this look with a few curls or ringlets for the perfectly balanced ensemble. Pixie cuts and cute bobs can seem like an everyday kind of style, but with the right accessories. Flowers, feathers, and art deco headbands can all transform a standard do into a luxurious look.
One rule of thumb to keep in mind is that the larger and more ornamental your accessory the more simple your hairstyle should be. Otherwise, there will be too much going on and you'll seem off balanced.
Source: belaya_lyudmila via Instagram, hairandmakeupbysteph via Instagram, verafursova via Instagram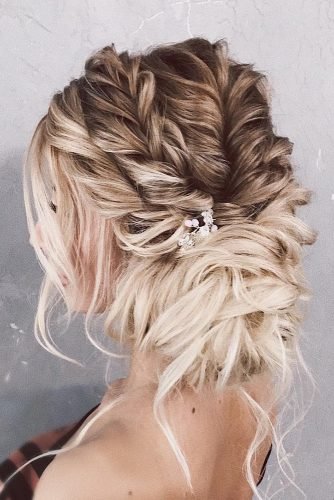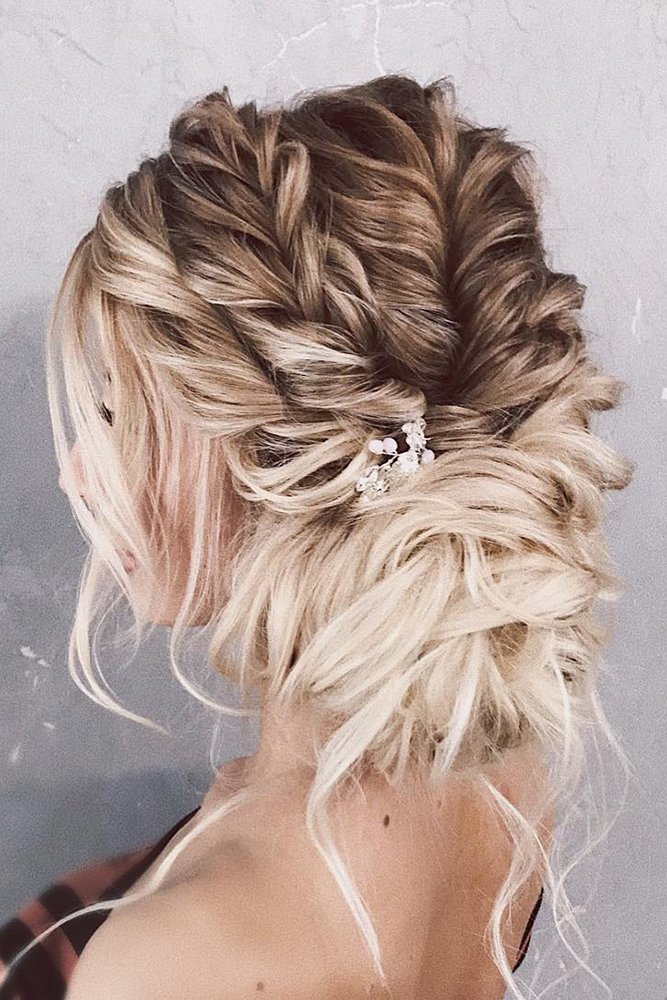 Boho braided style
If you want your mother to look carefree and regal at the same time, go for a braided style. Make two side braids and pin them together with a hairpin. Curl up the loose ends. Beautiful!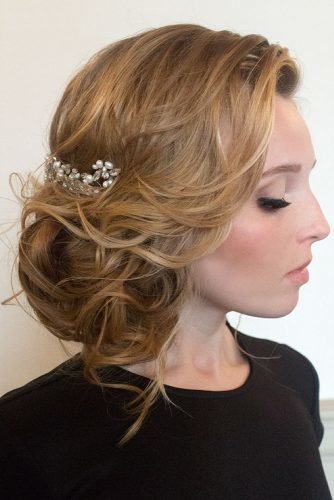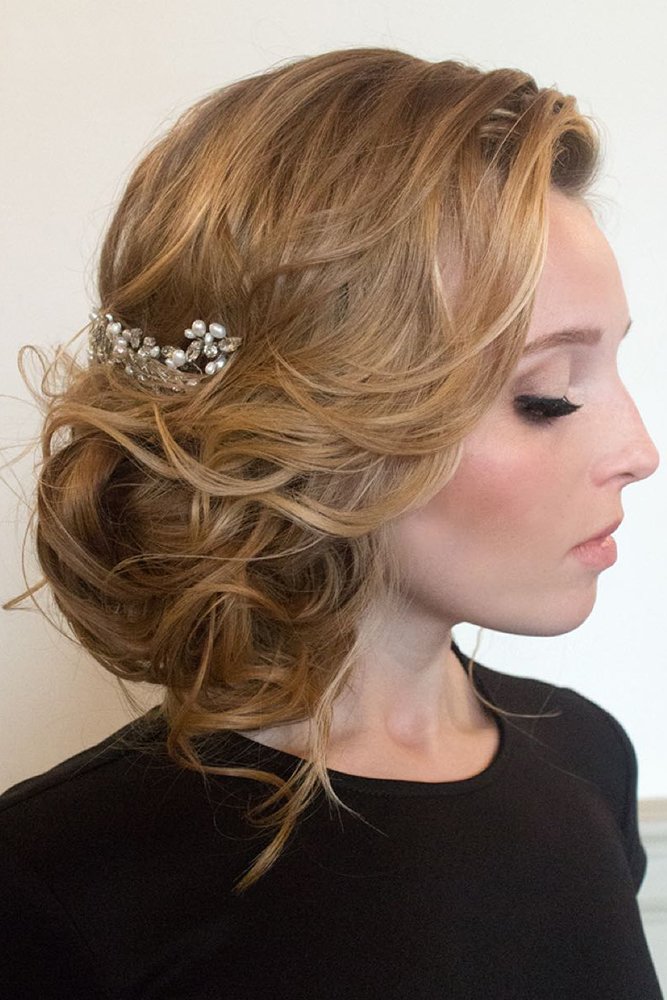 Elegant wavy half-up half-down
This style is perfect for any hair length. All you need to do is pin hair from each side back for an easy half-up, half-down hairstyle, and add a wave. Don't forget to leave out bangs and a few strands for that trendy effortless look.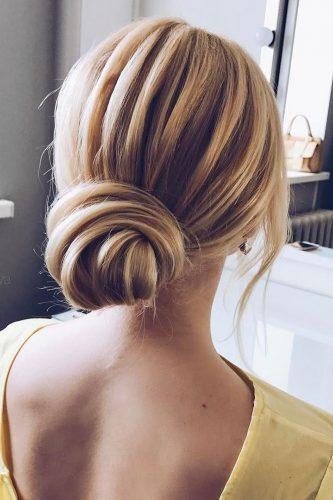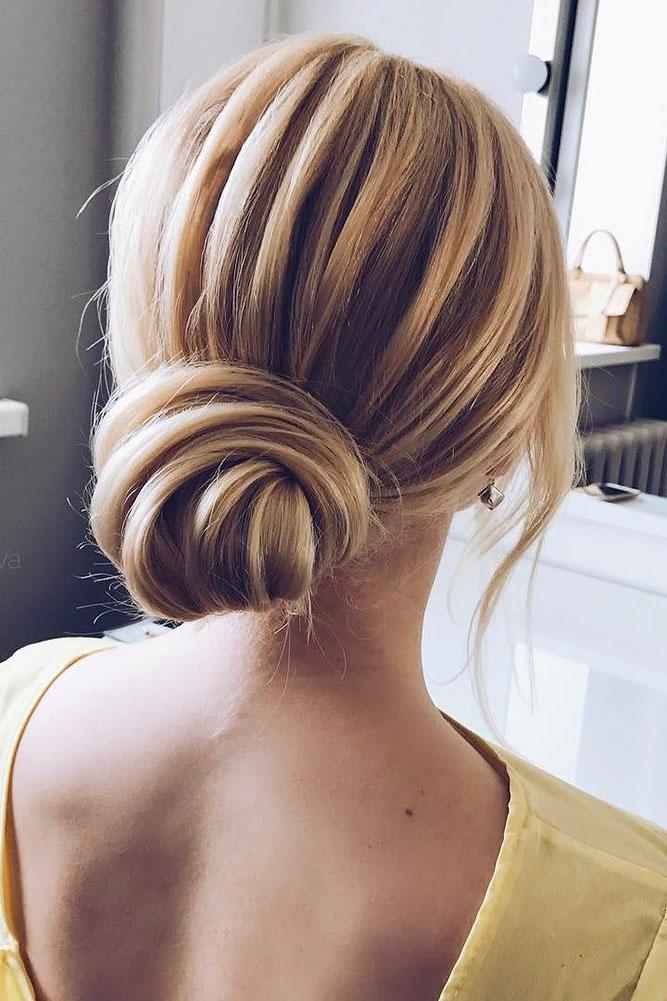 Formal updo
Want to keep the traditions going? This simple, yet elegant hairstyle seems to be straight from the 50s. Its smooth lines will look best on thick medium length hair.
Source: Motif Photography, leteria via Instagram, zuhra_stylist via Instagram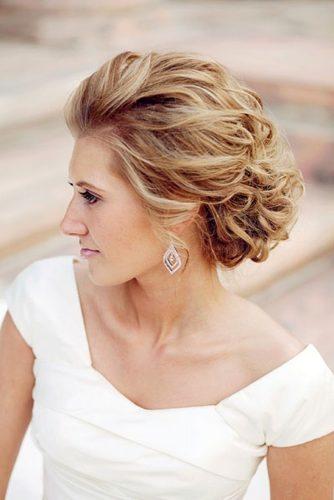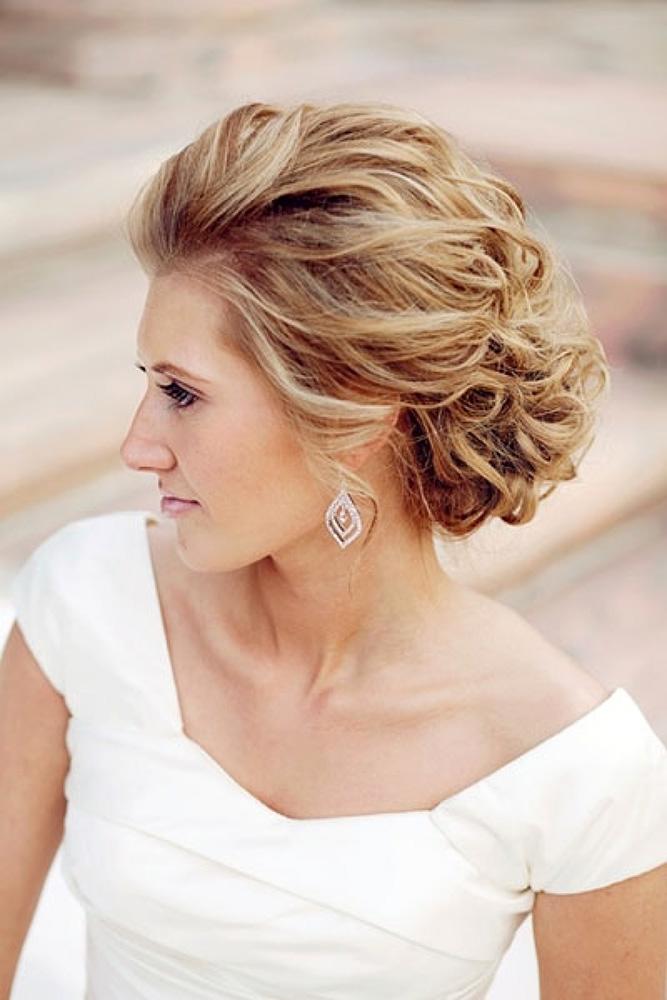 Woven hairdo
Bridal trends can also be applied to the mother of the bride updos hairstyles. Loose curls and woven hairstyles are among top trends this season. So if your mother's hair length and thickness allow such manipulations, this style is just for you.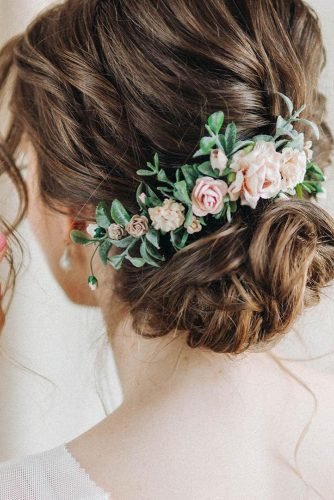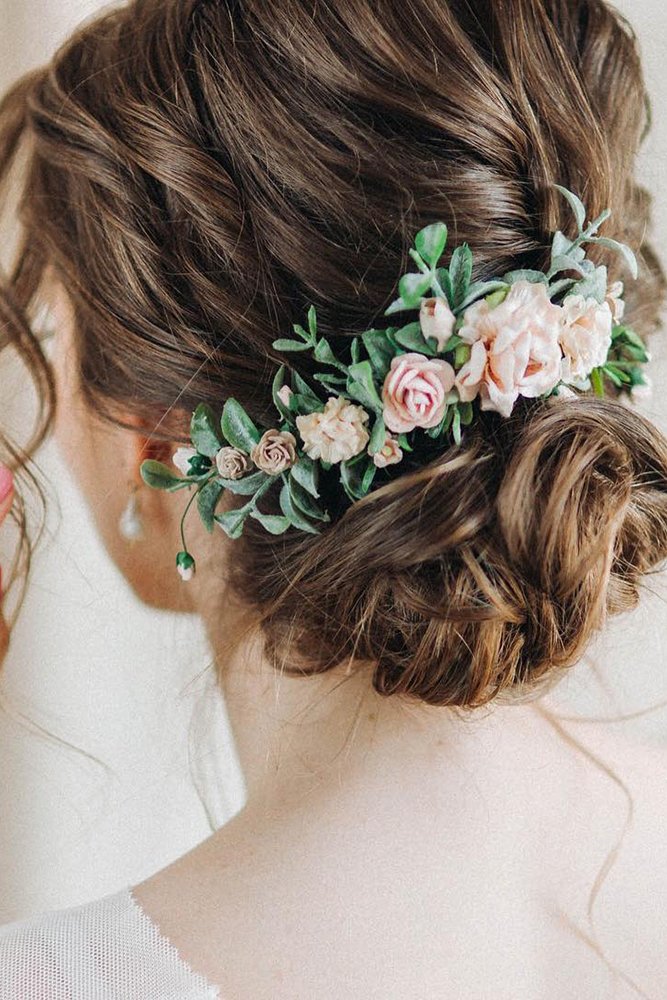 Flower power
Are you a boho bride? If your own wedding hairstyle has flowers in it, it is a great idea to make matching hairstyles with your mother! Add a simple flower to your mother's well-groomed hair to highlight your family ties.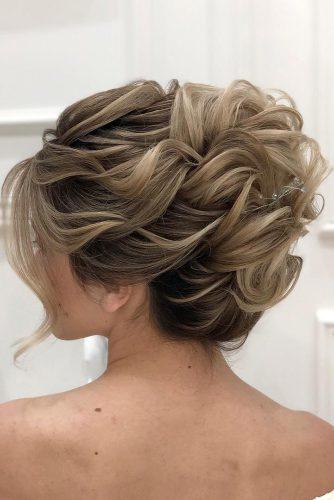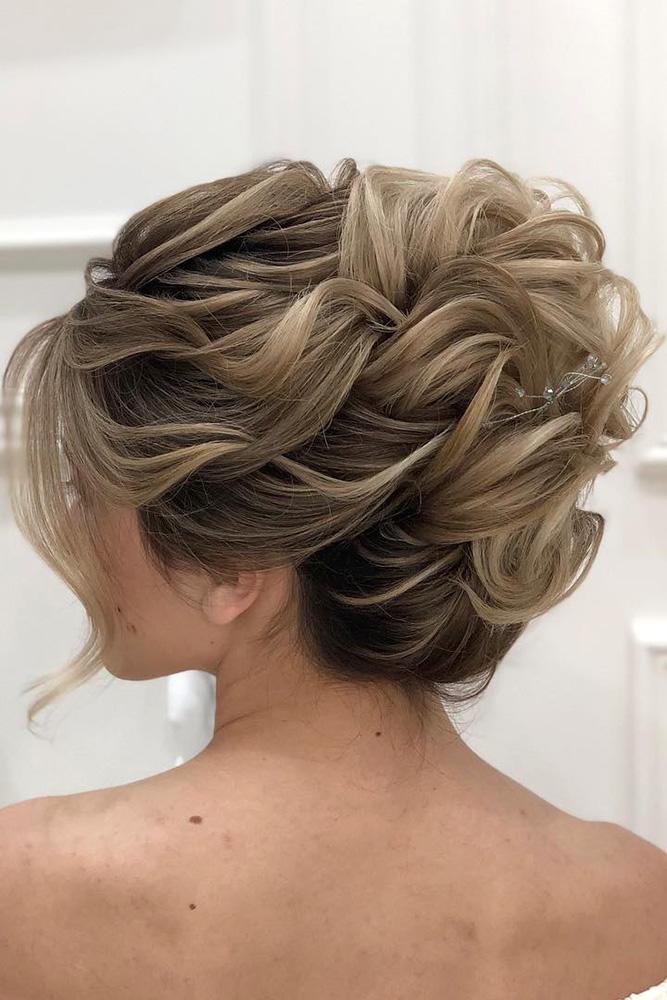 Upswept
Upswept is one of the most glamorous hairstyles for mother of the bride. Its timeless look will look flattering on any hair. Who said the mother of the bride should look their age?
Photo 13-18: Medium Hair Hairdos For Mother Of The Bride
Mother of the bride hairstyles for medium length hair is perhaps the easiest to work with considering all of the options. Your best bet is to browse all of our photos and bring your favorites to your hairstylist a few weeks in advance. Consulting with him or her will give you the chance to think about your choice before you go through with any cutting, coloring, or styling.
If you would prefer a little inspiration before you head off to the salon, our rule of thumb is to work with your accessories first. No doubt you'll have earrings, necklaces, and hair combs or pins that simply must be shown off. You're also in luck when it comes to the neckline of your dress when you move on to matching your hair to your dress.
Many necklines have trouble pairing with really long hair or really short hair, but medium length is just right. For example, an off the shoulder or one shoulder dress would not do well with long locks covering up your elegant neck and shoulders and short hair often has difficulty looking quite right with a traditional gown.
Medium length hair allows you to wear it up, wear it down, or wear it anywhere in between. This leaves your beautiful pearl earrings exposed while still fitting in with the dress and theme. Shoulder-length waves are perfect for a beach wedding. Your vibrant locks will sparkle in the sunlight and really make your high and lowlights pop.
For indoor wedding ceremonies and receptions, go with an upswept hairstyle. This classic style is the perfect look for mothers of any age and is the perfect classic look that compliments traditional themes.
Boho Chic isn't just for bohemian themed weddings. This look is great for all outdoor and rustic themes, and work well in a traditional setting if paired with the right accessories. Bring your boho chic look into a traditional setting with a sparkling side headdress. Or, add a few art deco pieces for the perfect vintage look. Taking all of this into consideration will help you achieve the perfect photoshoot.
Source: heidimariegarrett via Instagram, Elstile via Instagram, dolcevitaspasalon via Instagram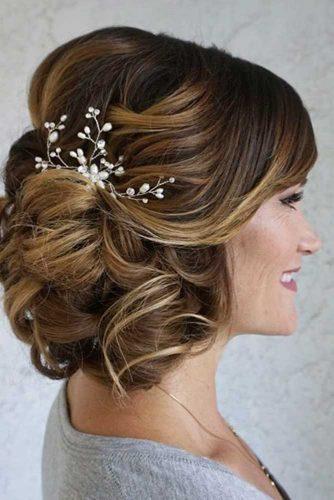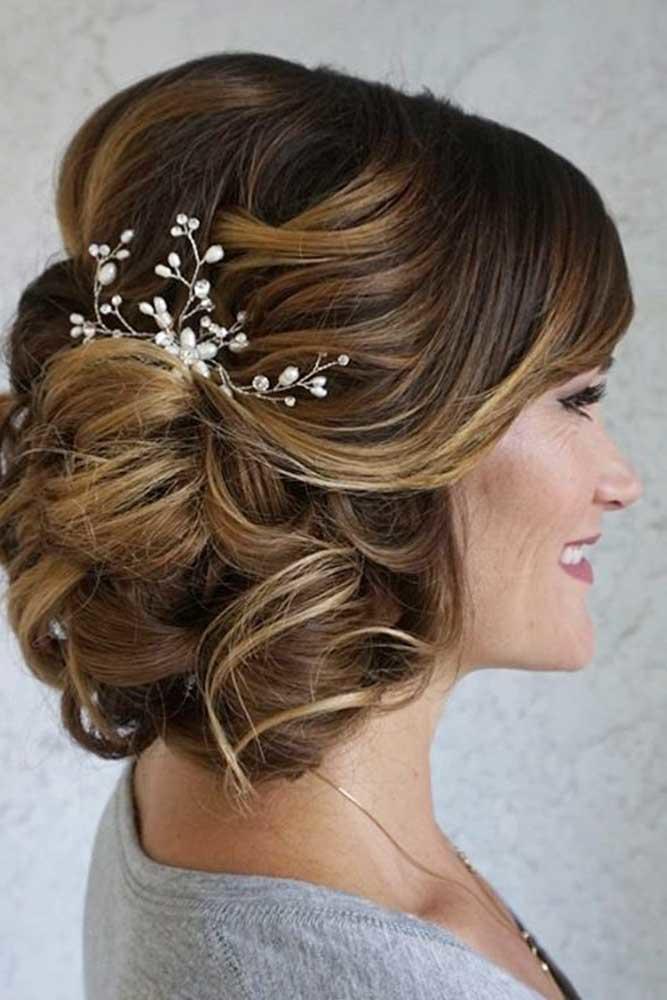 Curly updo with bangs
Even if you don't have long hair, a curled updo will give your hairstyle volume. Just leave out and curl up several side strands to frame the face. Give your bangs some extra smoothness with hair mousse. Voila!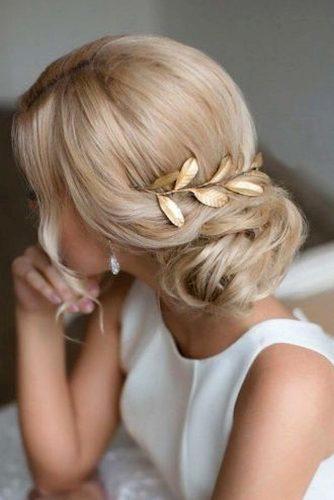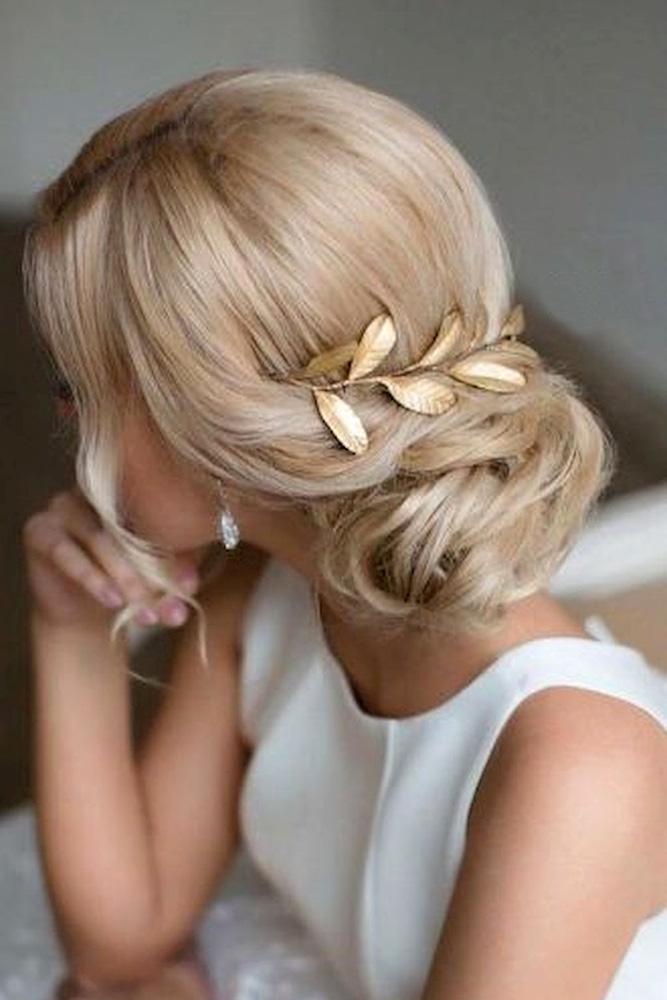 Chignon
If your mother has shoulder-length hair, it is enough for an elegant chignon at the nape of your neck. This mother of the bride hairstyle looks very sophisticated. Add some more glamour by using a jewel hairpin or a barrette.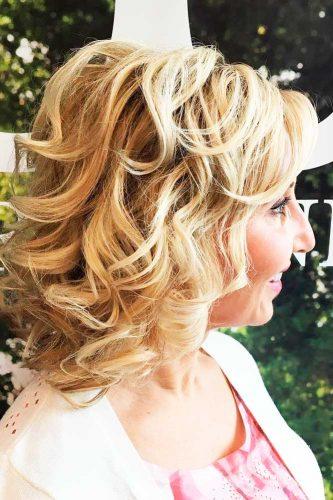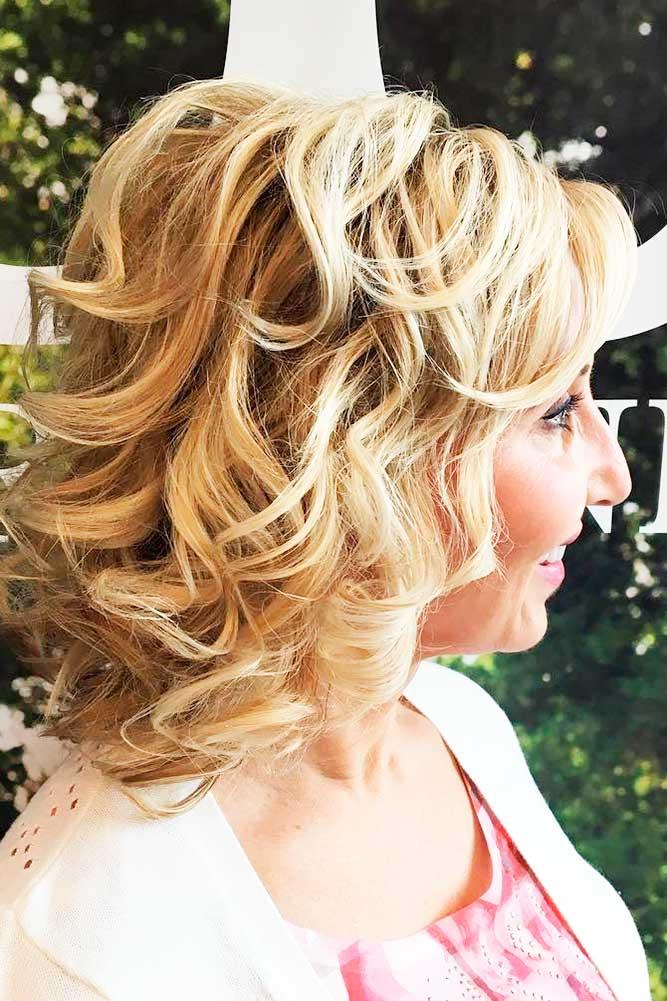 Curls and locks
Simplicity is high on the trends this year. If your mother boasts glorious natural curls, don't overthink! You don't want to spoil the natural beauty! Just keep them under control with some hair gel and keep it simple.
Source: sarahwhair via Instagram, hairandmakeupbysteph via Instagram, happilyeverafterhair via Instagram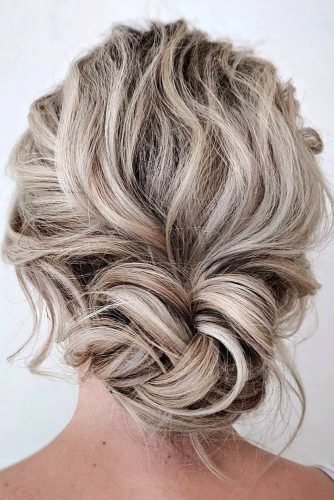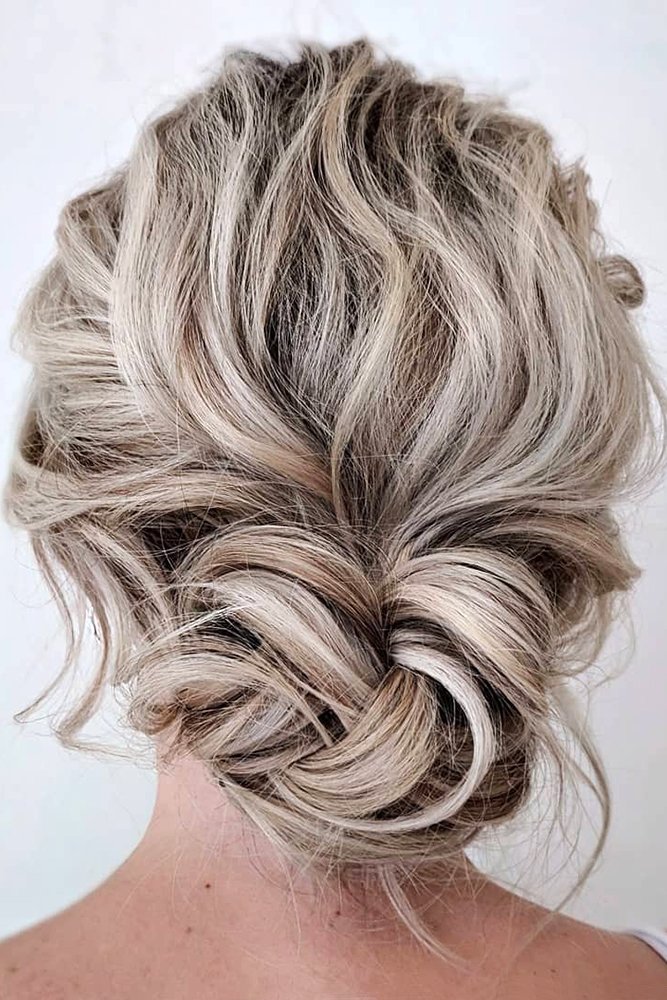 Loose updo
Weddings used to be a very formal event. Well, modern trends are a lot about freedom. Show off your mother's rebellious spirit at your boho wedding with this loose updo.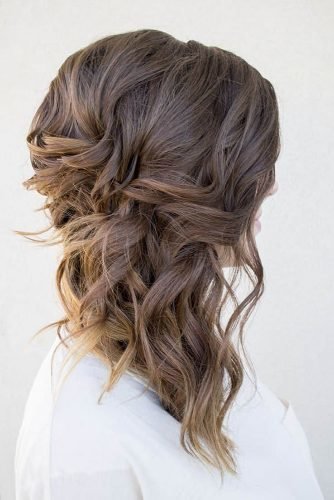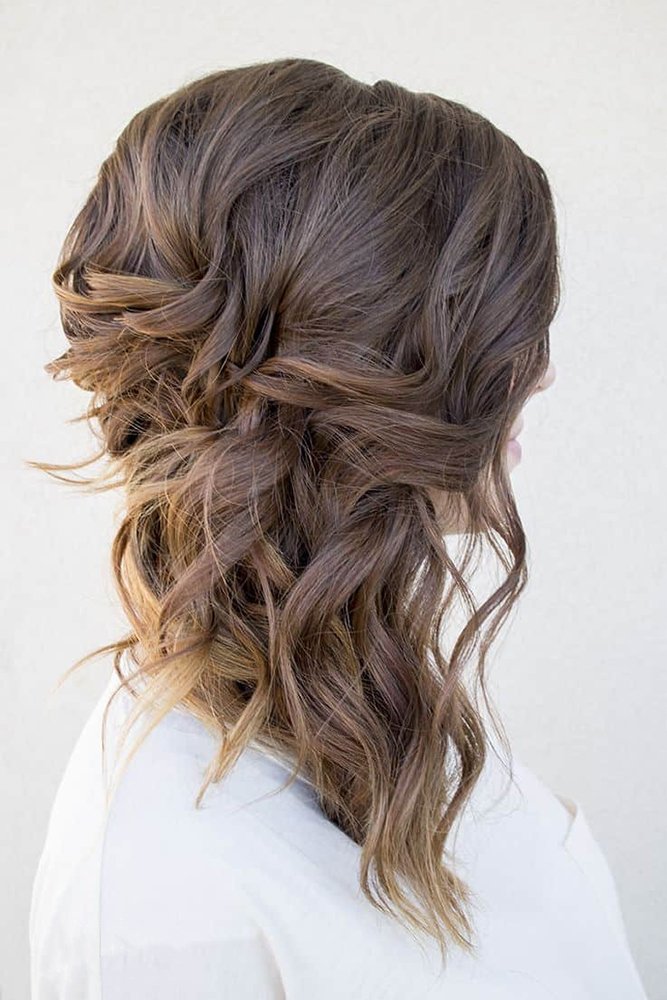 Curls and volume
Don't want to spend a lot of time at the stylist with a complicated hairstyle? We have some life hacks for you! Curls make any mother of the bride hairstyles look dressier.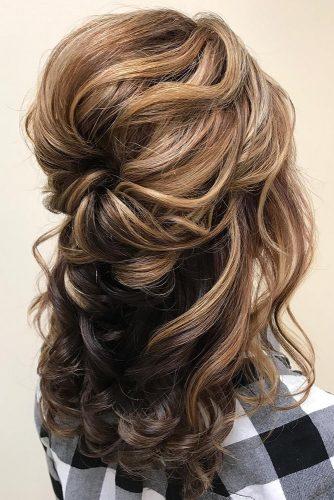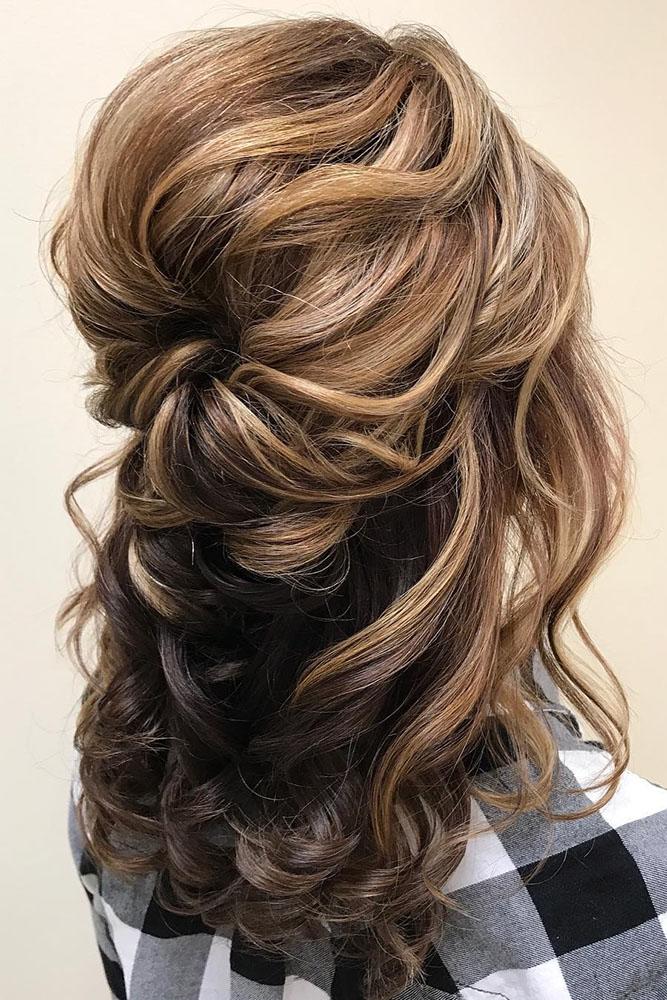 Traditional half up half down
A half up half down hairstyle has this perfect balance of romance and formality. It looks classic, but not boring. Add some waves to the stray locks for an extra tender and feminine look.
Photo 19-24: Long Hair Ideas For Modern Mother Of The Bride
Mother of the bride hairstyles for long hair can be super fun to work with. Beyond all of the braids, weaves, ups, and down options, mothers of the bride looking for hairstyles for long hair may want to consider an adventurous color.
Modern trends involve fresh natural color, or something a little outside of traditional like blue or deep red. You can't go overboard with your hairstyle and end up outshining the bride but that doesn't mean you can't turn heads.
For mothers of the bride that find new color a touch too bold, we recommend a pulled back, slightly loose style combined with a modest hair accessory. We also love the blown out and layered looks, which you should consider if your reception dress is long and flowing. If this is your look of choice, make sure to invest in some high end product so that your locks are appropriately smooth and vibrant. Our favorite style for long hair is cascading waves with a little salt spray for added texture.
For mothers of the bride who prefer to wear their hair down, make use of a medium barreled iron, place a few strategic hairpins and you're all set for traditional, boho, and every theme in between.
Trendy mothers with long hair should strongly consider spiral curls tied together with floral blooms. Beach weddings call for glamorous retro inspiration. Greek hairstyles are making a noticeable comeback, and are just perfect for long hair. For the perfect photoshoot, tie your hair back and up accessorized with laurel leaf or golden olive leaf headbands.
Source: missysueblog via Instagram, kamalova via Instagram, lidiya_byt via Instagram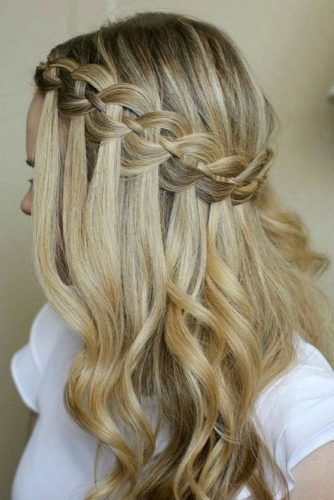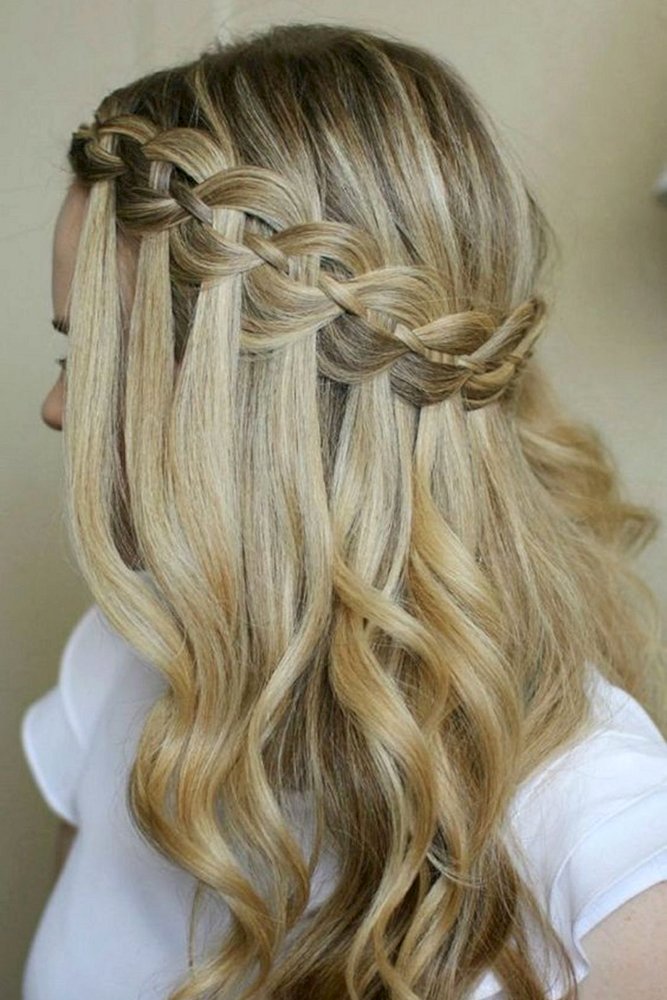 Waterfall braid
Waterfall braids are hot this season, so why don't you go for that amazing hairstyle? A simple side waterfall braid will make your mother look very elegant and feminine.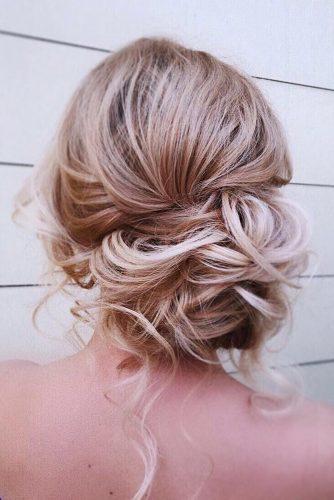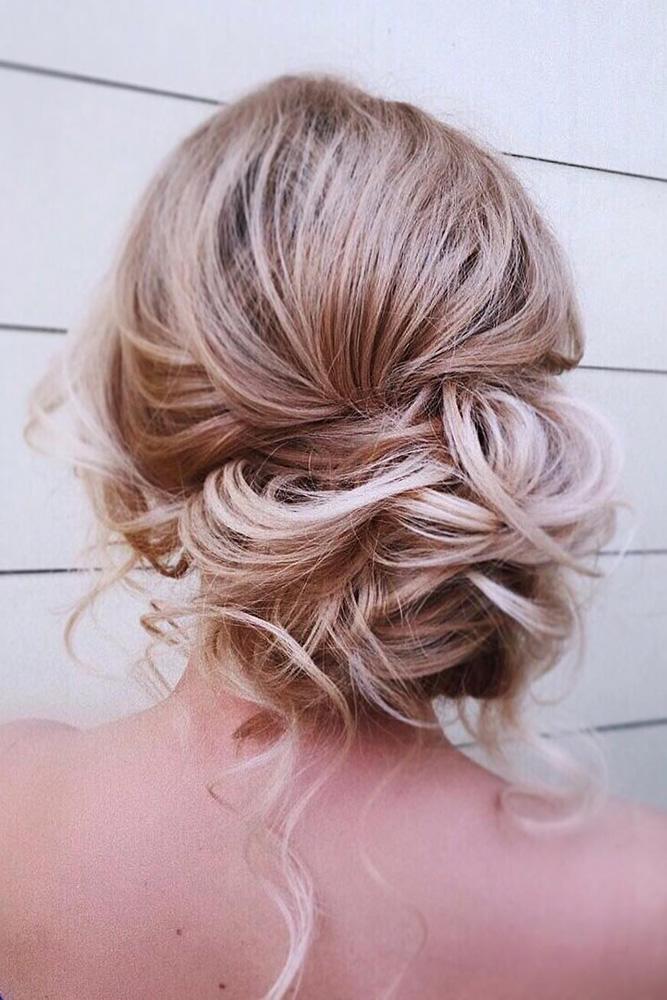 Asymmetric updo
Yes, asymmetry is definitely on the rise. This trend used to be popular on short haircuts, but these days it gains more and more ground. Try a low messy asymmetric updo for a feminine modern look.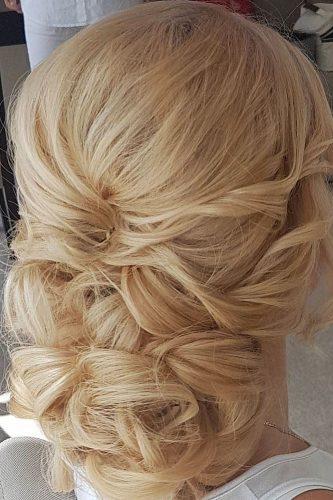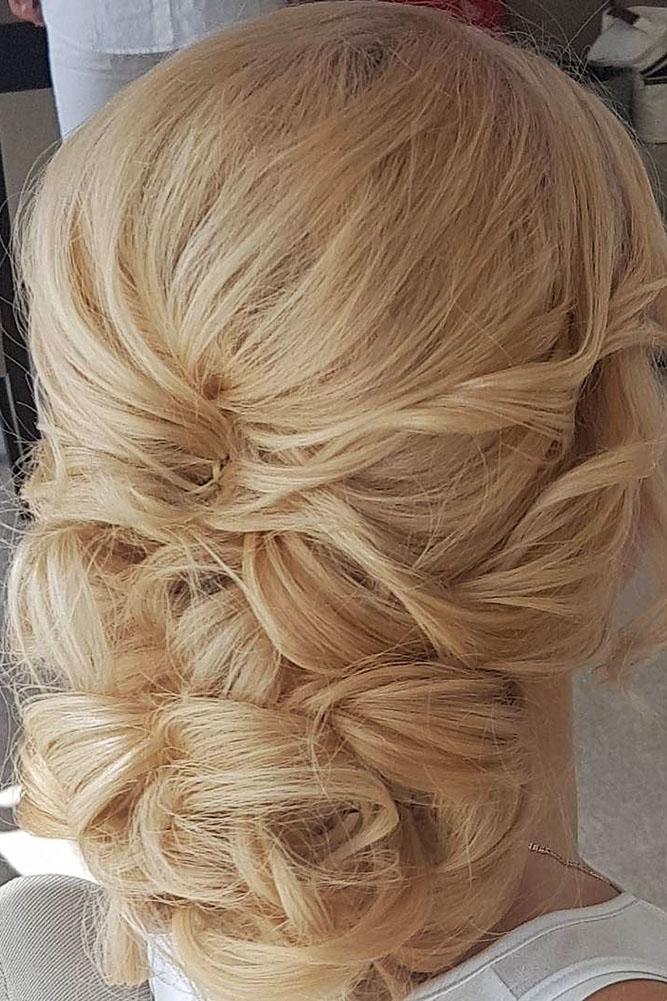 Mama mermaid
Mermaid hair is extremely popular among brides. Well, here comes the mama mermaid! This style is perfect if you don't want to put your long tresses up. Just use a few pins to keep your hair back. Your layered curls won't go unnoticed.
Source: hairandmakeupbysteph via Instagram, bridal_hairstylist via Instagram, tonyastylist via Instagram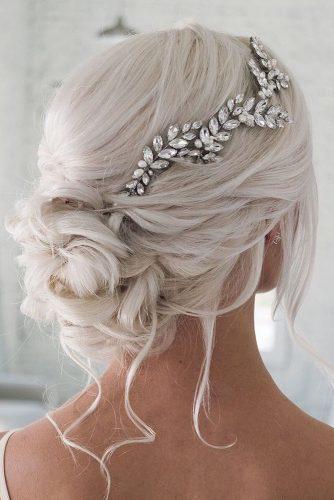 The 20s are back!
If you are planning a Great Gatsby wedding, prepare for a full swing retro! A sparkling headband is all it takes to make any kind of mother of the bride hairstyles look classy and chic!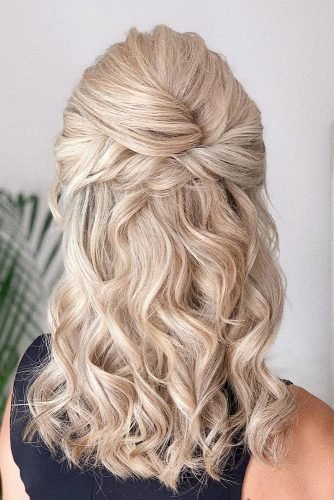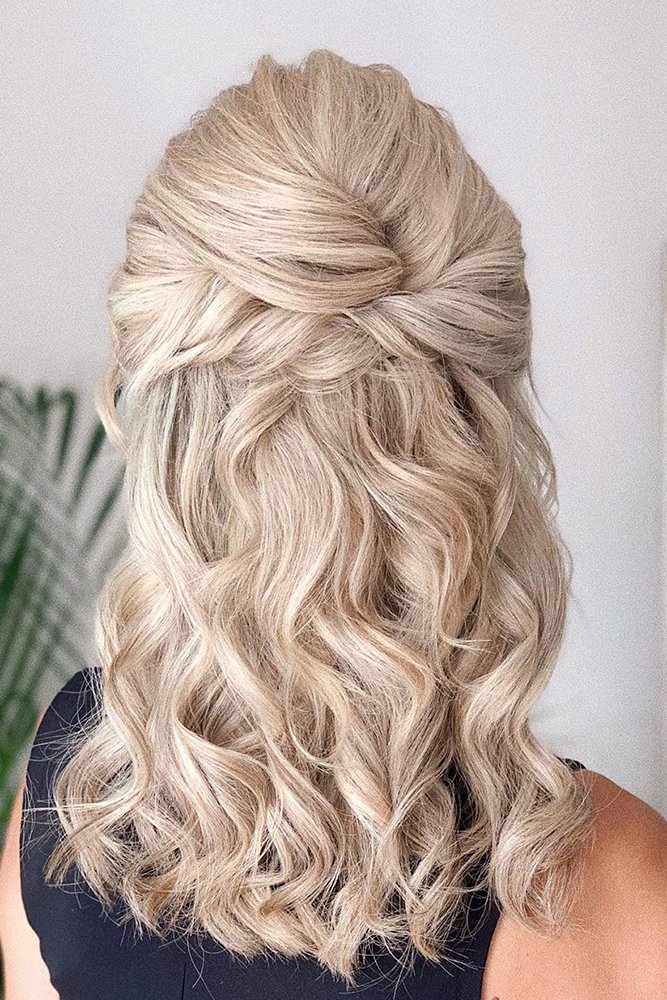 Extensions
You might feel that you like hairstyles mother of a country bride to be long. Well, not a problem. Just ask her stylist for extensions. Let your mother have a hairstyle of her dreams on your big day.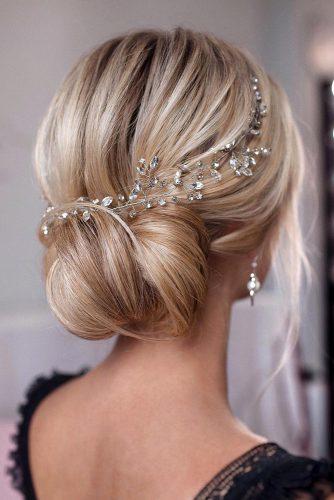 Hair jewelry
Hair jewelry can be a lifesaver for mother of the bride hairstyles for medium length hair. Doesn't matter how simple your style is. Just add a jewel pin and it gets a significant style upgrade.
Photo 25-30: Stylish Braid Hairstyles Ideas
Long and loose braids are your best bet for rustic and outdoor weddings. Tight and pulled back or pulled up are more appropriate for Traditional and Classic weddings themes. Either way, you'll want to accessorize! A pair of diamond drop earrings and a delicate hair comb will pull your traditional braided hairstyle together. Whether you tie a single braid into a pony, wrap a series of braids around as a crown, or go crazy with a series of French braids, you can't go wrong.
We love braids, and the stylish modern mother of the bride will love them too, but you don't have to braid all of your hair if that's not your style. Bridal mothers are loving a single hairline braid in the front with flowing locks on the top and back. Mixing these styles is a great way to add some interest with a variety of textures, and mix very well with a wide assortment of dress styles.
Source: sunshinebrides via Instagram, hairbysueee via Instagram, elstilespb via Instagram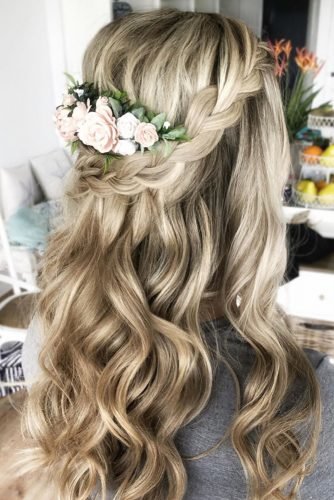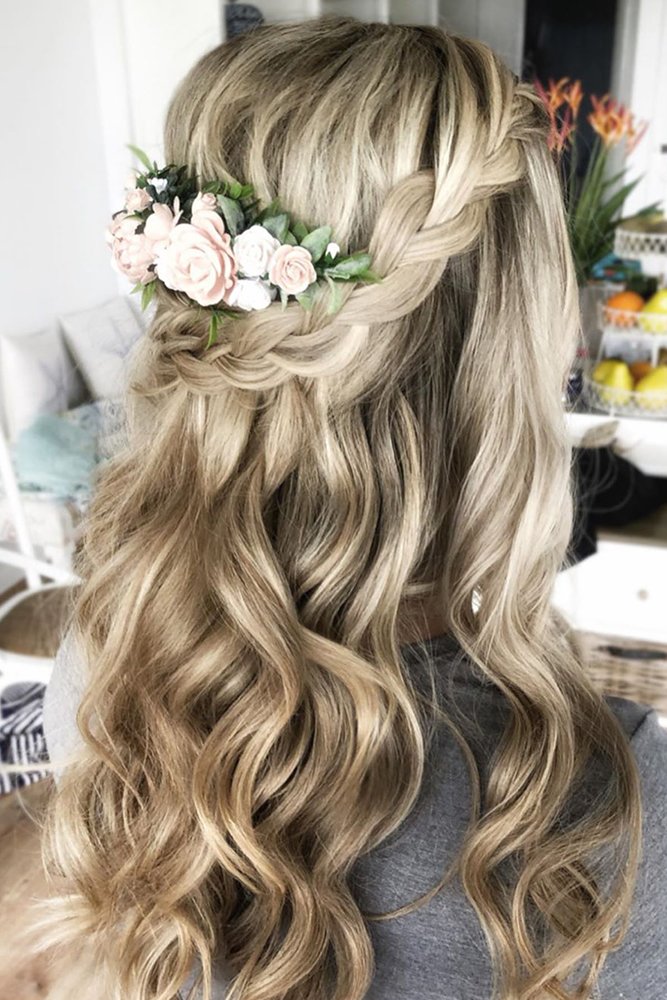 Half up with flowers
Mother of the bride hairstyles half up might sound simple. Just pin the side sections of your hair and voila! This hairstyle looks best with a lot of small flowers (try baby breath), or one big vibrant flower.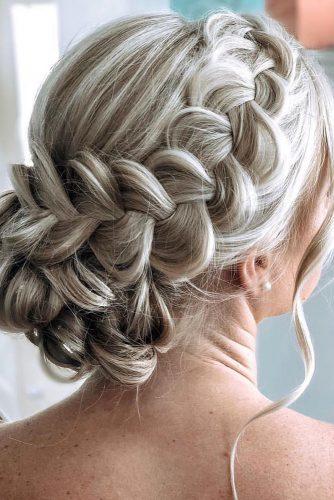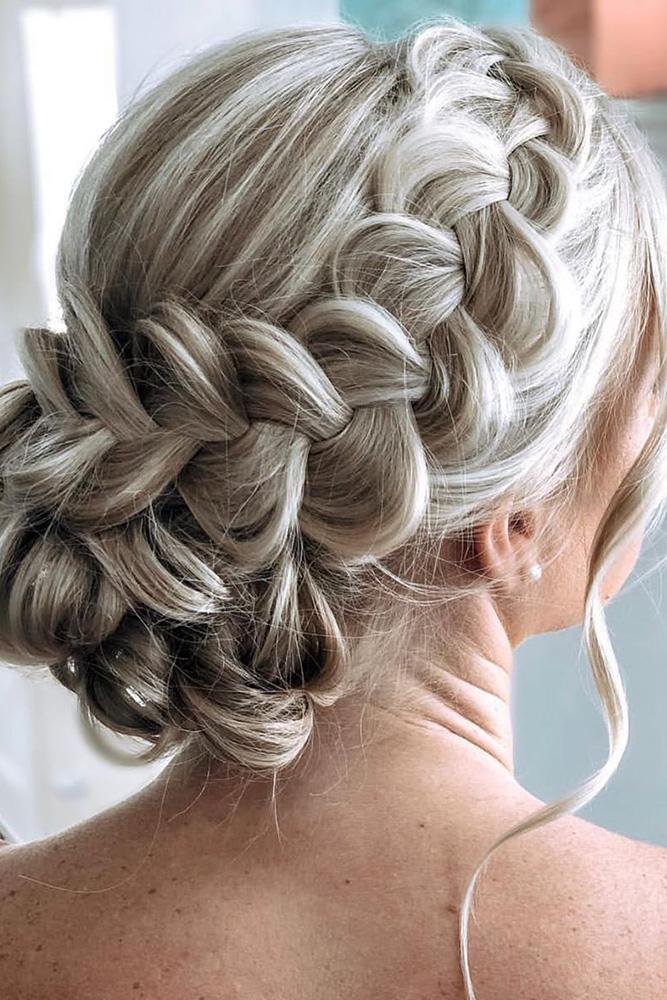 Hairstyles for mother of the boho bride
Boho is all about freedom, so a boho mother of the bride will need to look as effortless as possible. Braids and waves, flowers and stray strands. Your mother will look 10 years younger!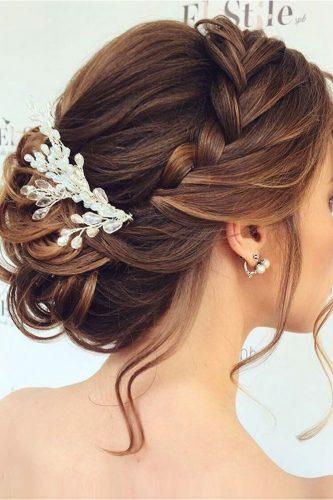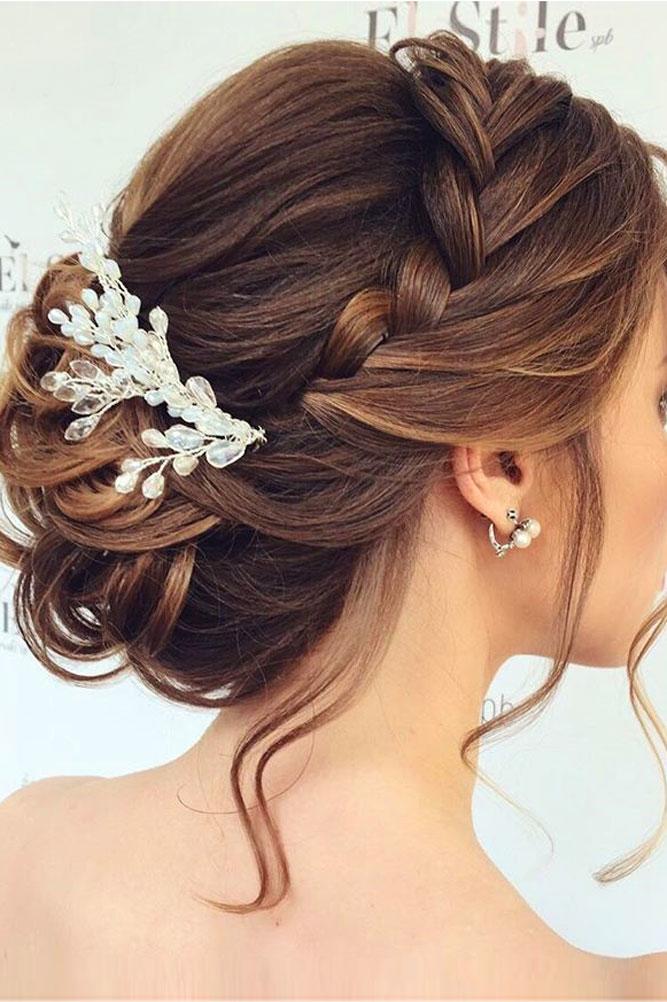 Braided crown
Going to look like a princess on your wedding day? Let your mother be a queen mother. A simple braided crown will give her that royal look. Decorate with some jewel hairpins to complete the look.
Source: bridal_hairstylist via Instagram, ulyana.aster via Instagram, habitsalon via Instagram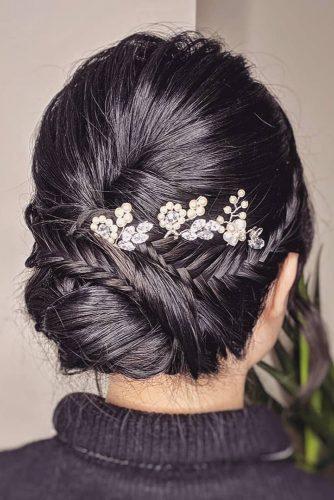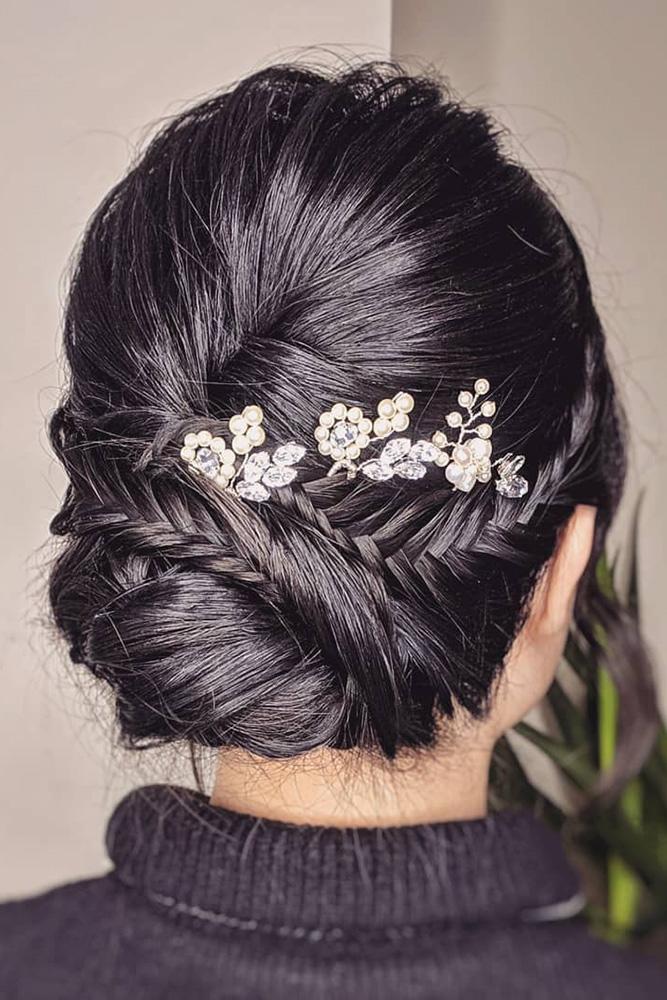 Rustic mother of the bride hairstyles
If you are planning a rustic wedding, hair is just as important, as the dress. A simple French braid can look absolutely gorgeous. Add a single flower for an ultimate rustic feel.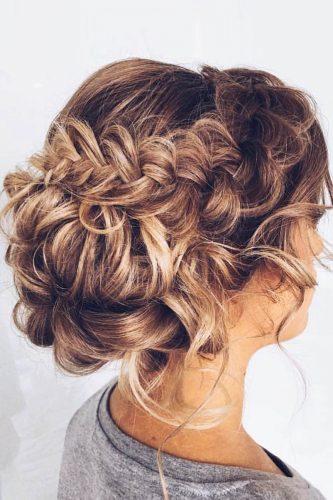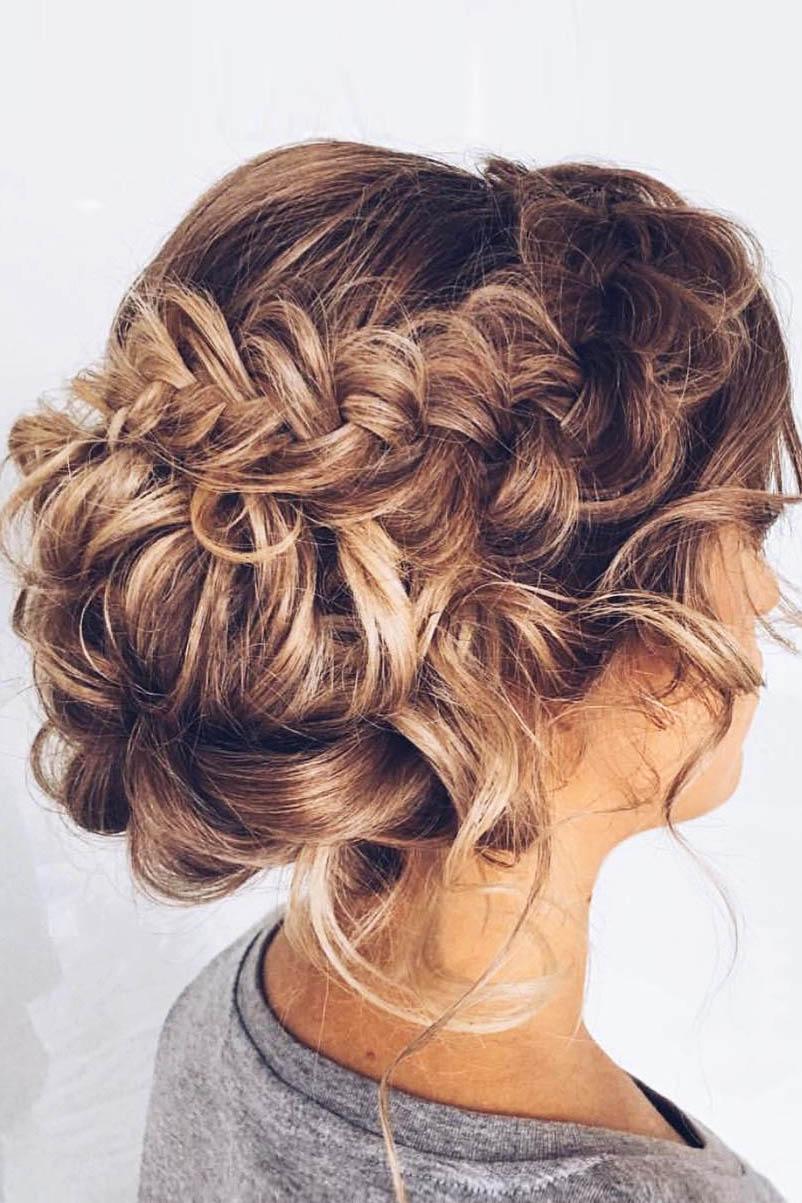 Bubbly look
Mother of the bride hairstyles for shoulder length hair sometimes seems too difficult. Well, have some fun and just add some curls and volume. No need for some complicated hairstyle. The perfect solution for your countryside wedding!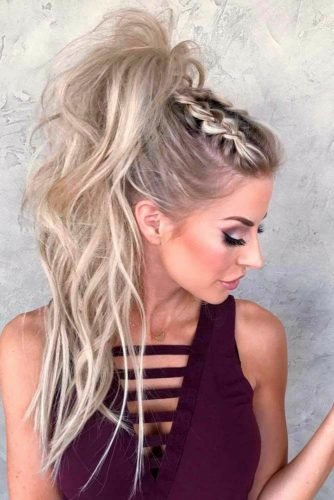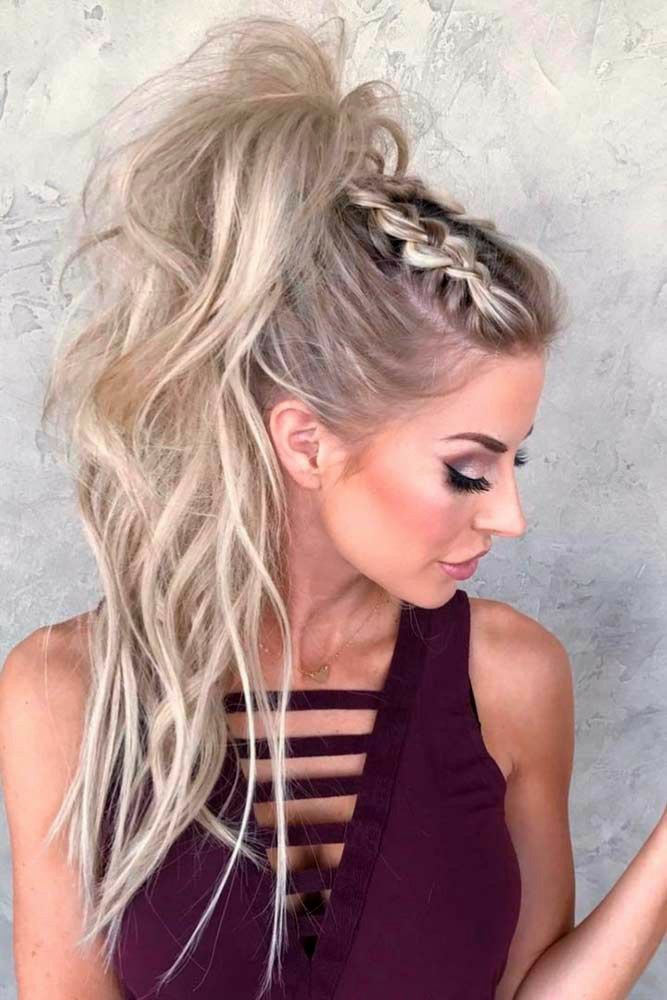 Topsy ponytail
Ponytail seems to be one of the original options for mother of the bride long hairstyles. But even a ponytail can look gorgeous! Try a topsy tail ponytail for a youthful hairstyle! Add a wave with a curler. A flower or a hairpin will complete the look!
Photo 31-36: Elegant And Chic Updos
Mother of the bride hairstyles half up or a full on updo are an elegant choice for traditional and classic wedding themes. This look is especially chic for dresses with an open back, plunging neckline, or off the shoulder cut.
Conservative mothers who want to look their best on their daughter's big day will love this time-tested style. Trendy mothers of the bride are pairing their pinned back weaves with flowers, pins, combs, and tiaras to modernize this timeless style.
If this sounds like you, we strongly recommend a smaller accessory such as a dainty pin with nature-inspired features. A super chic option involves rolling your hair into a smooth bun and holding it together with a long, slender antique clip.
These fantastic styles have no trouble staying in place as you dance the night away, and are virtually weather-proof if you are attending an outdoor wedding.
If you're into celebrity trends, a creative updo is the look for you. Actresses and notables have been sporting updated retro updos to galas, red carpets, and awards ceremonies more and more these days. Kate Middleton's neck-skimming twisted rocked The Creative Industries Reception in London while Kate Hudson's finger-combed bun dropped jaws at the Venice Film Festival.
Source: bel_pipsqueekinsaigon via Instagram, nikihair.ru via Instagram, pearly.hairstylist via Instagram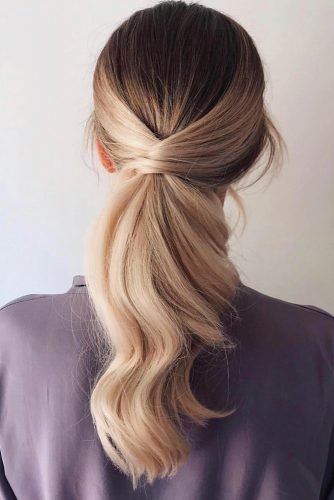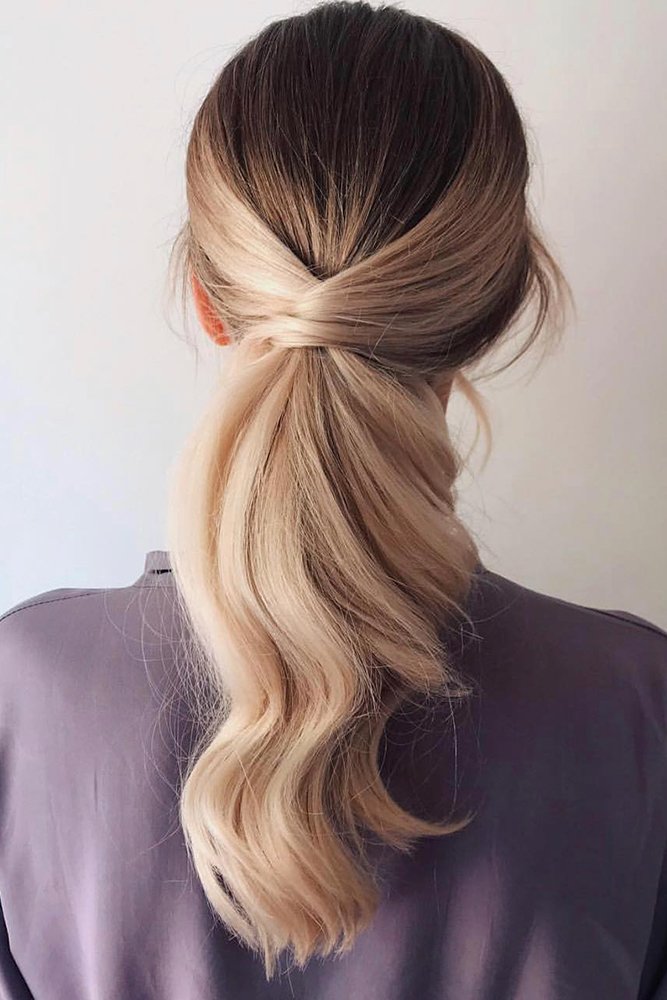 Smooth ponytail
Many people still think that a ponytail is too casual for a wedding. Prove them wrong! A classical smooth ponytail looks very modern and is easy to make. Just keep it smooth with a hair gel!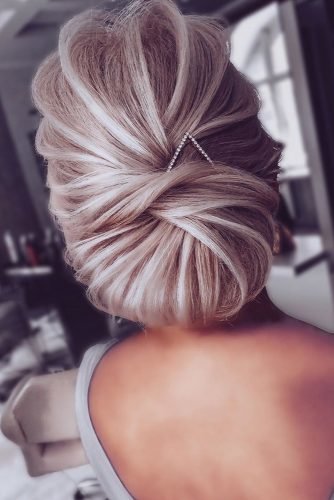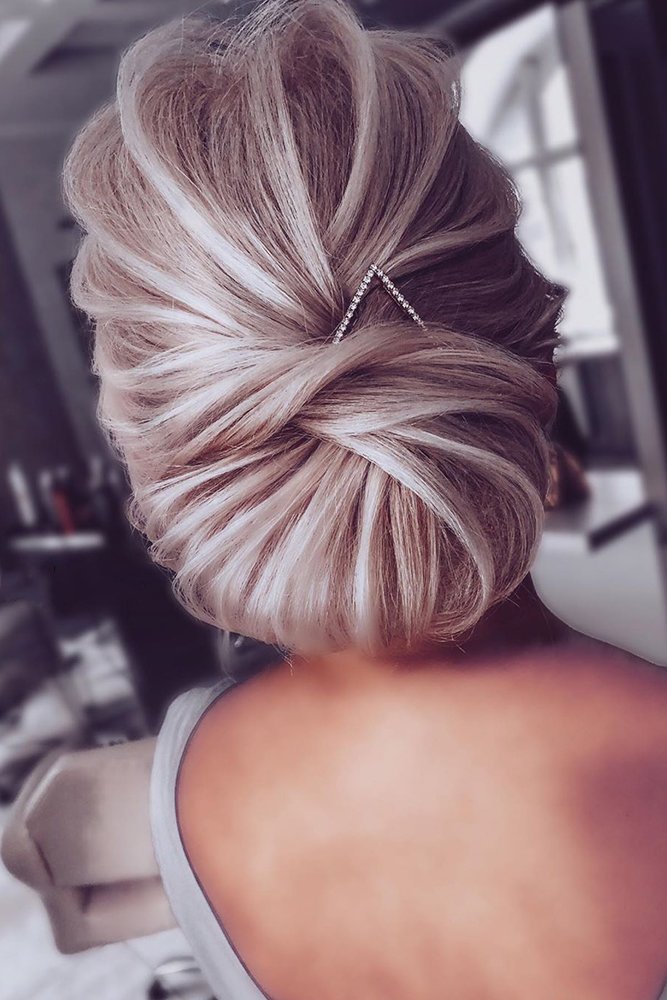 Silver hair hairstyle
Some mothers dye their grey hair, some decide to show off their natural silver. Well, there is no better match for the silver or salt and pepper hair than a piece of silver jewelry. Just comb your hair up and add a hairpin or a barrette.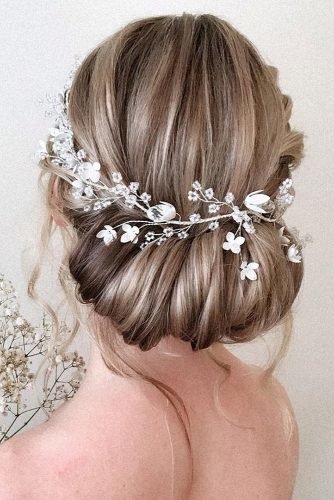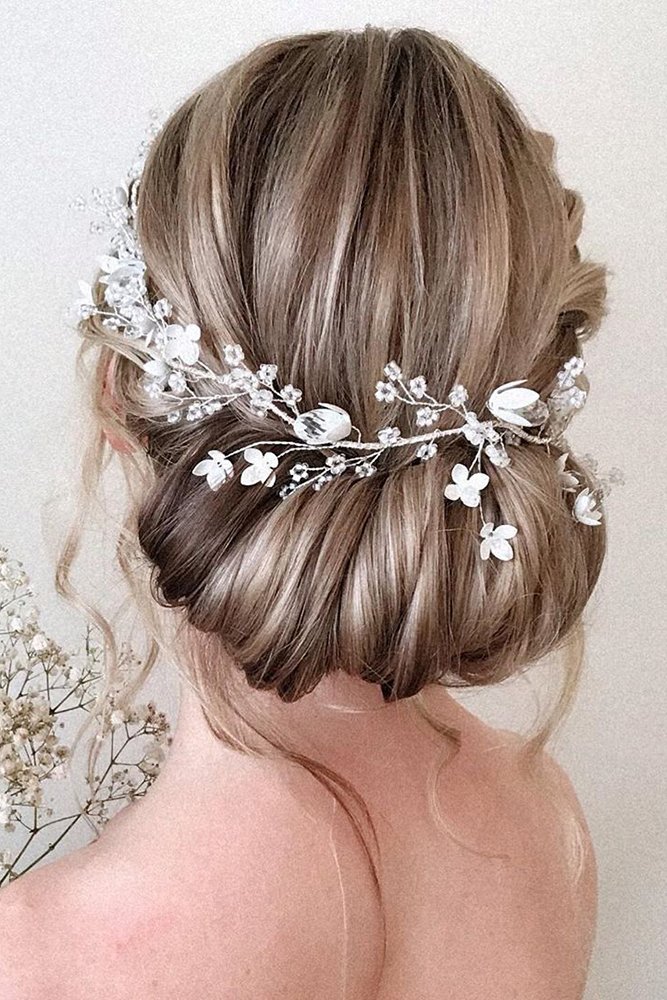 Jewel pin and a chignon
This is a purely classical look. Put your hair into a tight chignon, then add a jewel pin. Hair accessories take even the most simple of hairstyles to a brand new level.
Source: El Stile, dianova.elstile via Instagram, kamalova via Instagram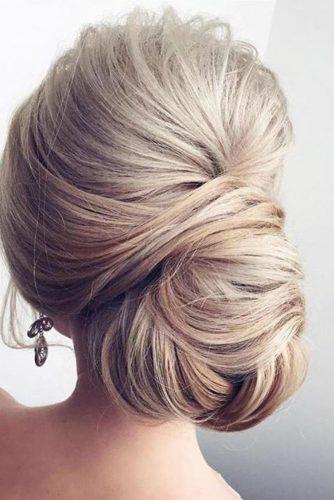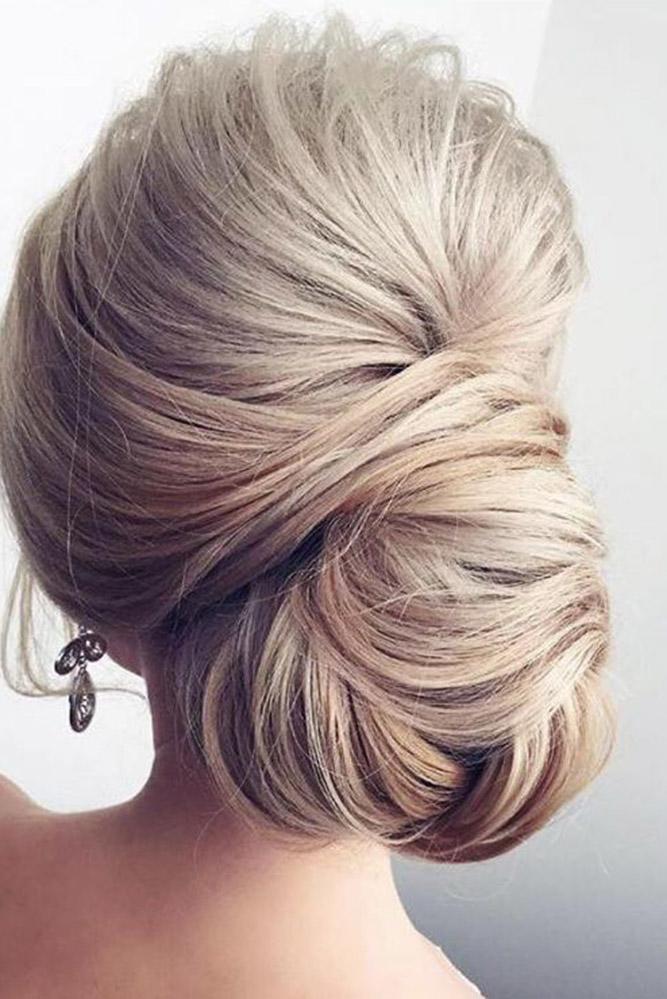 Bouffant updo
Bouffants are popular among mother of the bride hairstyles for long hair because they help to add volume. Even if your mother's hair is not too thick if the length is enough your stylist can work miracles!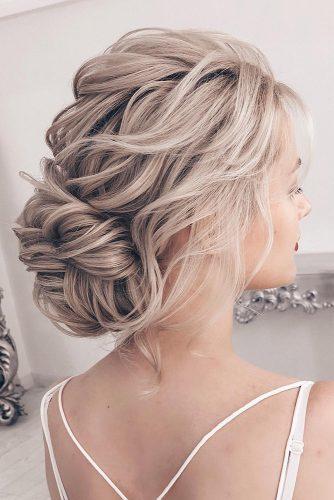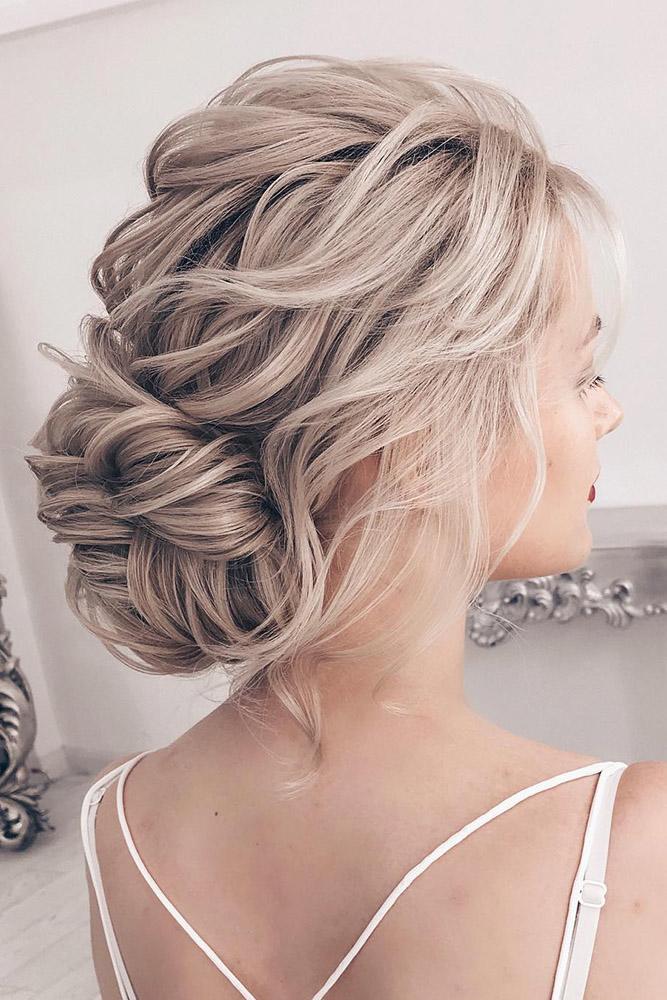 Curly updo
Want one of those simple, yet stylish hairstyles for mother of the bride? Just gather your short curly hair at the back of your neck. The key to the style is to make your upper part of hair look smooth.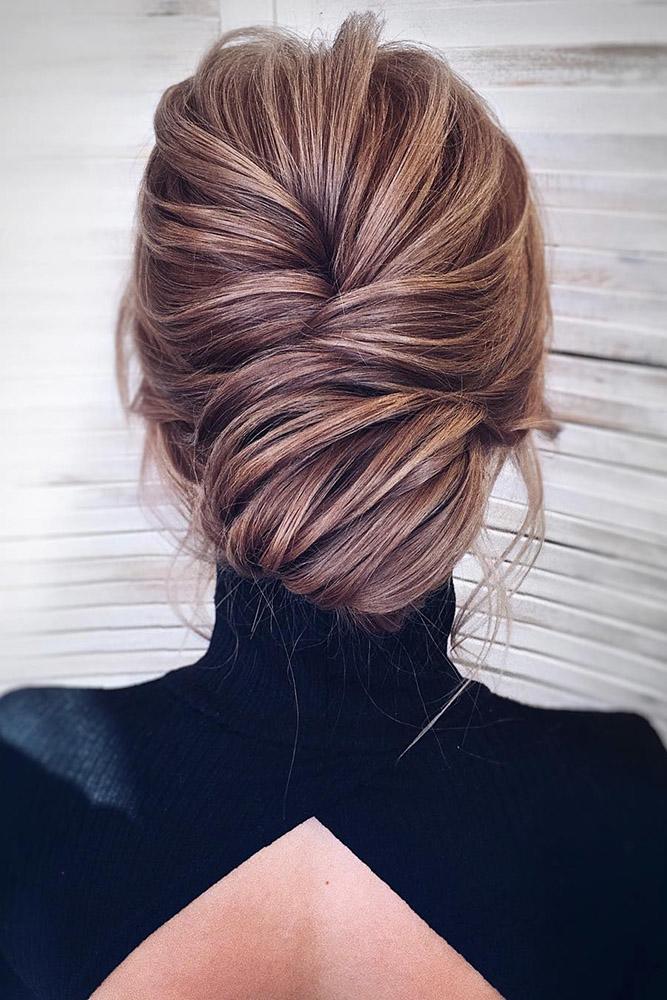 Brushed back
Like all women, mothers, whose children are getting married, want to look their best on the wedding day. Still, it is important to remember, that it is the bride who is the focus of attention. A simple brushed back low hairstyle will look both feisty and appropriate.
Photo 37-42: Gorgeous Ideas For Curly Hair
Mothers of the bride with curly hair know far too well how much time, attention, and product it can take to tame wild curls into a formal wedding do.
While choosing your style, you'll have to be aware of which products you'll need to pull it off. The first step is to identify your desired curl type. These categories are normally broken down into loose, medium, tight, and kinky. Each category usually requires their own styling products like detanglers and treatment shampoos.
Curly hair is a perfect match for bohemian themed weddings. The relaxed and comfortable boho spirit are perfect for medium or loose curls. For outdoor, beach, and rustic themes, update your curls in a half up half down bun.
For traditional themes, wear your hair completely down or tied back into braids. A low tuck updo is a classy style perfect for traditional wedding themes and mothers of the bride who prefer a modest look.
For adventurous curly-haired mothers of the bride who want to shine in the wedding photo album, we recommend the half up half down do. This style isn't too over the top, but with the right accessories and some fresh color you'll be the definition of grace and beauty.
These styles are meant to be a little messy, so you won't have to bother fussing with your hair as the festivities progress. Regardless of the style you end up choosing, make sure to wear your curls loud and proud.
Source: lenabogucharskaya via Instagram, djamilya_hairstylist via Instagram, martinajagr via Instagram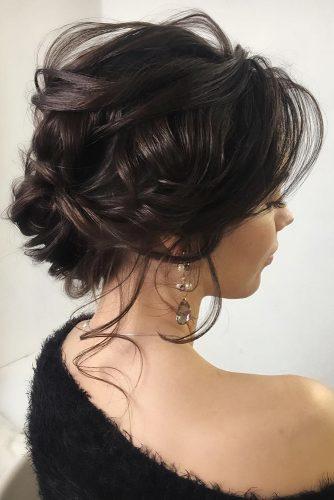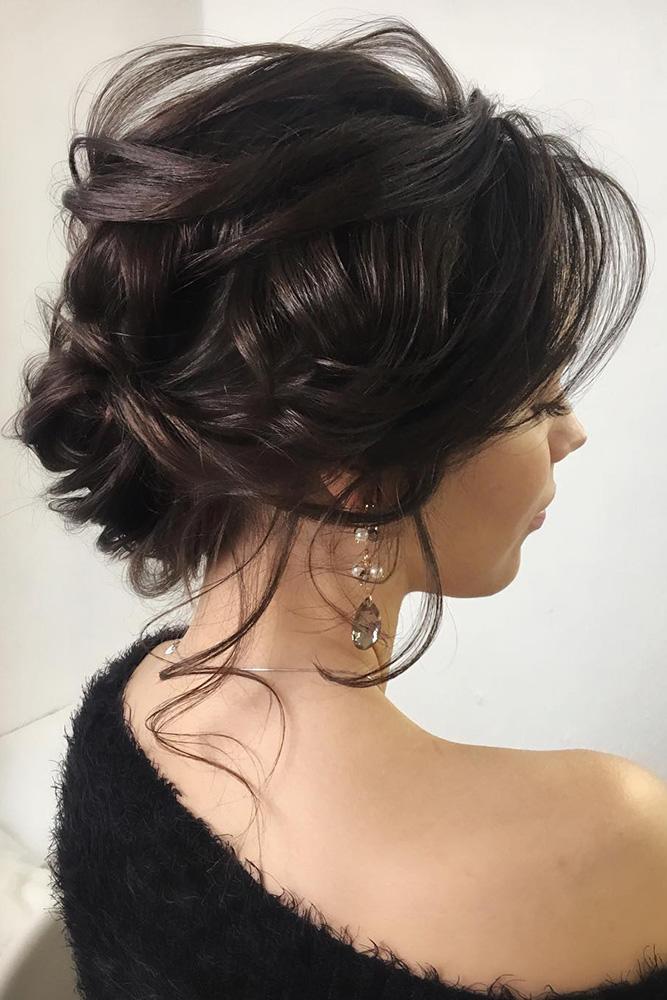 Messy bun
It can be hard to find updo hairstyles for mother of the bride, as elder women usually like their hair short. Still, a trendy messy bun will look great on any length.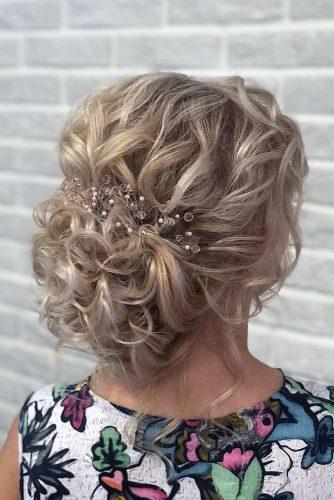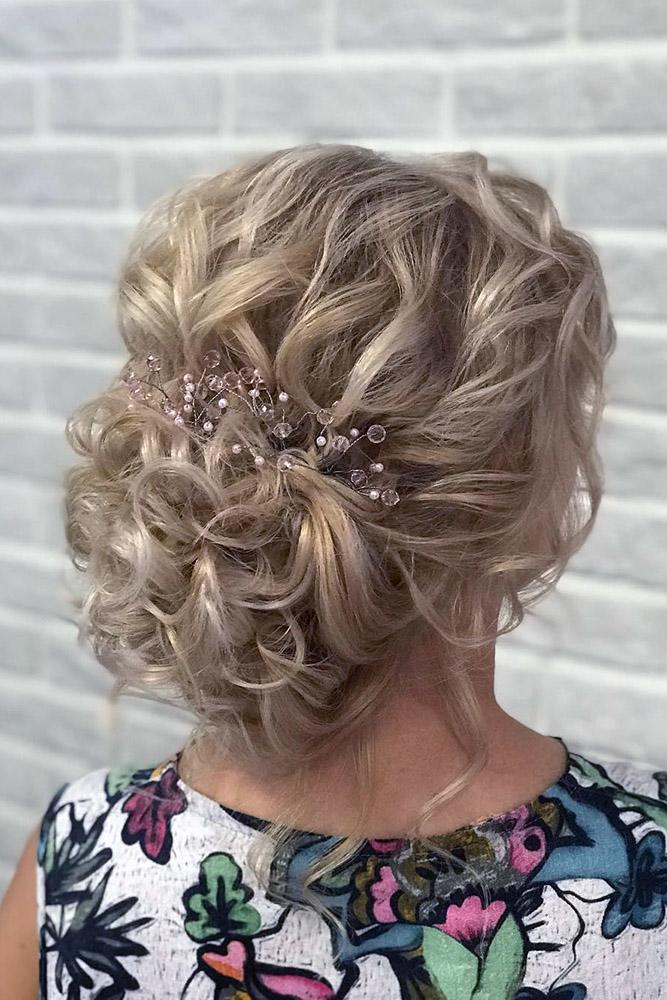 Highlighted updo
Highlights work miracles for hairstyles for mother of the bride over 50. A gentle highlight looks most fantastic in updos. Even medium length will be enough for an amazing hairdo.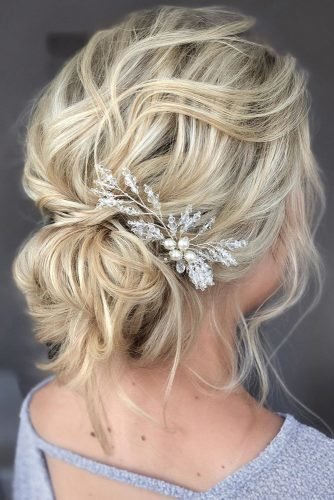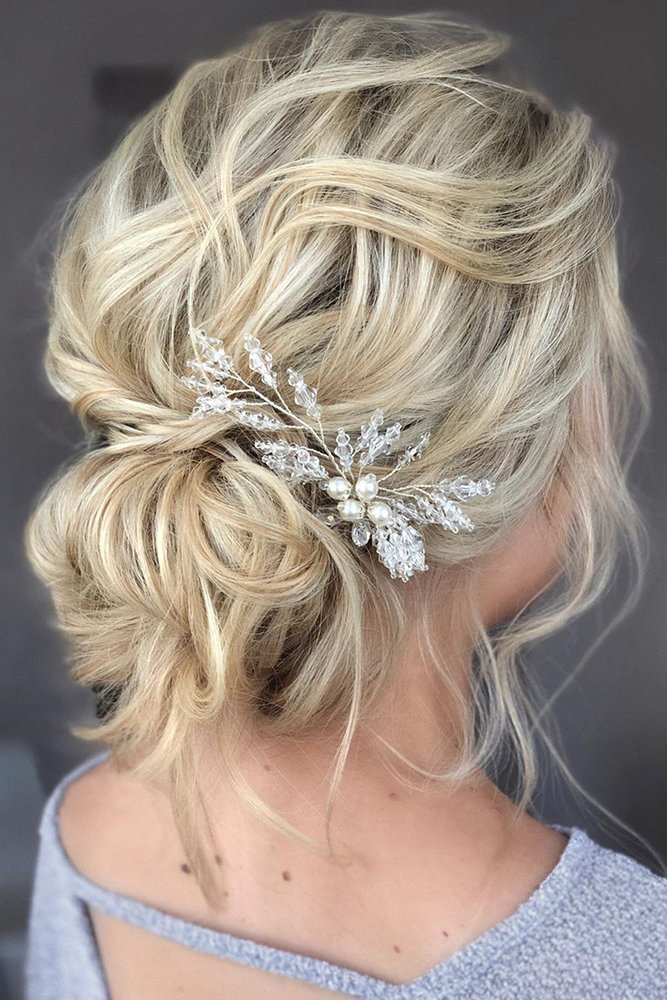 Something old, something new…
Looking for a way to pay tribute to your family traditions? Going to wear your grandma's wedding tiara as 'something old'? Accentuate your mother's hair with a jewelry hairpin to start a new tradition. Hairpins make even the most simple of hairstyle look gorgeous.
Source: hairbybritny via Instagram, hairandmakeupbysteph via Instagram, pearly.hairstylist via Instagram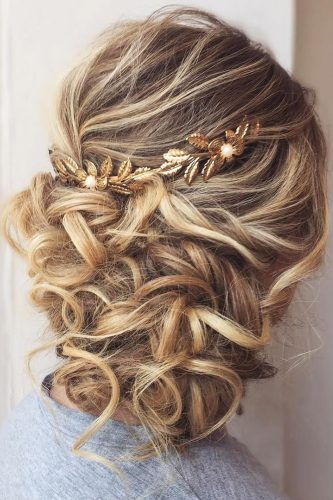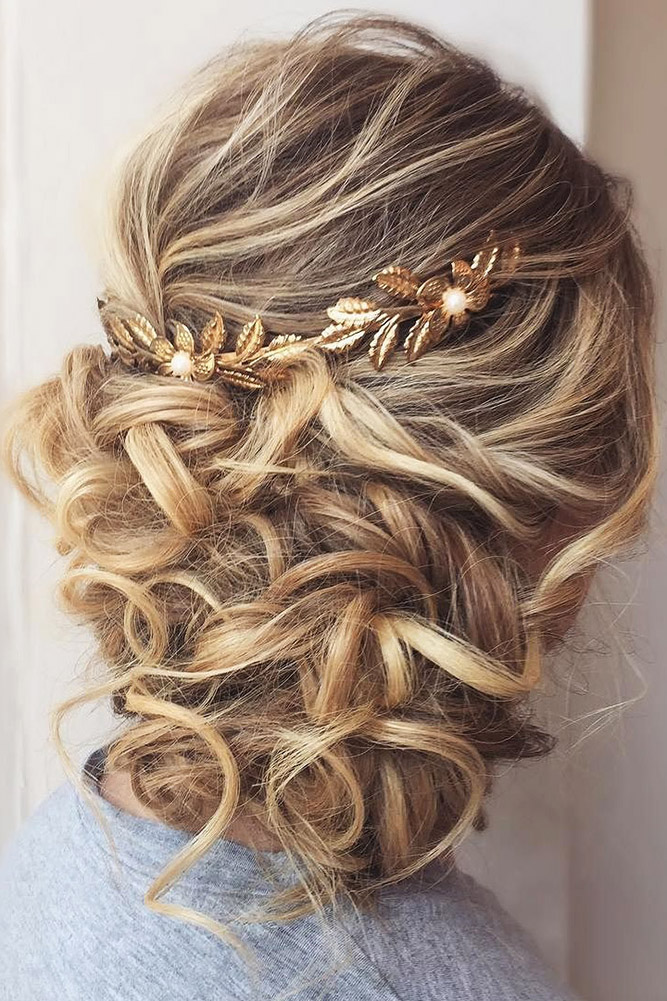 Hairband
There are a lot of awesome options for short hairstyles for mother of the bride. Your mother wants to look extra cozy and feminine on your special day? Just add a hairband to the usual short haircut. Looks extra good for a country style.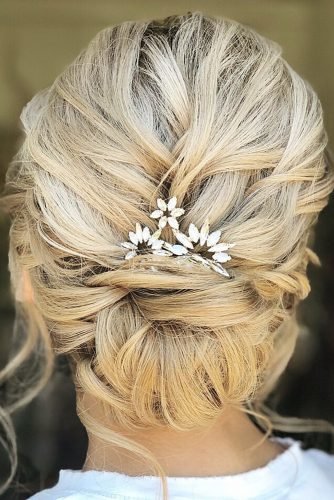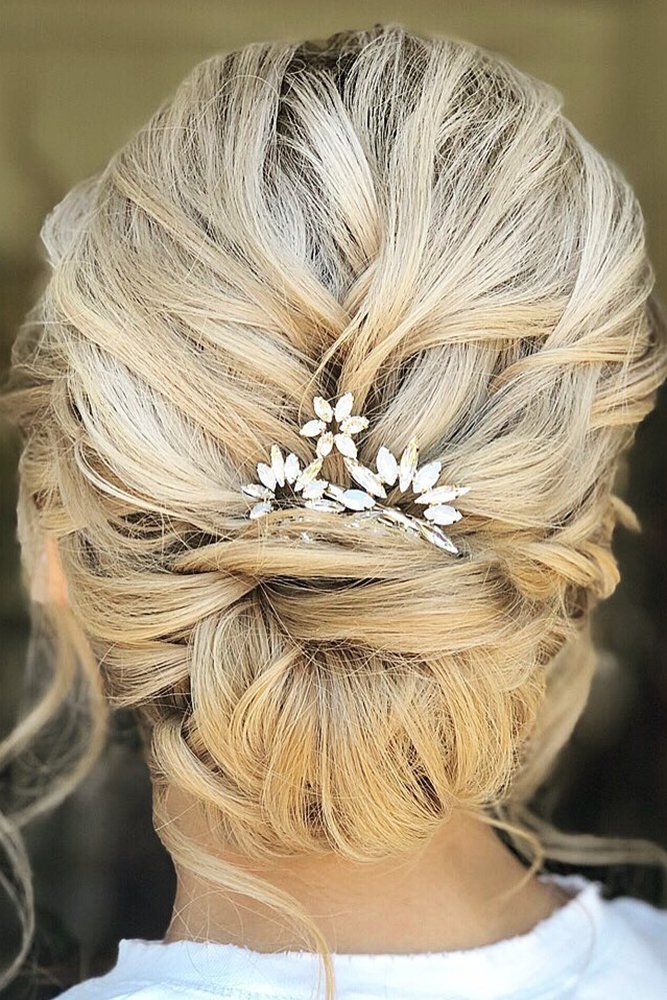 Wispy updo
Want something flowing and airy? Try a wispy updo. Loose waves and messy bun is all it takes to turn a classical updo into an ultra-modern hairstyle!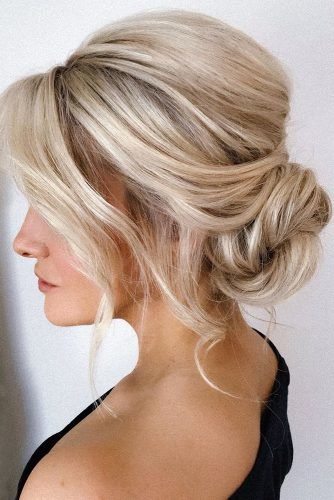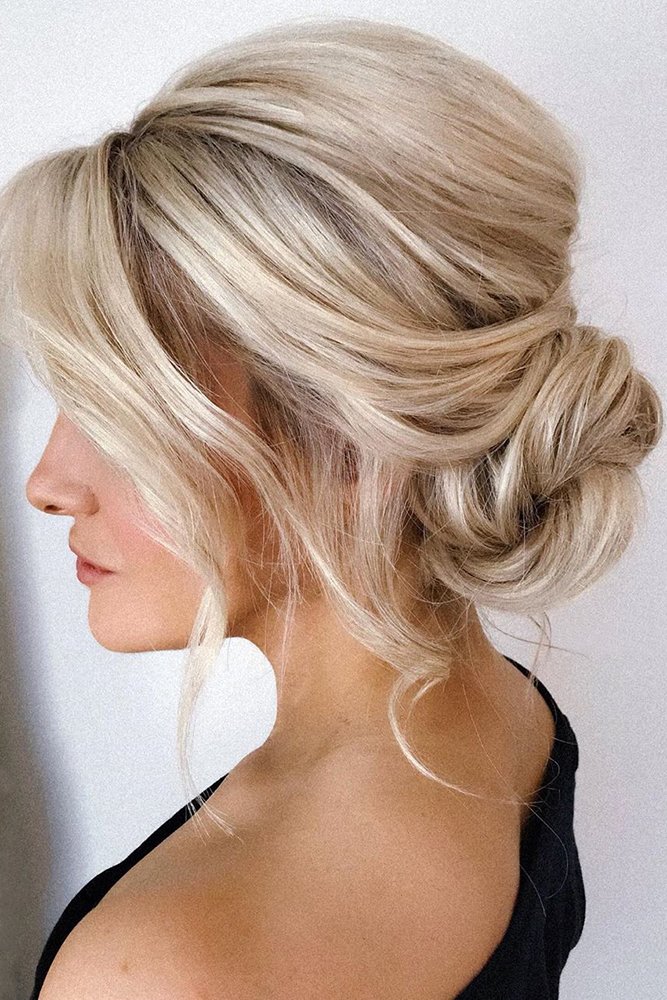 Low bun
If there is a timeless wedding hairstyle, it is a low bun. It is one of those mother of the bride hairstyles that would look perfect on medium length hair. It goes especially nice with any classic outfit.
Photo 43-48: Feminine And Elegant Updo Ideas
Source: irinafarfallina via Instagram, martinajagr via Instagram, tonyastylist via Instagram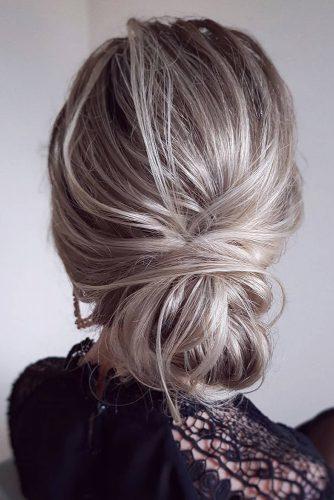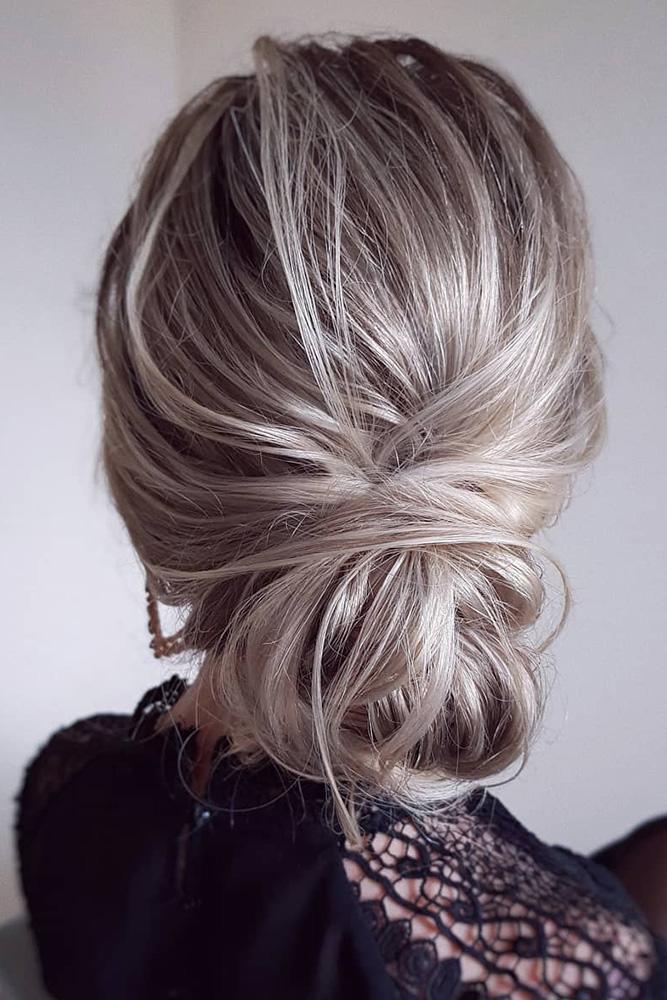 Polished chignon
There is hardly anything as elegant as a polished chignon. This stunning hairstyle looks ultra-feminine. Ask your stylist to polish your hair with a hair straightener and fix the style with some hair mousse.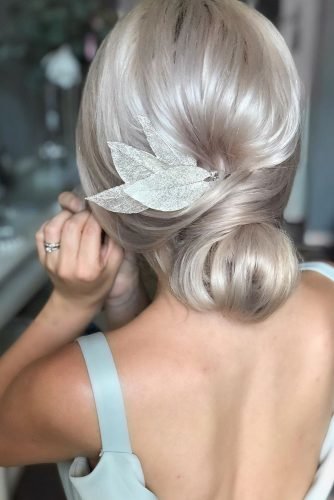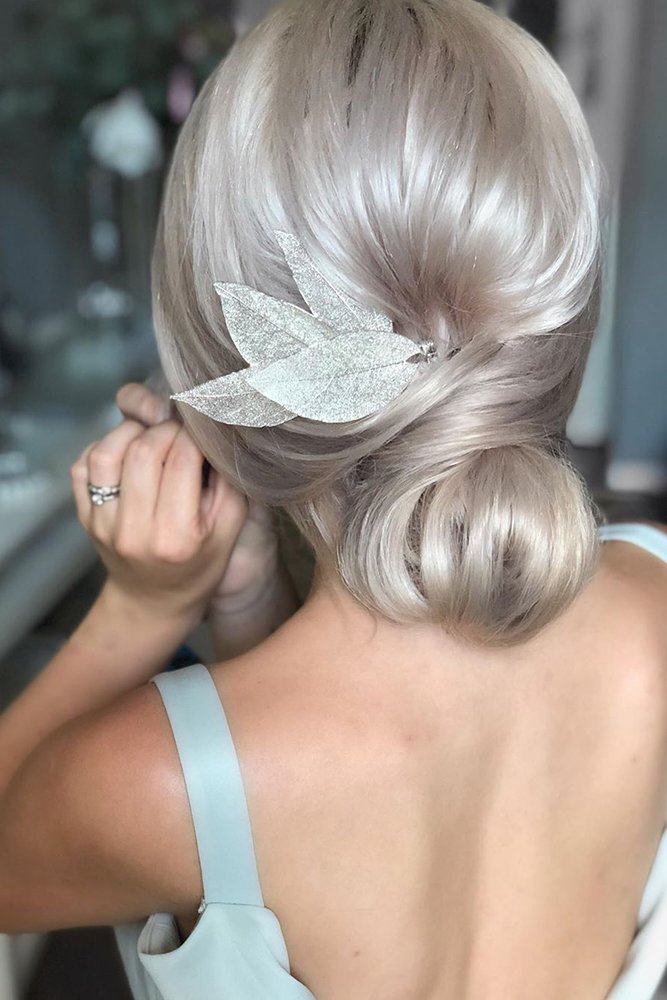 Twisted bun
Classical smooth bun remains one of the most popular wedding hairstyles. Well, it also happens to be one of the best choices for mother of the bride hairstyles for medium length hair. Just twist and add smoothness with some hair gel.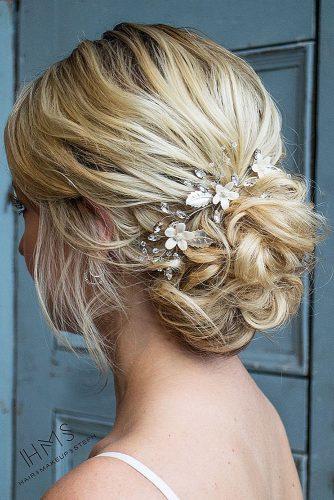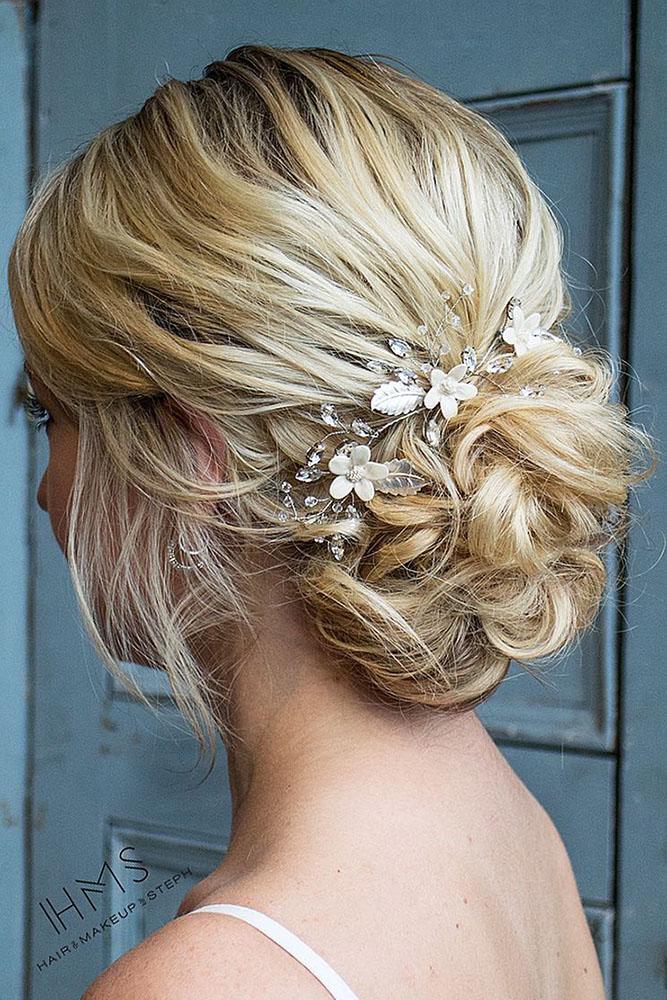 Blond is more fun
Wedding is definitely the time to shine! Especially if your sweet little girl is getting married! Show off your bright personality with this simple hairstyle. It looks amazing on any hair color, but it is especially flattering for blondes.
Source: samirasjewelry via Instagram, martinajagr via Instagram, mpobedinskaya via Instagram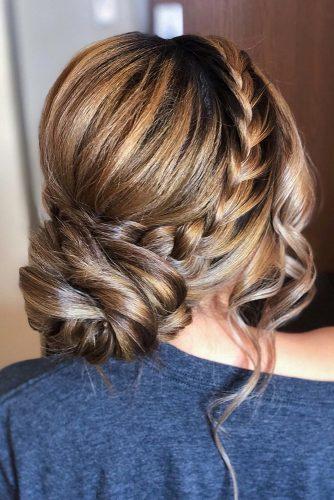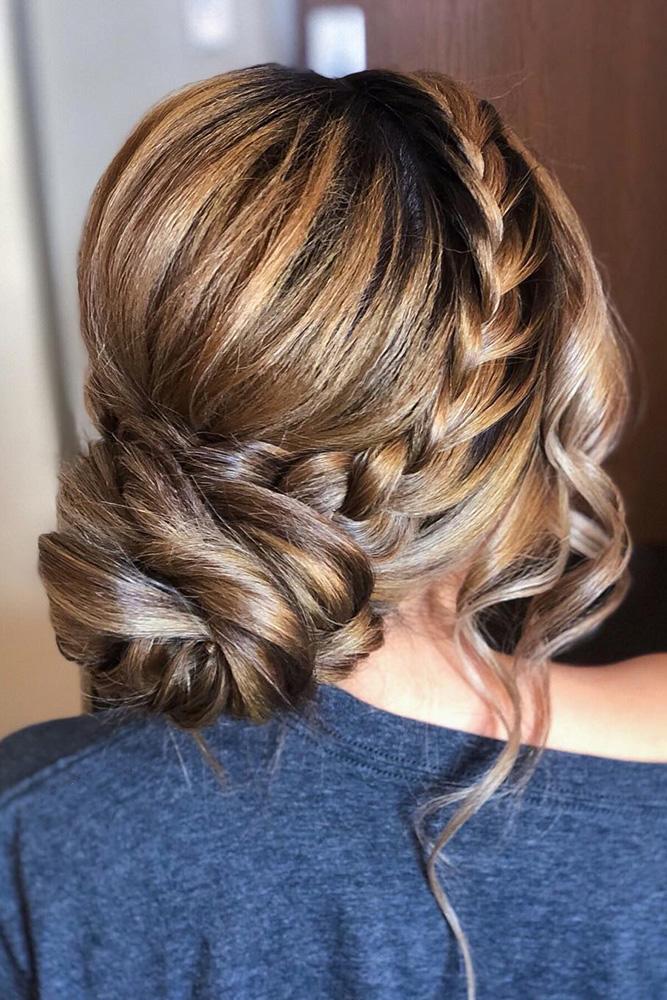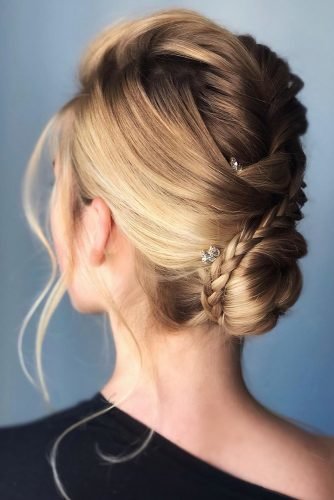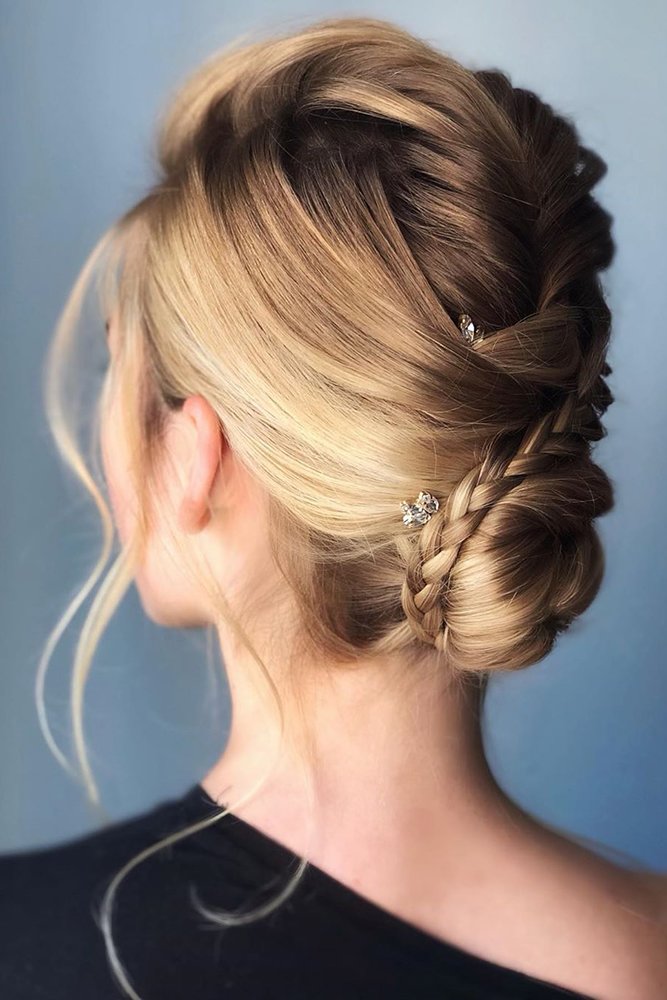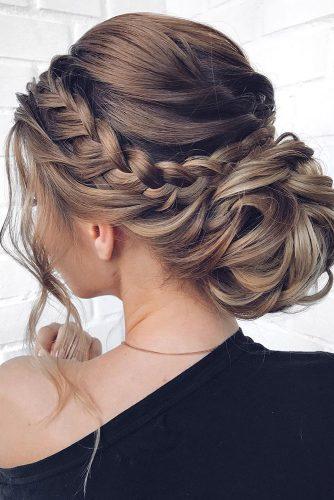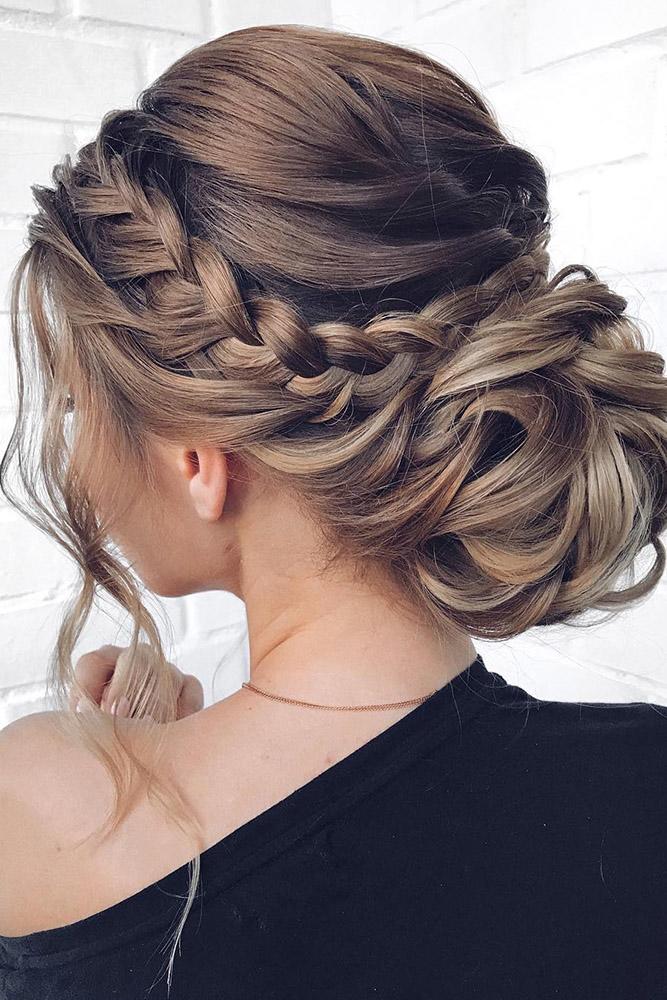 Photo 49-54: Coolest And Elegant Bob Hairstyles
Source: hswwigs via Instagram, voguewigsofficial via Instagram, styled_by_carolynn via Instagram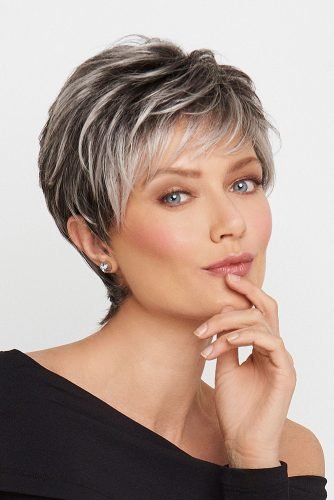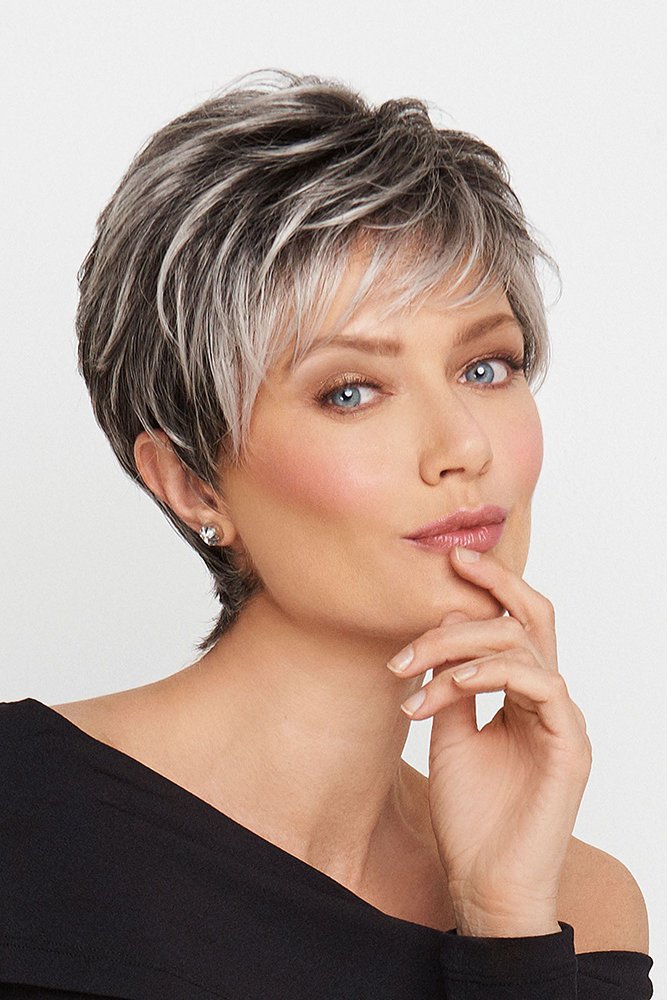 All about details
If your mother likes her hair extra short, add some texture with a special hair mousse. Texturizing hair mousse will add extra volume and keep the hairdo in order through the day.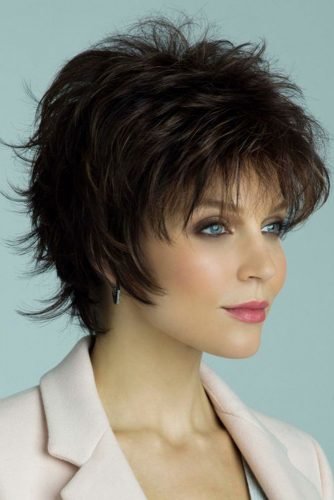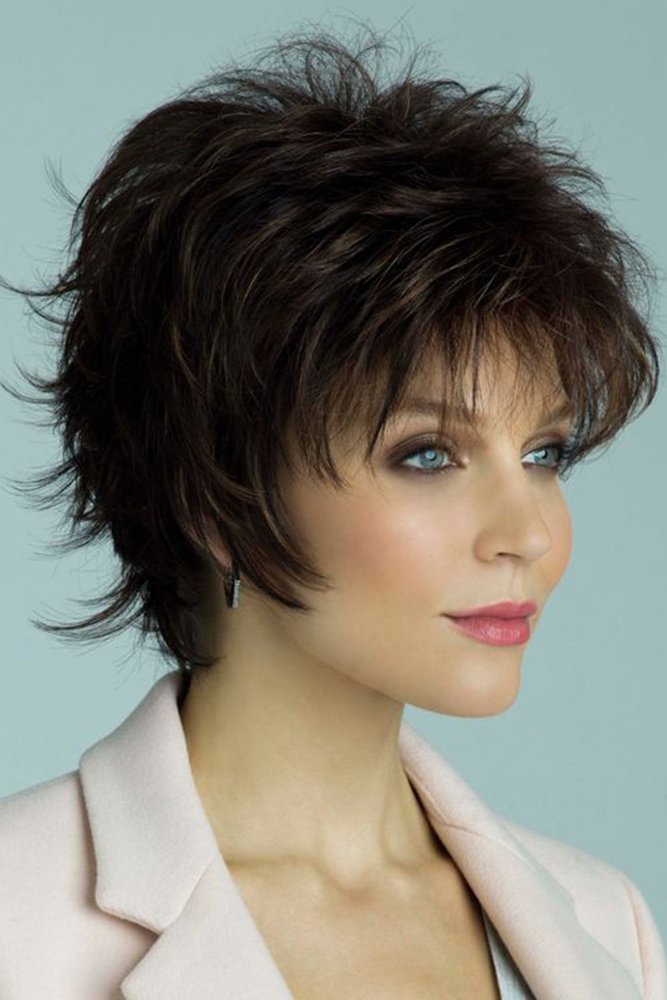 Pixie cut
Quite often the hair length doesn't allow much creativity for mother of the bride short hairstyles. Add some volume with a curling iron and even shortest haircut will look simply gorgeous.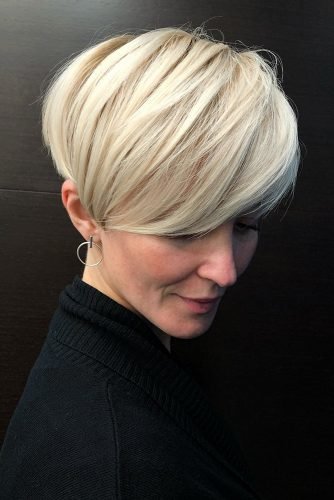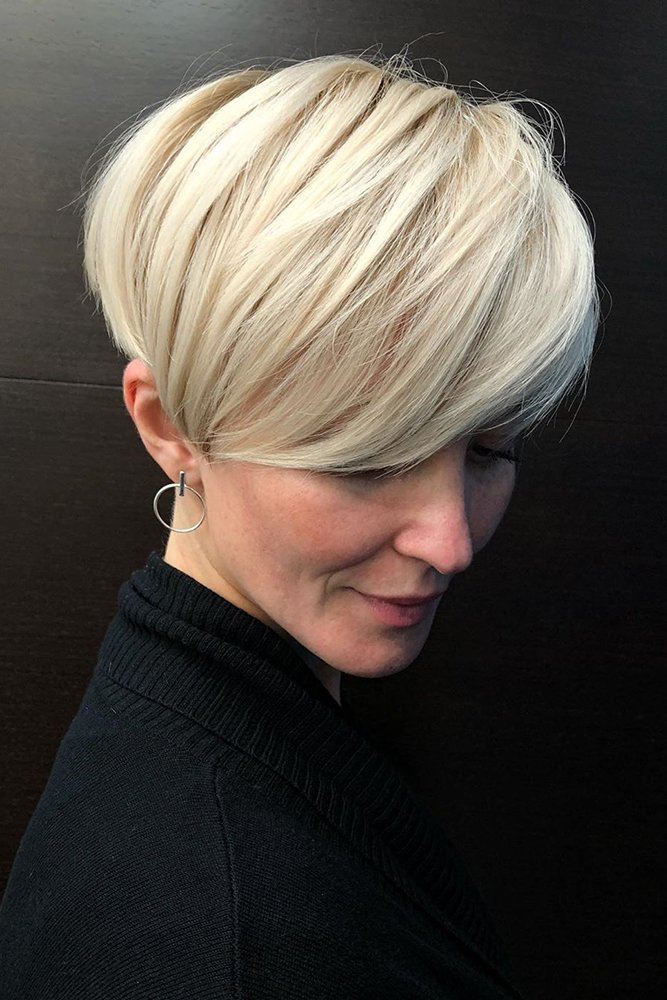 Simple smooth bangs
Does your mother have a short haircut with bangs? Sometimes all you need to do to shine is make sure you enhance the natural beauty! Some high add-on-shine spray conditioner or hair oil will ensure the bangs stay smooth. Simple and elegant!
Source: styled_by_carolynn via Instagram, chloenbrown via Instagram, jmalonehair via Instagram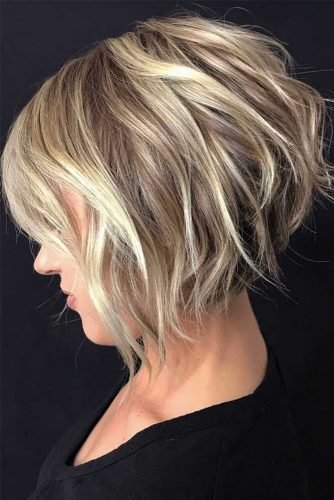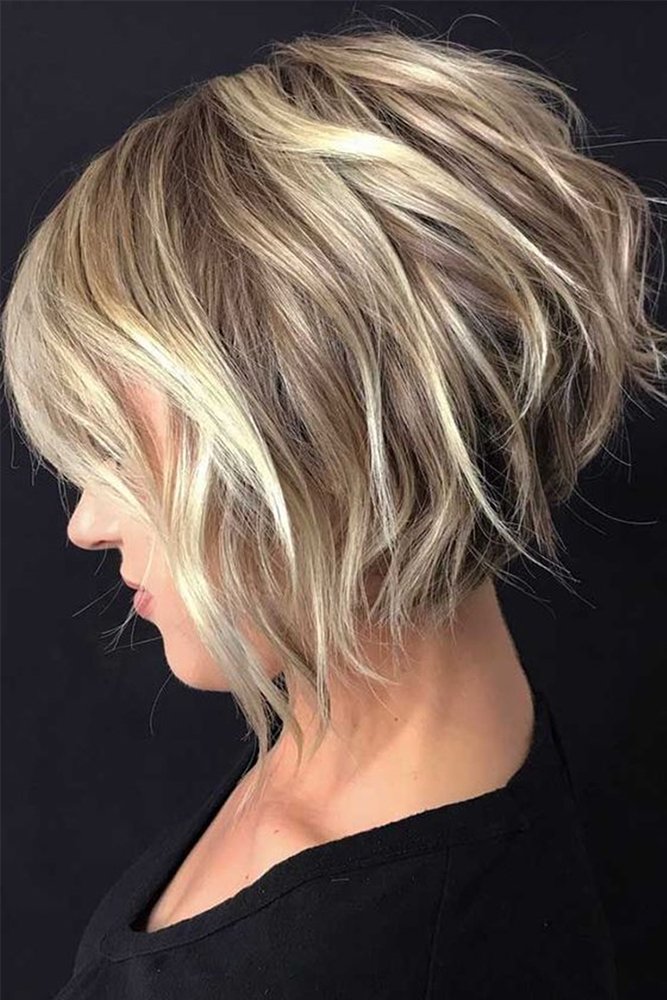 Layers
Layered haircuts are one of the most popular short hairstyles for mother of the bride over 50. Simple and carefree, they give the mother of the bride a sophisticated look.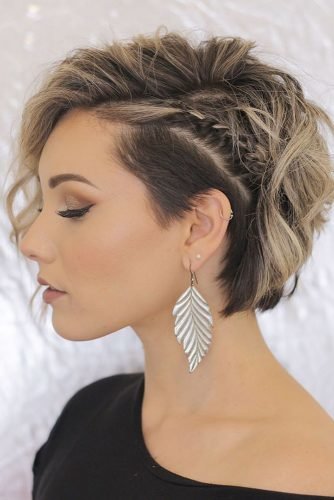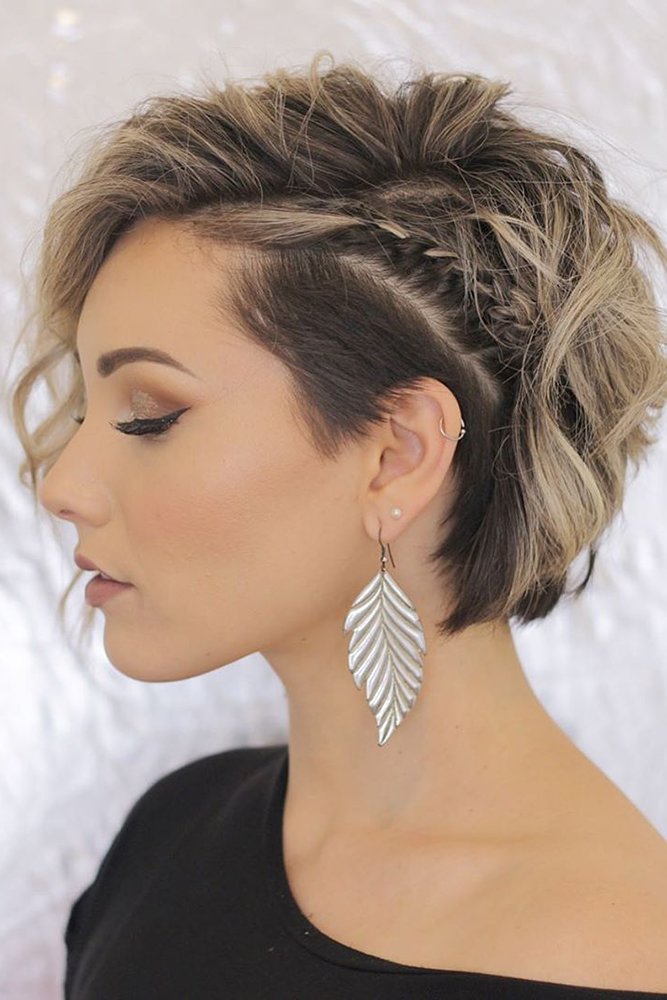 Add asymmetry
Any short hairstyle can become a little more up to date with adding some asymmetry. An asymmetric bob looks stunning on almost anyone! Just don't leave it till the last day – let your mother get comfortable with her new haircut.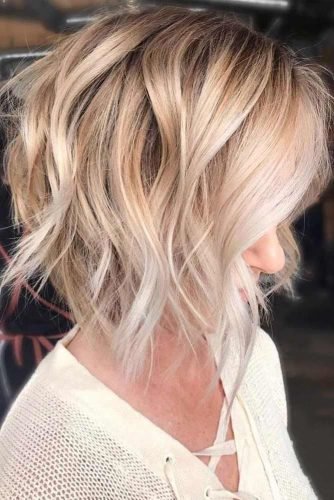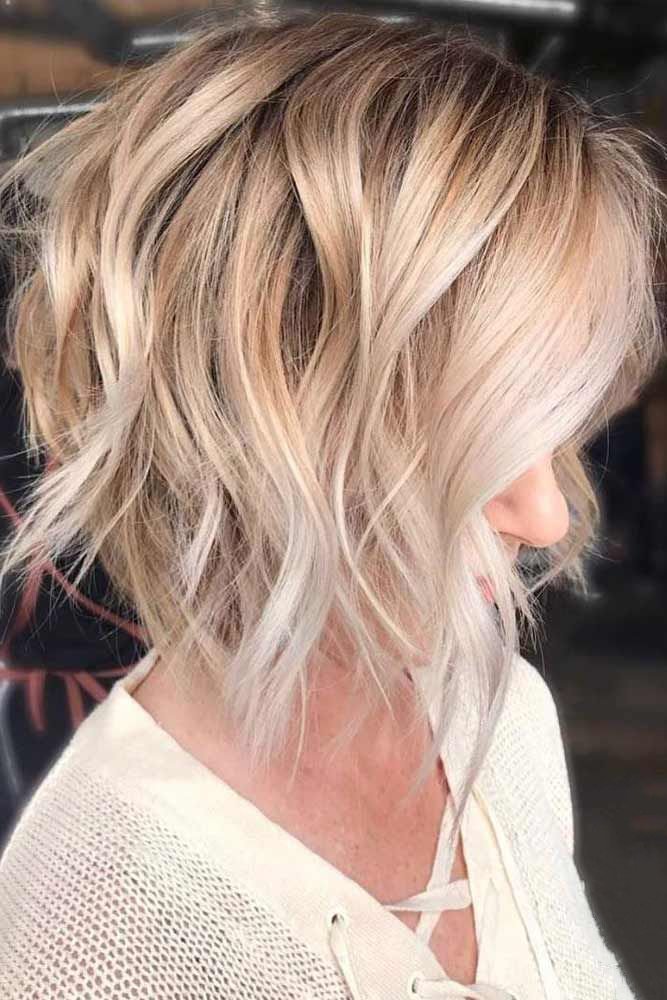 Bob and highlights
If the mother of the bride bob hairstyles are the only choice you have – go for some color! Highlights will add extra volume. Add some hair tint for an ultimate modern look!
Photo 55-60: Feminine And Elegant Updo Ideas
Source: tonyastylist via Instagram, bridal_hairstylist via Instagram, Erich McVey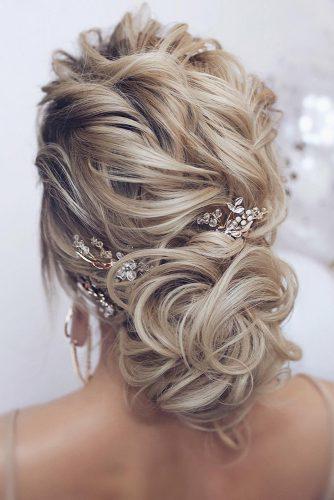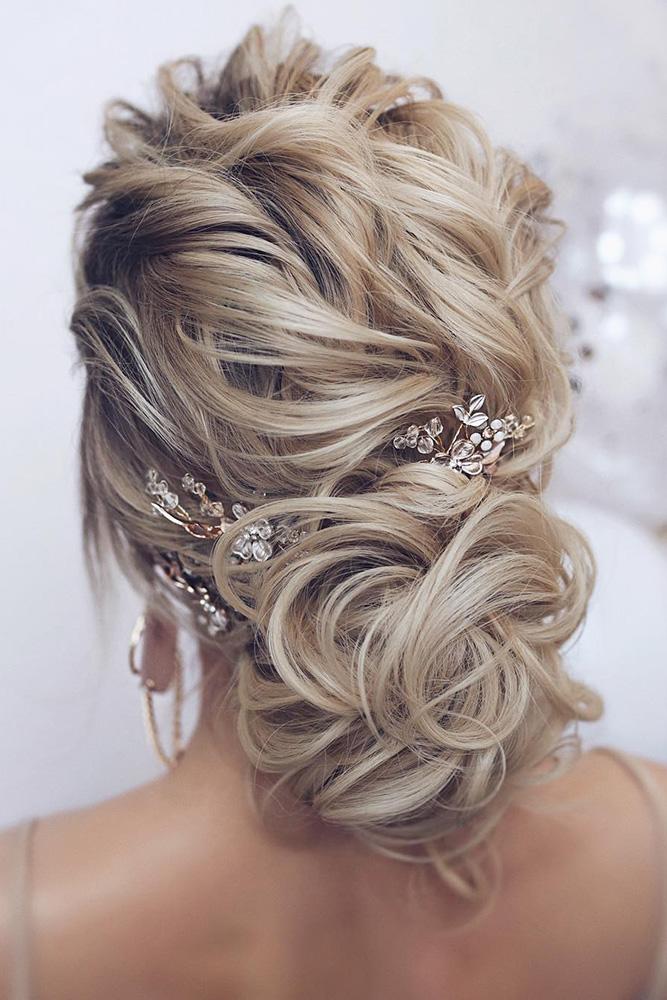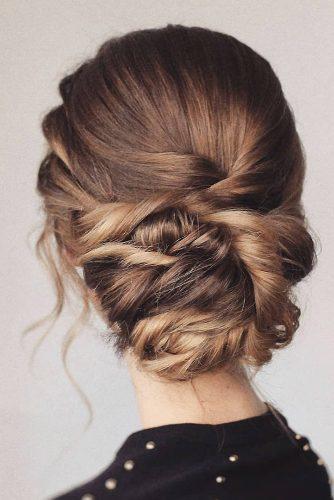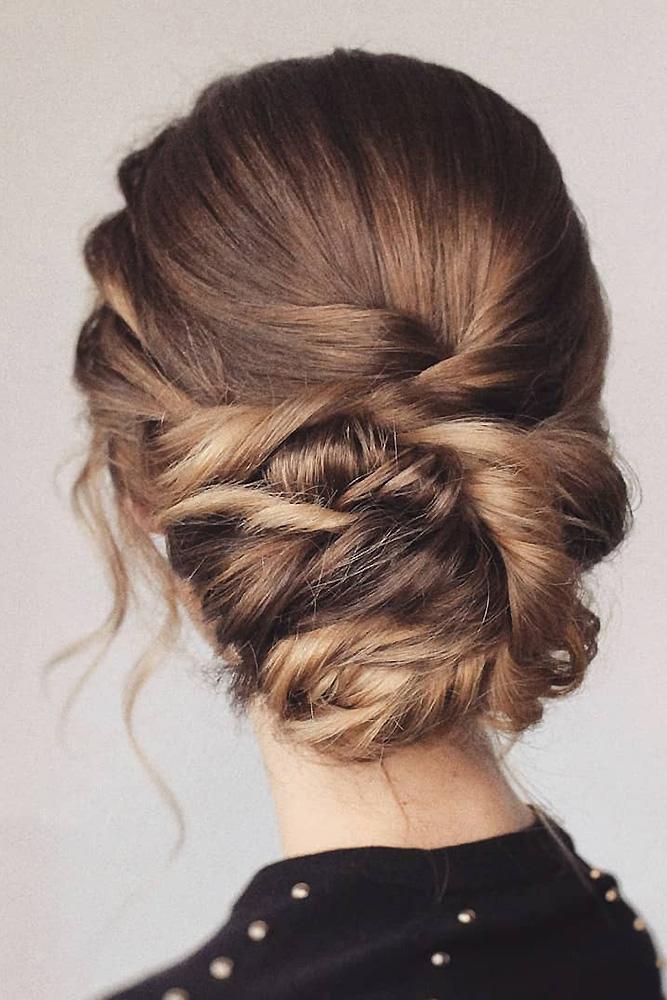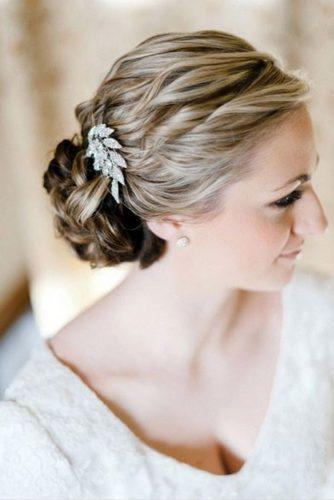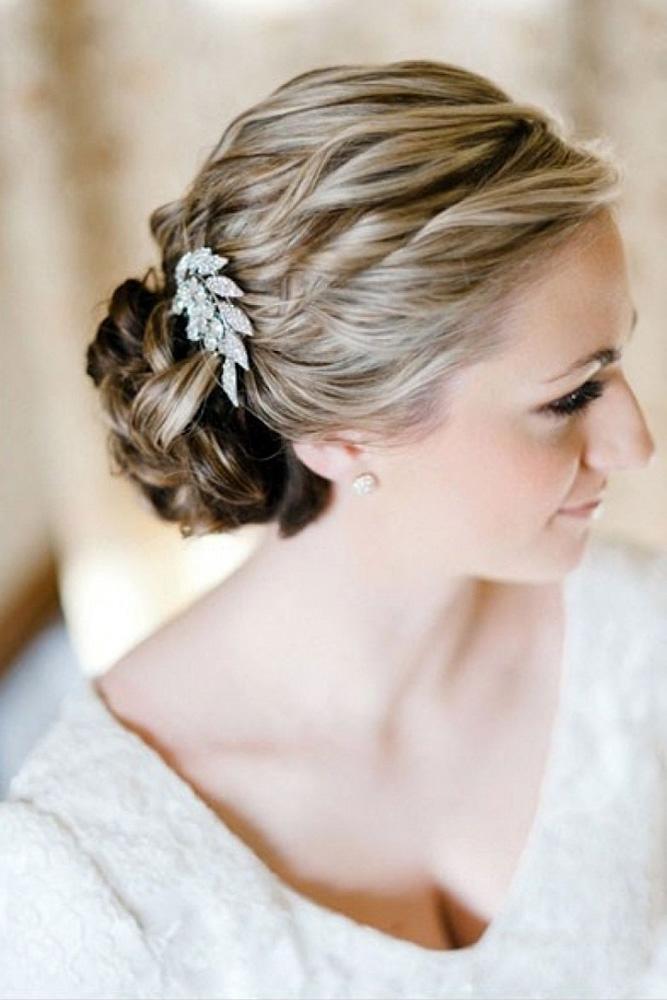 Source: facetimebeauty via Instagram, michellmarcalhair via Instagram, kamalova via Instagram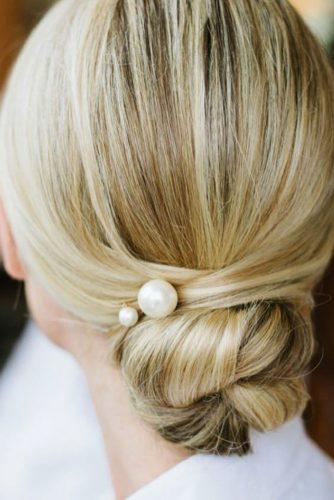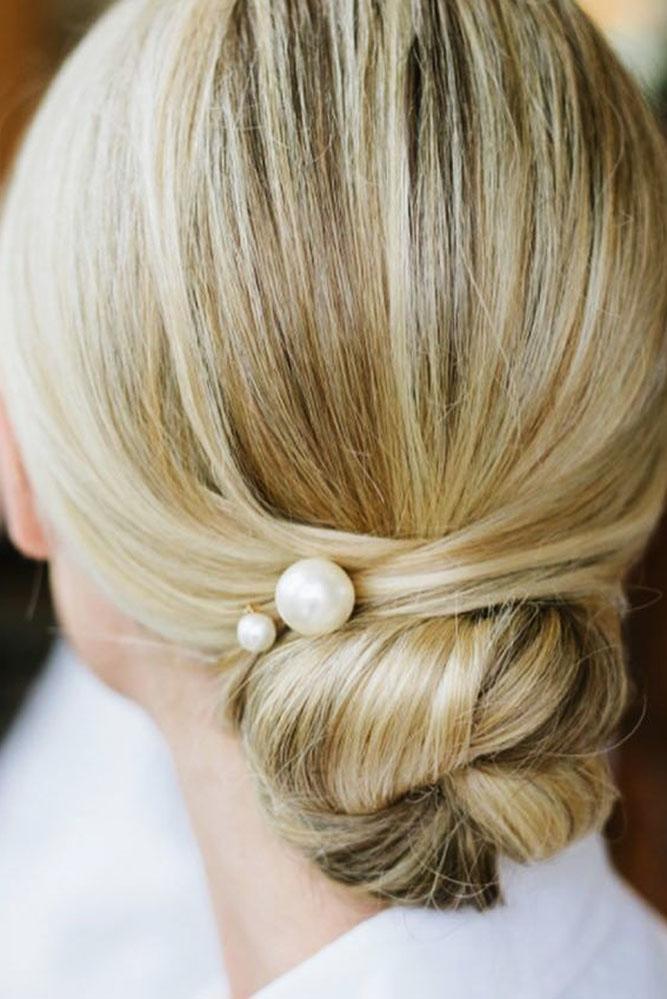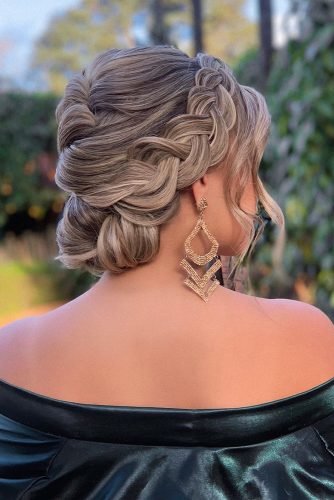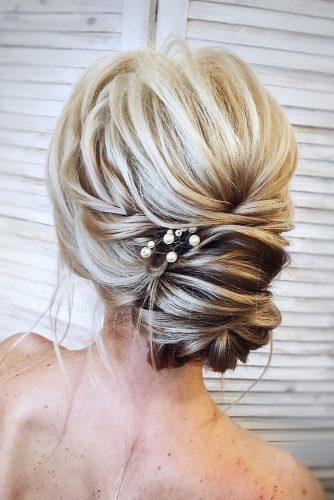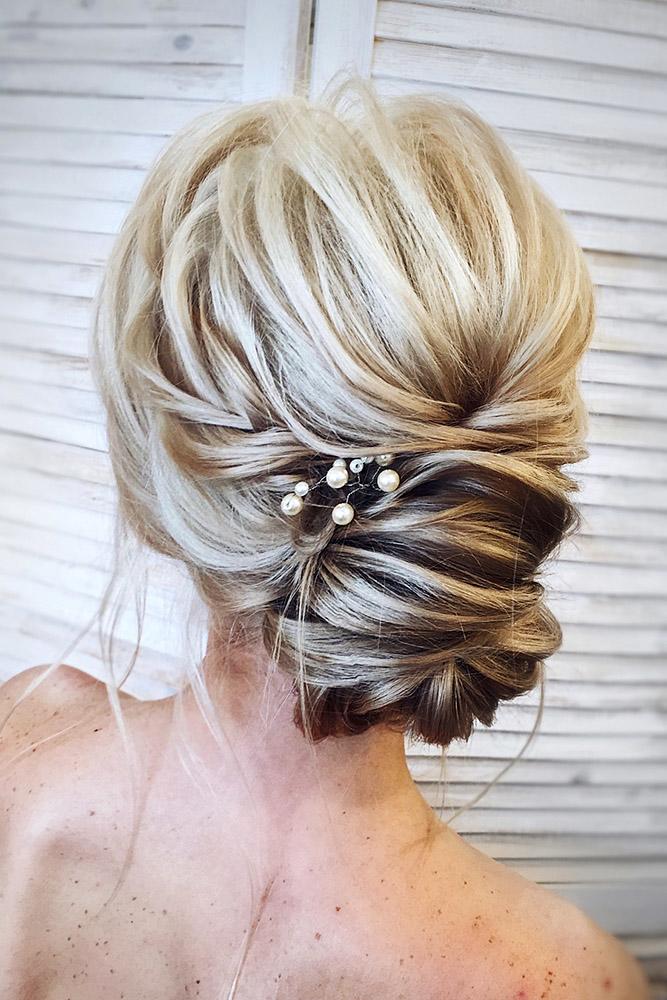 Photo 61-63: Feminine And Elegant Updo Ideas
Source: veronika_belyanko via Instagram, kristin_ess via Instagram, marthalynnkale via Instagram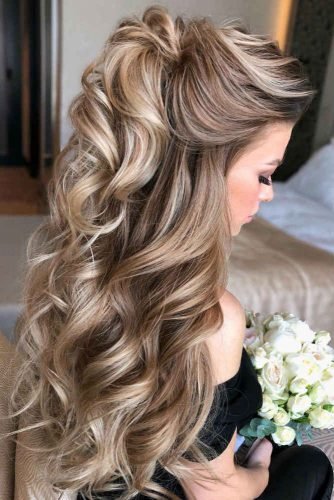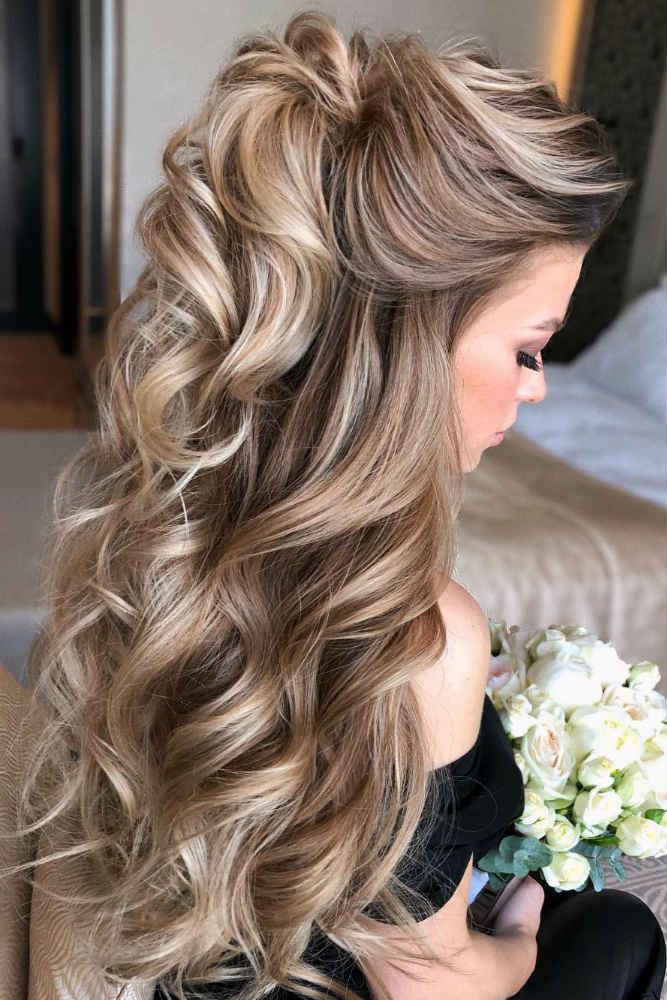 Long tresses
Your mother is lucky to have long tresses? Lucky you! The choice of mother of the bride hairstyles half up half down is limited only by your imagination. Just add some volume, and complete the look with a beautiful hairpin for a sophisticated look!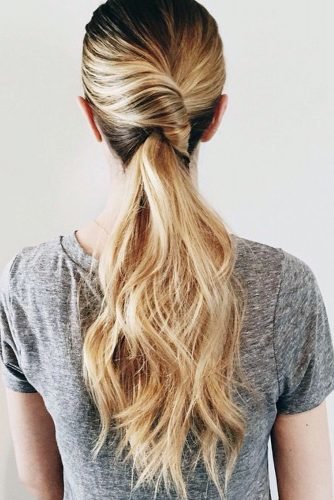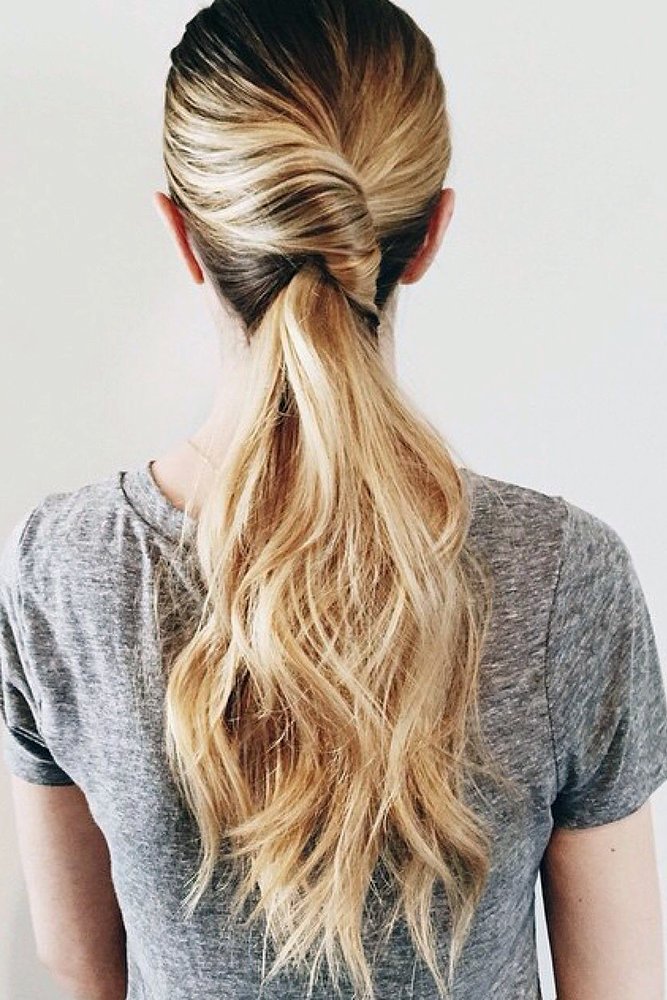 Fancy ponytail
Add some romance to modern hairstyles for mother of the bride with a curler. If your mother wants to look youthful on your special day, this is the best way to do it. Just add some curls and volume to a usual ponytail!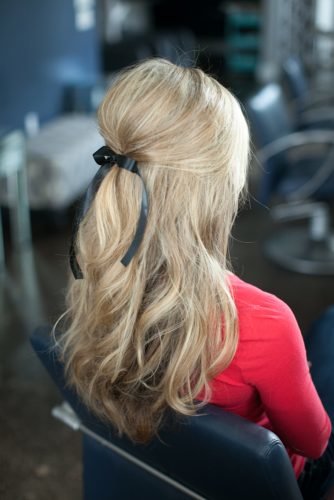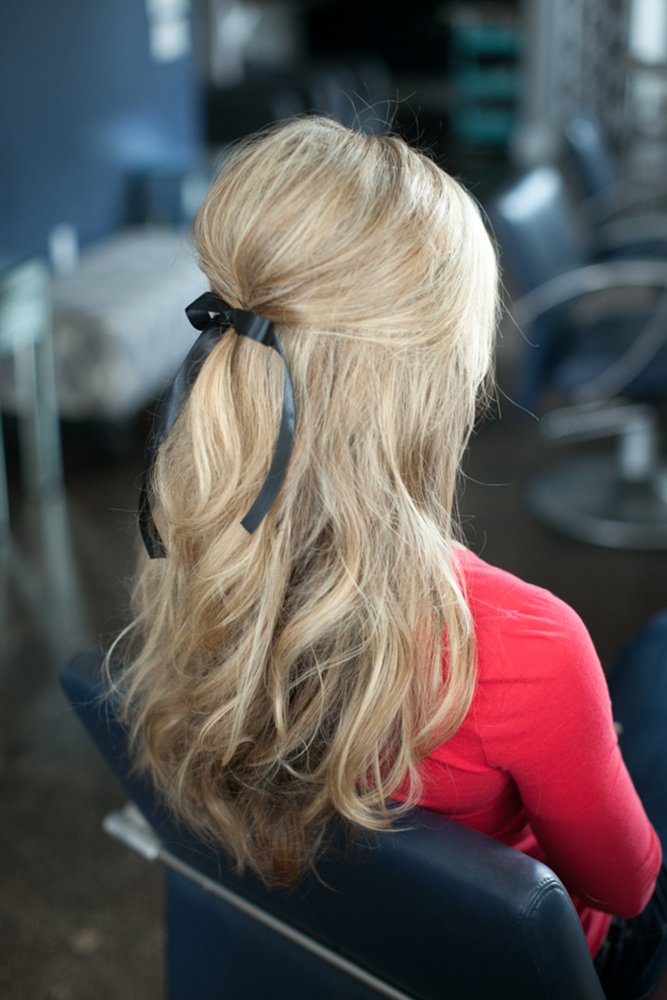 Polished half up with bangs
If your mother has long straight hair, try one of the mother of the bride hairstyles with bangs. You will need a hair straightener to polish hair, but trust us, this style looks fantastic.
Main photo: Patricia Figueira