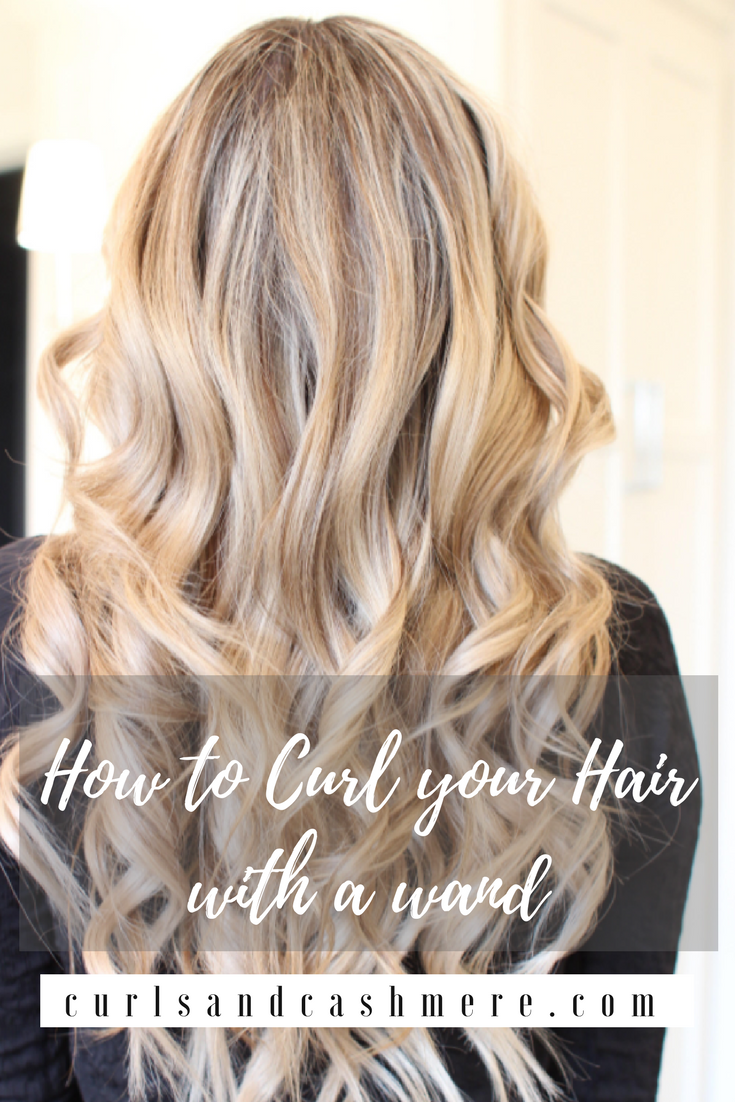 Hi everyone! I have had so many questions about how I curl my hair, I finally decided to create a blog post about how to curl your hair with a wand.  Remember, my hair is very curly naturally and so I have only been curling my hair with a wand for maybe 2 years. I am a somewhat of a beginner, but feel like my tips for how to curl your hair with a wand will provide you all the steps you need to master it on your own. For this tutorial, I used a 1 inch straight wand by Nume. I also LOVE T3 Micro wands (click here for the T3 base) so much and personally feel like they make my curls last waaaayyyyy longer using the T3. Click here to see my Beauty page where I share all of my hair and makeup products that I love!

Here we go with step by step tips on how to curl your hair with a wand…
HOW TO CURL YOUR HAIR WITH A WAND TUTORIAL
Before blow drying, I add this thermal protectant, which also cuts my blow-dry time by over 50% and this smoothing creme to my hair to tame my frizzies. I then blow it dry smoothly (remember to point the nozzle down towards the floor so you aren't making your hair more frizzy) with the help of a Brazilian Blowout smoothing treatment that my hair stylist does only hair every 6 months or so. You can read more about that here. It has been a lifesaver for me in regards to frizz. I use a wet brush after its dry to make sure it is tangle free. I LOVE this brush for myself and my kids. We have tons all over the house and I keep one in my purse! 
I part my hair down the middle. I usually wear my hair parted down the center, so I go ahead and get it parted before I curl it.
Then I section it into 4 equal sections on my head and then leave only the 2 bottom sections down to begin with that area. I leave the 2 bottom sections on each side of my face so I know they are equal. You can see my tape in extensions here. I have some for fullness and personally LOVE them!
Then I take approximately a 1″ section of my hair to begin curling. I have found the smaller the section of hair I curl at a time, the longer the curl will hold in my hair for days. For this tutorial's purpose, I am taking 1″ sections to wrap around the wand. It might be a tad curlier than I prefer the first day, but by the 2nd it has relaxed and I don't have to curl it again until I rewash it. It just gets looser and looser as the days goes on. To keep my hair fresh and not greasy in between washes, I love this dry shampoo. Ladies, what did we do before dry shampoo? It is such a time saver and really keeps your hair and color in better shape as too often of washing is not good for your hair moisture or highlights.
Now I start curling. When curling my left side of my head, I wrap my arm around the back of my head. I take the section of hair and go over the wand. Then I wrap it evenly around the length of the barrel. I point the barrel down a bit while curling. I leave a little of the end of my hair off of the barrel and hold it with my finger. I let it curl for about 7 seconds or so. After I unwrap the curl, I don't touch it. Just let it be for awhile. And continue on with 1 inch sections of hair. I shot a pic of the front view of myself reaching my arm around to the left side. And then shared step by step images from the backside.




Now you can see I finished curling the first of the 4 sections on my head. You can see below, since I leave the end of my hair off of the wand, it looks a little straight. I personally like that look. I don't touch any of the curls until I am ready to leave the house. I think this lets them take shape better. 
Now I move on to the right side of my head (the other bottom section). I don't have to wrap my arm around on this side since I am right handed. A tip…you want the hair to lay on the wand barrel the same every time so you get a uniform look. Sometimes if I want more beachy texture, I will almost twist the hair onto the barrel instead of how I did it here, where it lies flat on the barrel. Hopefully that makes sense. I continue to do the rest of the section. Notice the wand is pointing down and I always leave a little hair out at the end.
Ok, now you can see both bottom sections of my hair are curled. And now I go back to the top left section to start curling that area.
I am wrapping my arm around the back of my head just like I did with the bottom. Notice how since I have layers on this top section I don't start the wand as close to the root. I don't want it to be too tight. Since my bangs are shorter, I don't leave it on as long to curl. I continue to curl the top left section until they are all finished. Then I move onto to the last section.


Now I take down the last section and start again with my bangs. I keep the wand pointed down the entire time. And then proceed to curl all the hair until I am done.
I always miss a few in the back of my head when I a finished. So I glance in the mirror and then wrap any pieces I missed. I really love using a wand because its less confusing to me than an actual curling wand. Wrapping your hair is so fast with the wand and I don't have to over think it.
Now I am done curling! They look nice and wavy and love how the ends are a bit straight so it's not too much curl or too perfect. 


Before I am totally done, I do add some volume with a rat tail comb. I take some sections around the top of my head and tease it to give it some height. Not too much, but a little volume doesn't hurt anyone! Look at the bottom picture to see the added volume on my crown. For even more volume, I use this volume spray. It really does work! I then run my fingers through my hair and break up any curls that are too big or stuck together, etc. Finally I spray some cheap hairspray over my flyaways and add a little hair oil to my ends if they need it.

I finish my makeup and am ready to hit the town. It got dark in my bathroom after I was ready to go, so these pics don't have the best lighting.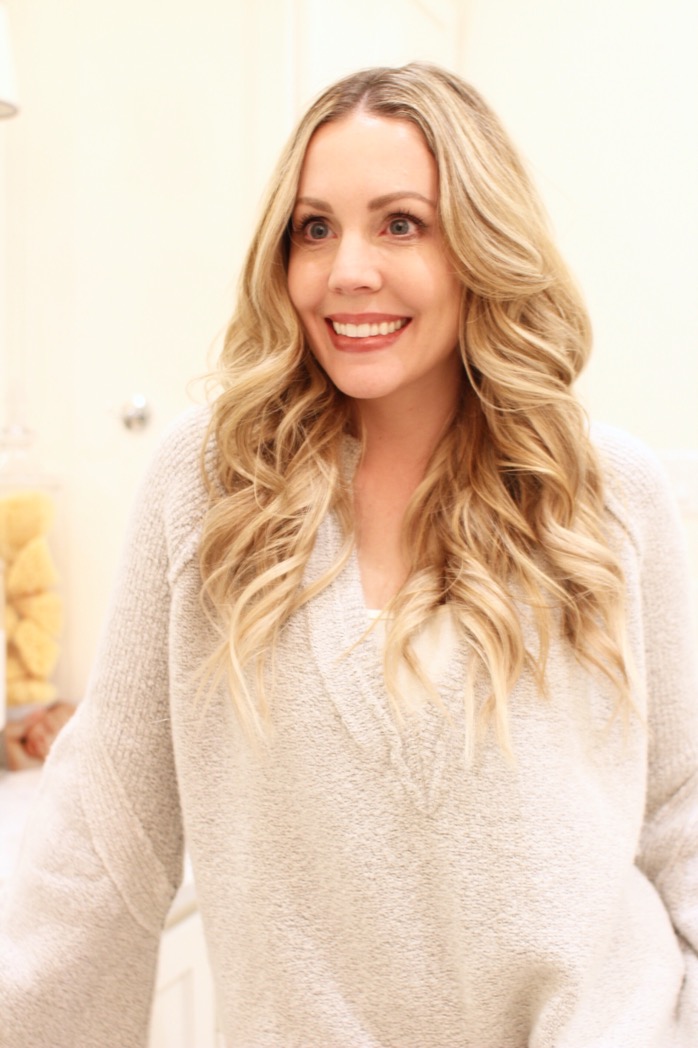 Pro Tip: To help my blow out and my curls last as long as possible, I shower with this shower cap covering my head  to prevent my curls from frizzing. Also, dry shampoo is a MUST so you don't have to wash your hair constantly. Also, I use this cult favorite deep conditioning mask weekly to keep my hair hydrated and shiny.

I hope my tutorial on how to curl your hair with a wand has provided helpful information for you! It took me a bit of practice to get the hang of it, and now it is second nature. Be sure to follow me on Instgram @curlsandcashmere to keep up with me on a daily basis.

Recent Posts:
My Everyday Makeup Routine    
How to get your Home Organized once and for all
6 Tips on How to Decorate after the Holidays