African American Natural Hairstyles for Medium Length Hair
We love natural hair at every length, but medium length styles are some of the most popular and versatile. There are tons of options for half-up styles, full updos, and textured looks involving braids and twists. If you've been stuck in a rotation of the same two or three looks, check out our list of the hottest natural hairstyles for medium length hair to inspire your future styling efforts.
Natural Curls with Flat Twist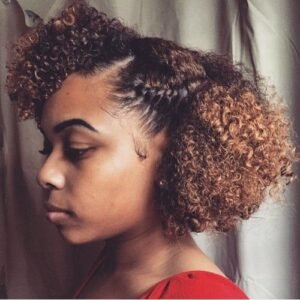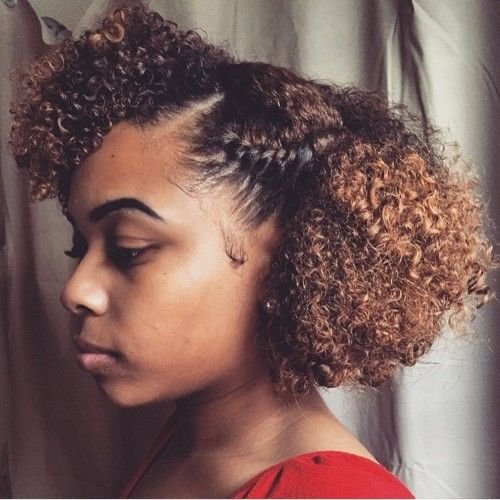 A simple side twist is perfect for pulling your natural hair away from your face without wearing a full updo. The different sections of hair here have lots of interest and dimension, making it a great everyday look that can easily be dressed up for a special occasion.
Natural Hair with Double Buns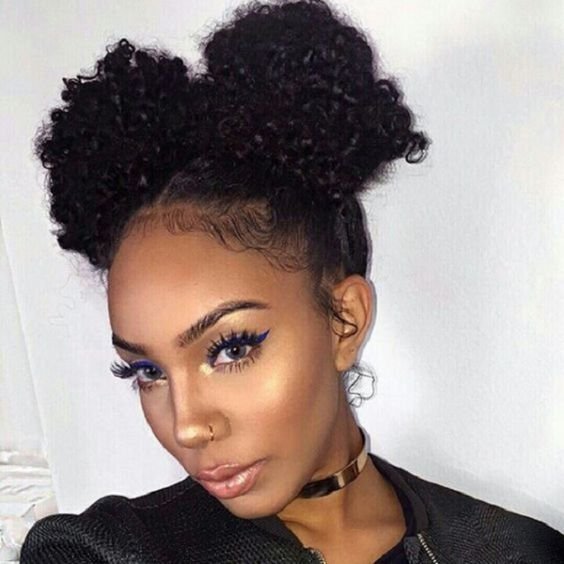 Double buns fit the bill if you're looking for a quick and easy updo for your natural hair that's still fun and carefree.
Chunky Flat Twist Updo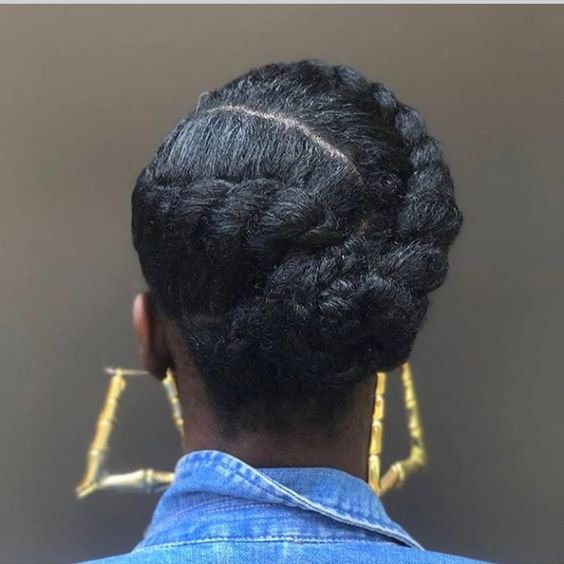 If you've only been using flat twists to create textured twist-out styles, you can also try the styling technique to create chic updos. This protective style keeps your ends under cover, and looks appropriate both as an everyday look or for special occasions.
Skinny Side Braids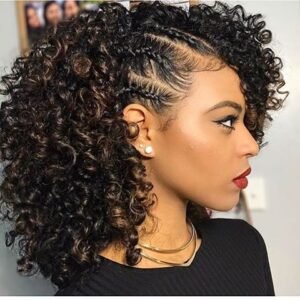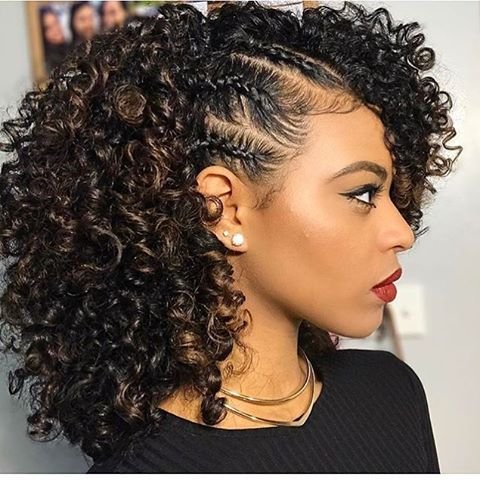 These medium length natural spiral curls are gorgeous all on their own, but a few skinny side braids helps to pull them away from the face and create a dramatic silhouette. We love this look for a night out on the town, but it's versatile enough for daily wear and doesn't take long to pull off.
Half Up Double Buns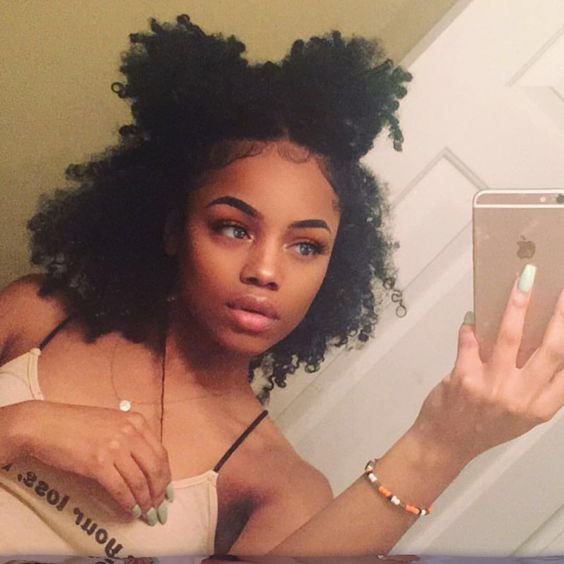 This trendy, half up style shows off your hair's natural texture while keeping it away from your face. Perfect for casual days when you want your hair to feel cute and fun without a ton of effort.
Bun with Curly Bangs
Put a fun spin on the classic, high bun with these curly pinned bangs. If you don't love the way your hair looks completely pulled away from your face, bangs help frame your eyes and add some softness to prevent a pulled-back style from looking severe.
Natural Hair Frohawk
Looking for a fun, edgy updo that shows off your natural texture? Frohawk styles are an easy way to add glamour to your look while helping to slim your face.
Messy Half Updo
Half-up bun styles are very on-trend right now, but we love how this half-up ponytail leaves lots of room to show off the fluffy texture of a twist-out or braid-out style. Use this look to extend the length of your hair in between washes or to pump things up when your natural curls are looking a bit flat.
Twin Dutch Braid Buns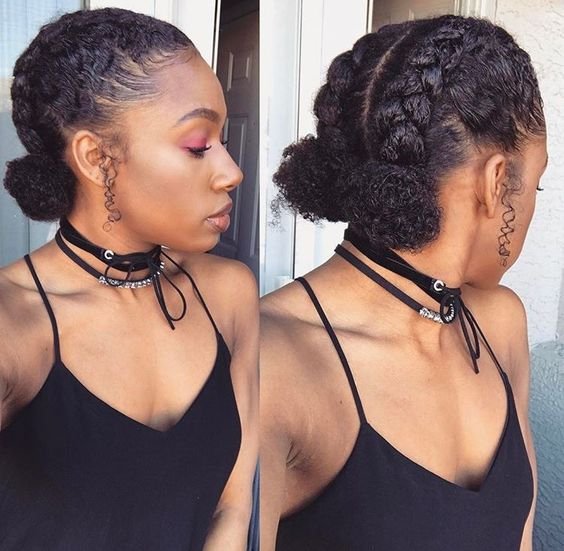 These quick and easy twin dutch braids let you protect your natural hair while looking cute and on-trend.
Natural Curls Head Wrap Updo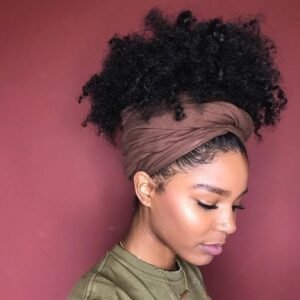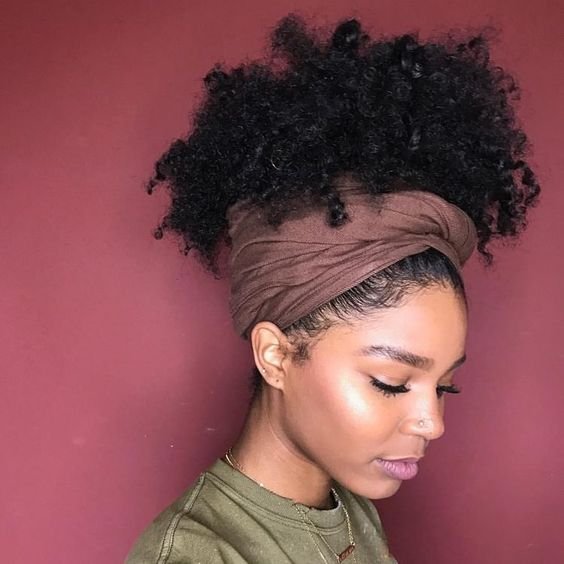 Head wraps help you get chic and versatile styles on days when you're short on time or your natural hair isn't cooperating. In this look, a wrap keeps your hair secure without the pulling or knotting that can come along with traditional hair ties. For natural strands that are prone to breakage, working a head wrap into your styling routine is a game changer.
Four Flat Twist Buns
Flat twists are a faster, easier alternative to french or dutch braided styles, making them perfect for beginners or anyone who isn't confident in braiding their own hair. In this look, four flat twists help to create texture all over the head while keeping your natural hair protected all day long.
Jumbo Bun
This gorgeous jumbo bun is drama and sophistication all in one look. You could pull this style off on a regular day, but we especially love its potential for weddings or special occasions when you want to showcase your facial features.
Braided Bangs Pigtails
Turn your medium length natural hair into a bohemian masterpiece with these braided bangs pigtails. We love this look with a center part to perfectly divide your hair, but it can also work with a deep side part and ponytail at the back of your head.
Twisted Crown Bun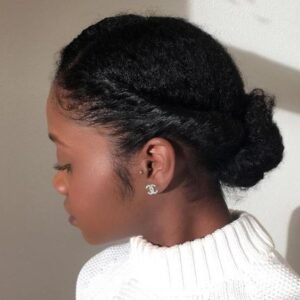 Looking clean and simple, twists help to control flyaway hair and frizz while adding something extra to a basic bun style. If you're in the process of growing out your hair or transitioning to natural, this is a great way to protect and nurture your hair.
Headscarf Mohawk Curls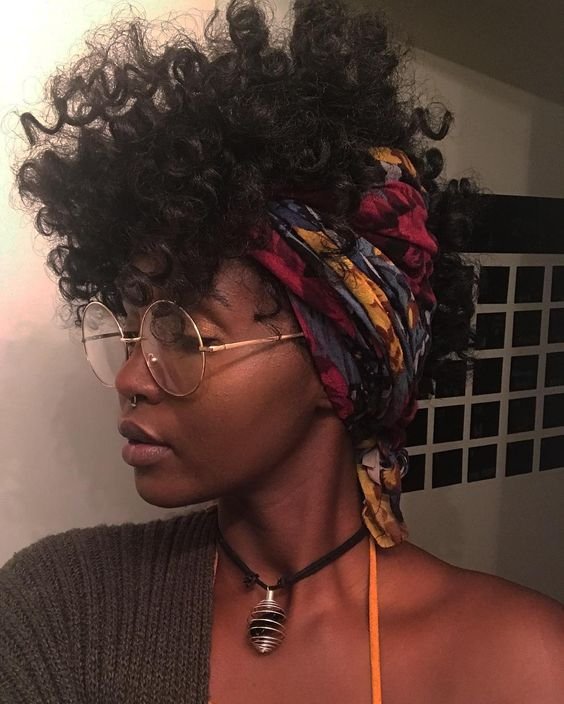 Not only do headscarves provide a way to put your medium length hair in updos, they create ample opportunity to add color and pattern to any outfit. In this look, a mohawk shape makes your headscarf style sassy and fun, and lets you show off some texture from a perm rod set or twist outs.
Triple Buns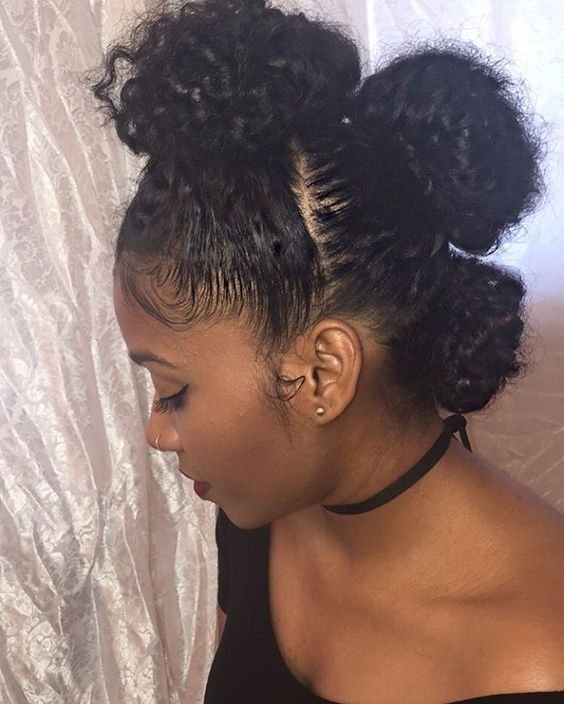 Move over double buns! Triple bun hairstyles are definitely the rising trend in fun, flirty updos. This look was made for medium length hair, as it gives you enough material to create buns that are the right size to stay put all night without unraveling or getting weighed down.
Two Strand Twists Side Style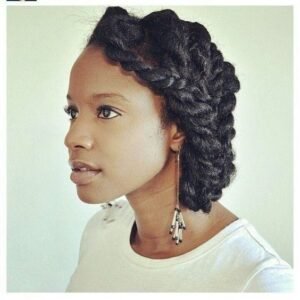 For a fresh way to wear your natural hair on a special occasion, this style brings together multiple two strand twists at the side of your head. Not only can you wear this look all day long, but it can turn into an easy twist out for the next several days.
Natural Curls with Bangs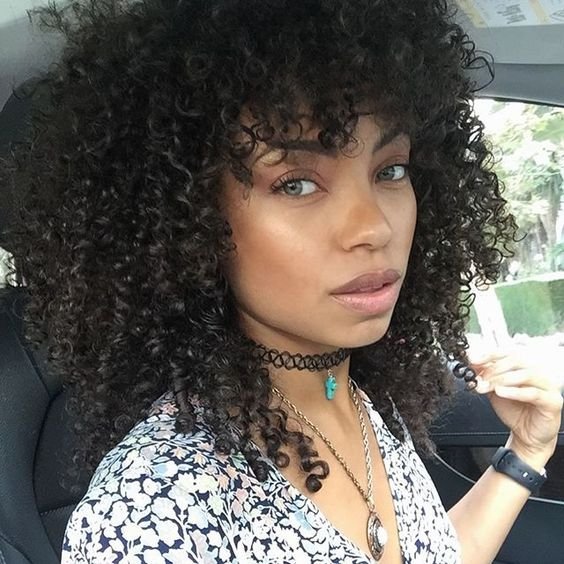 If you're loving your natural hair at a medium length but you want to add something new to your look, add bangs to your curls. Not only do they frame the face and brighten the eyes, but they add lightness that makes updos easier to pull off.
Flat Twist Bangs Bun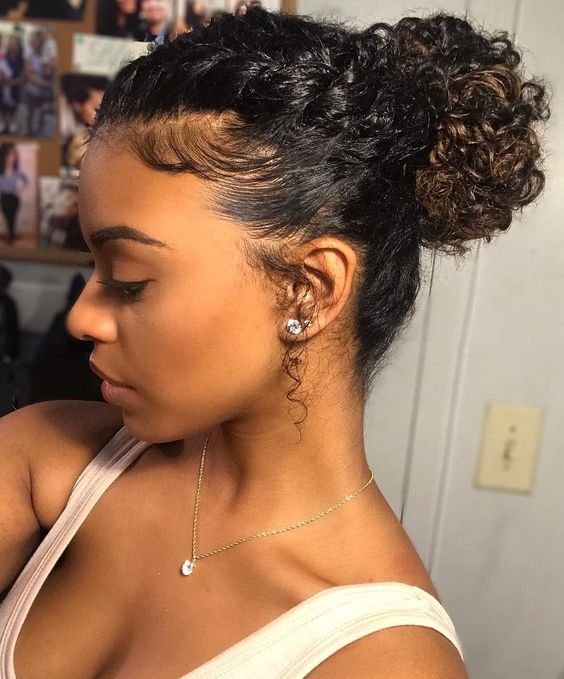 Flat twisting your bangs is a practical way to keep frizz and flyaway hairs from wrecking the sleek look of any updo. Even if frizz isn't a problem, this simple technique adds texture and dimension to an otherwise standard bun hairstyle.
Chunky Bantu Knots
Bantu knots are a great way to put texture in your natural hair, but they also work on their own as a gorgeous updo. When you've got medium to long natural hair, opting for fewer bantu knots that are larger in size can make this style quicker and easier without sacrificing its essence.
Medium Twist Out Texture
If you've been feeling bored with your medium length hair, a twist out is the perfect way to add more volume and some new texture to your mane.
Flat Twist Pigtails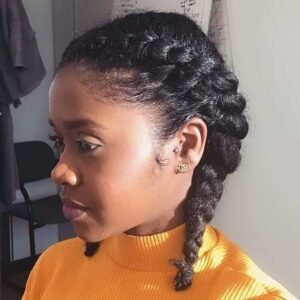 Quick, easy, and totally cute, these flat twist pigtails are a great way to wear your natural hair on busy days. Your strands will stay safe and secure in a feminine style that's anything but dull.
Side Twists Top Knot
Top knots are one of our favorite ways to wear medium or long hair in a chic updo. If you're looking to add something unique to the classic top knot, these twists at the side of the head are a perfect addition.
Pulled Back Ponytail
Pull your natural hair back into a ponytail for a quick and easy look that works on any occasion. To get a style that's this sleek at the front, we recommend grabbing a high quality edge control product.
All Over Flat Twists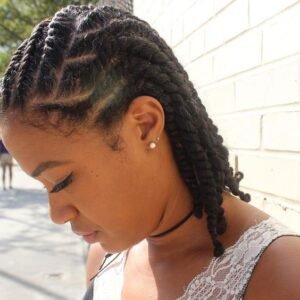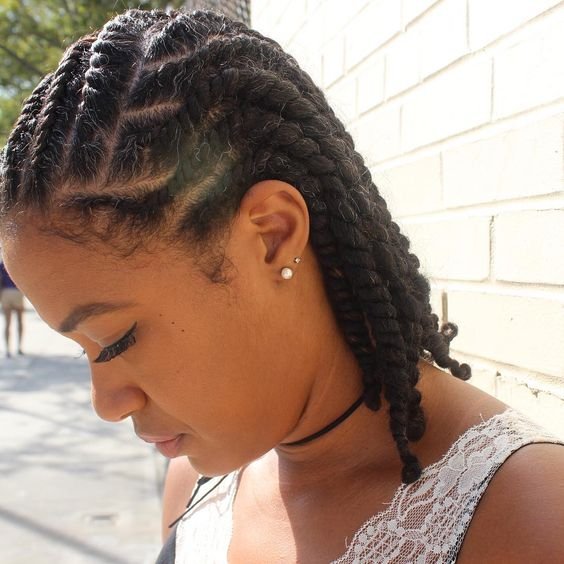 If you want a low maintenance look that truly protects your natural hair, all over flat twists are the way to go. This style is sporty and fun, making it perfect for athletic women or vacations where you don't want to worry about your hair.
Flexi Rod Curls with Side Braids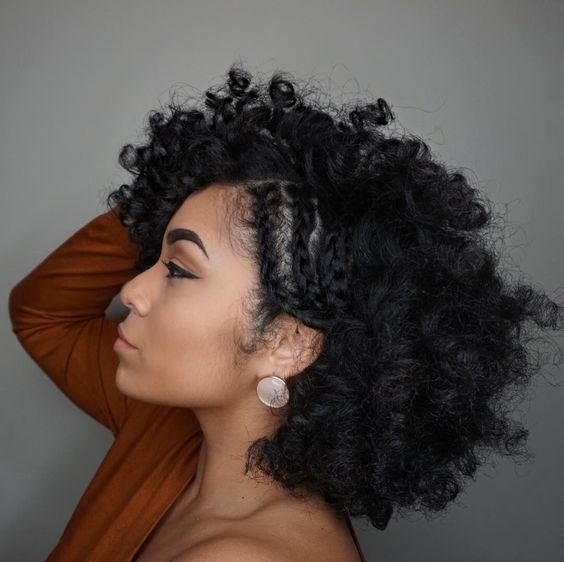 Flexi rod sets are one of the easiest ways to put spiral texture in your natural hair, and they're great for creating extra bounce and volume. You can place a few braids at the side of your head to create some structure and control in this look.
Chunky Goddess Braids
These goddess braids are all about chunky texture, making your medium length hair look impossibly thick and luscious. You'll need to gently pull your braids apart to get this look, so be sure to apply moisturizing product before to prevent frizz and flyaways from making your goddess braids look messy.
Natural Hair Braid Out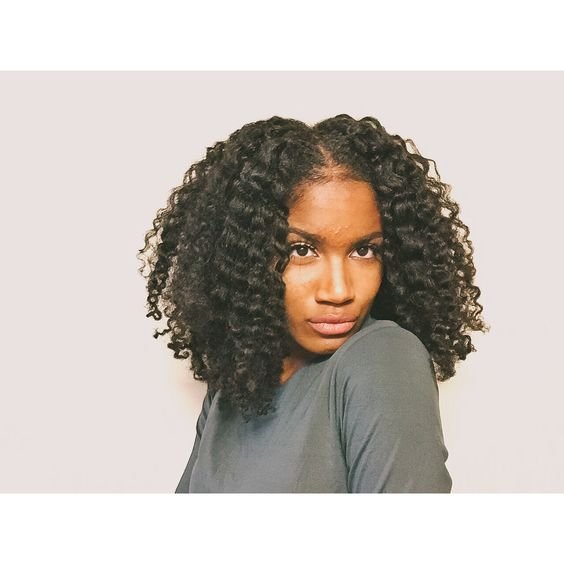 If you want thicker texture that looks more crimped than a twist-out, braid-out styles are an easy alternative for medium length natural hair. Braid-outs are also one of the best options for creating deeper texture in uneven curl patterns or heat damaged hair.
Two Strand Twist Updo
Put your natural hair in a sophisticated updo with the help of basic two-strand twists. To get this look, simply twist sections of hair from each side of the head, pinning together in a low bun at the back of the head.
Pineapple Updo
The pineapple hairstyle is a classic for a reason, and is one of the easiest ways to wear medium to long natural hair. Use this look when you're short on time or several days after a perm rod set or twist out style.
Headband Updo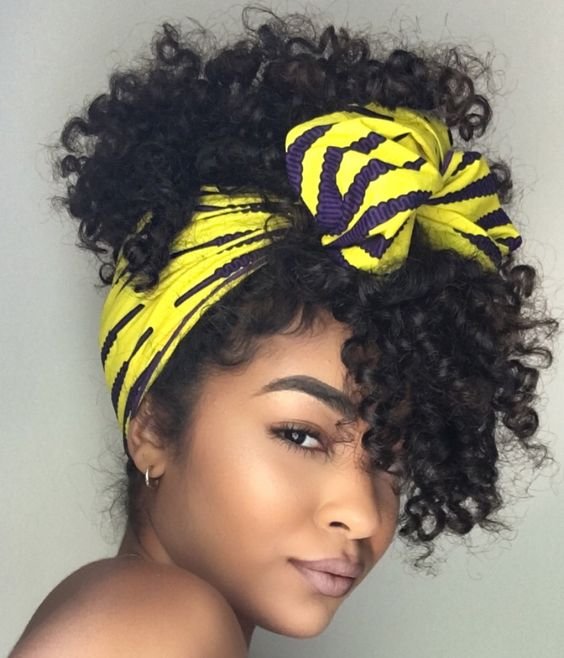 Hair accessories always add chicness an style to your look. This headband is wrapped around the head from the back while there is a chunk of hair at the side front which create a super chic and effortless look!
Curly Puffs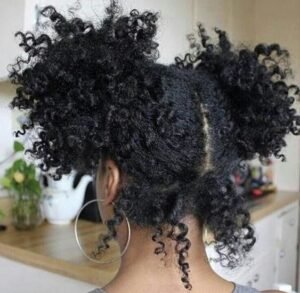 These curly double puffs are super comfortable style to wear and they are super cute! Add statement earrings to complete the look!
Twist out medium curls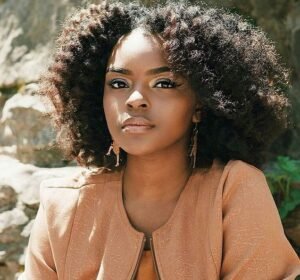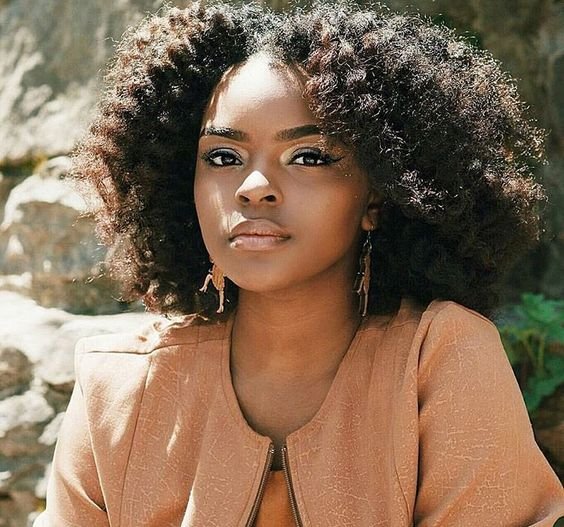 This twist out middle part curly style is absolutely gorgeous! We want to shout #hairgoals !
Middle part medium natural hairstyle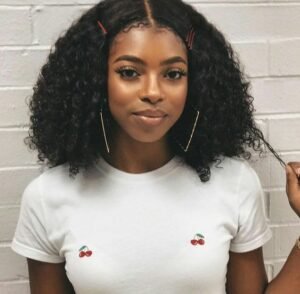 If you like to keep things simple this middle part curly look is classic and charming.
Natural Crown Braid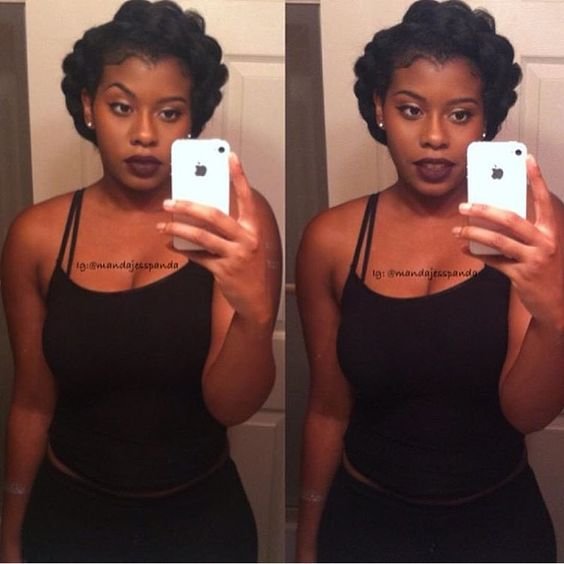 Want to go for something classy? Natural crown braid is a great hairstyle for a wedding and special events.
Twisted Crown Style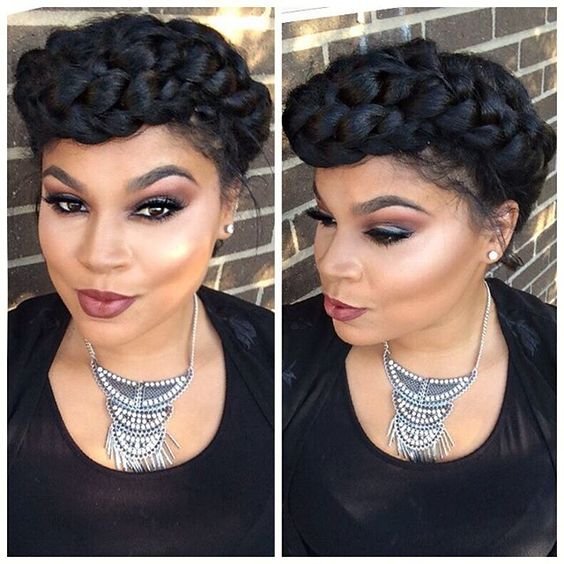 Another take on the crown updo, only this one is a twisted style. The braid starts from the back all the way above, creating a very unique and stylish look!
Asymmetrical Halo Braid with Highlights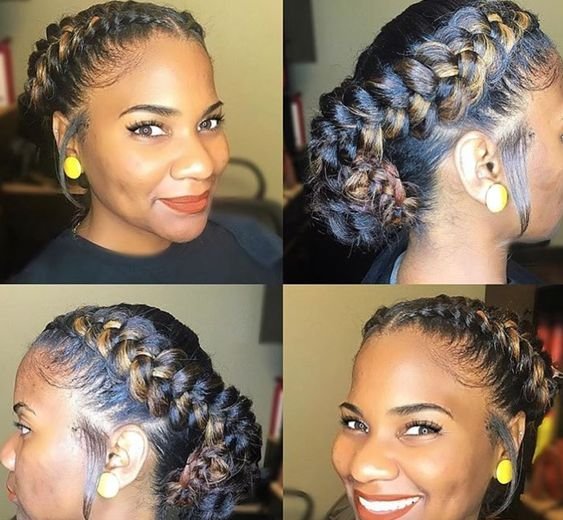 The highlights of this halo braid add so much style and texture to the overall look! Add big earrings and matching lipstick and you're good to go!
Double braids curly style
This style is super cute and very easy to achieve. Simply take two thin strands of hair from each side and braided them. Then ull them back together above your natural curls.
Two strand twist updo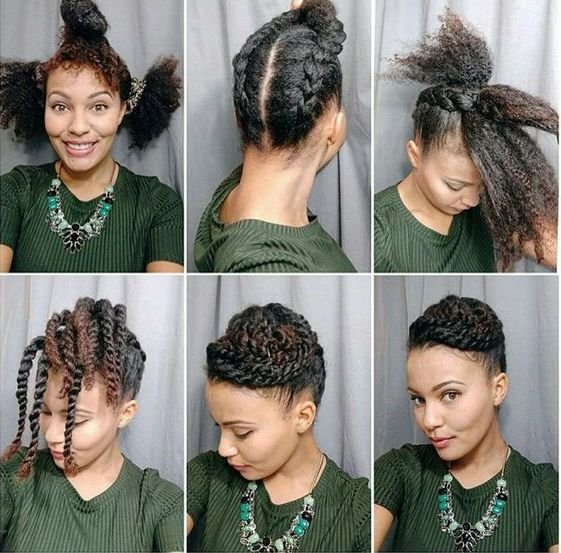 As you can see this two strand twist updo looks amazing on natural hair and is quite easy to achieve at home.
High curly pouf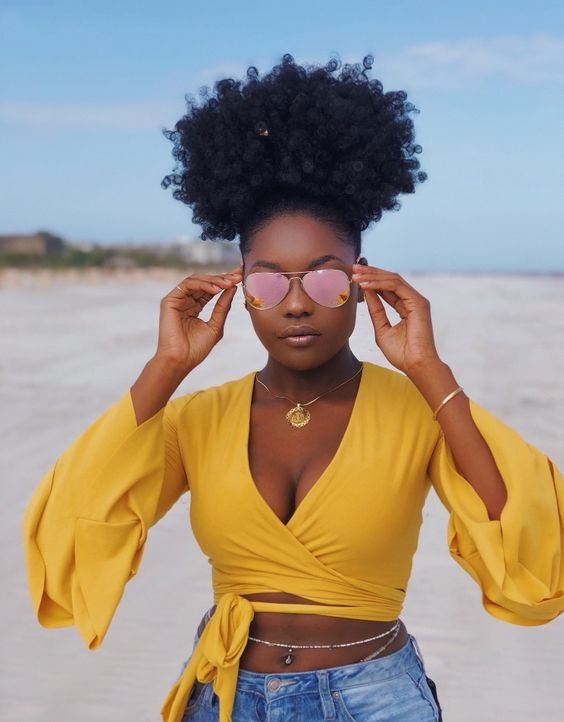 Show off your natural curls with a high puff updo!
Double bun updo
This unique style features curly double curly buns with symmetric baby hair design and natural curls falling on the sides, framing her beautiful face.
Twist Out Frohawk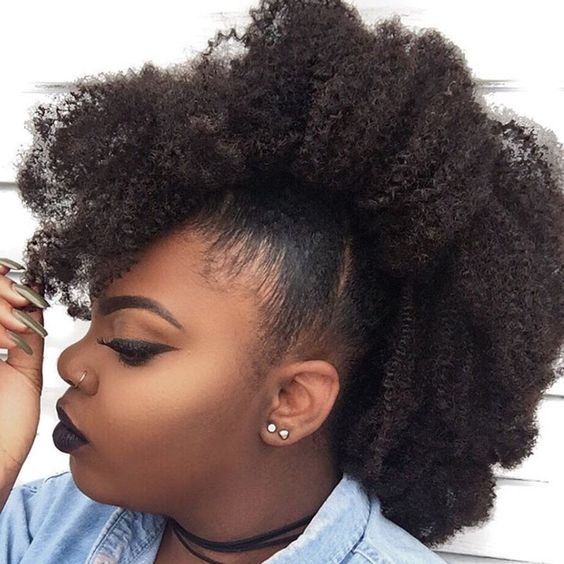 Want to get an edgy and super chic look? Go for a natural frohawk updo like this one! This style surely turns heads!
Braids and Beads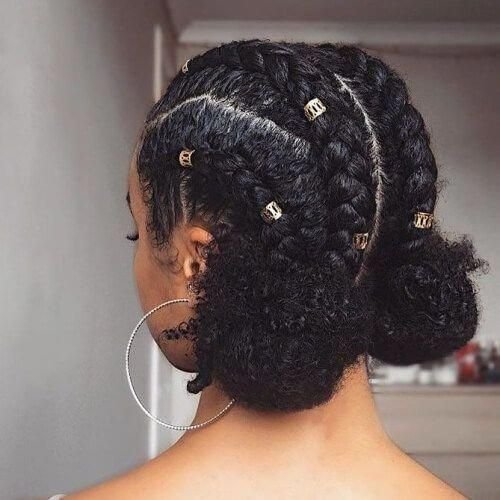 This natural braided updo is super cute with 4 braids attached to the scalp and pulled into two curly buns at the back. The big earrings and beads add so much to this style!
Braided half up unraveled twists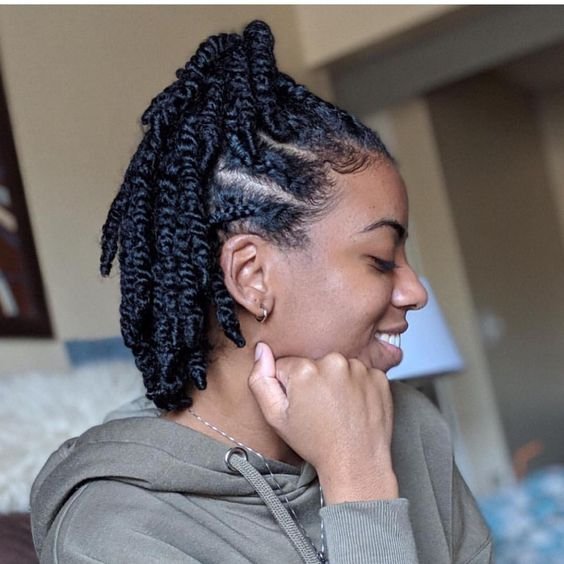 Twists are such a  versatile style and you can wear them raveled or unraveled like this half up braided protective style.
Frohawk with bangs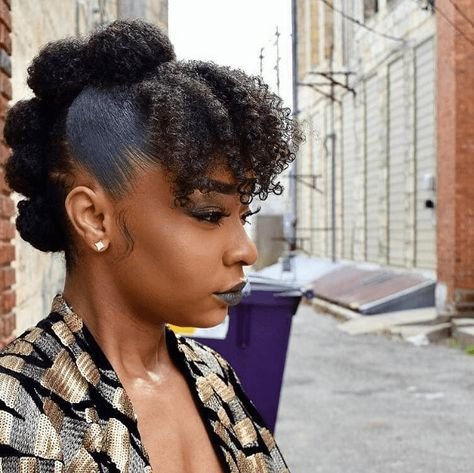 We love this Bun Hawk updo with  curly buns at the back and long curly bangs that fall on her forehead.
Beautiful Natural Curls and Highlights
These open and voluminous blonde curls are absolutely stunning and super chic!
Head Scarf on Curly Hair
A great way to freshen and spice up your natural curls style is by adding accessories like head scarfs and hair jewels. This style is so simple yet gorgeous!
Round Afro Bob
Framing natural curls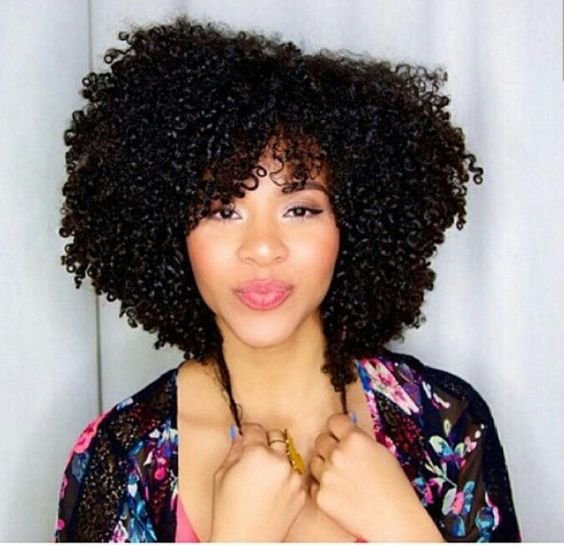 Double curly puffs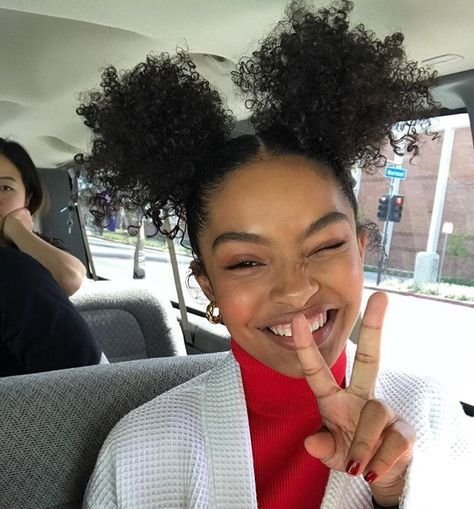 Puffy side swept natural hair
Pineapple afro puff
Natural half up double buns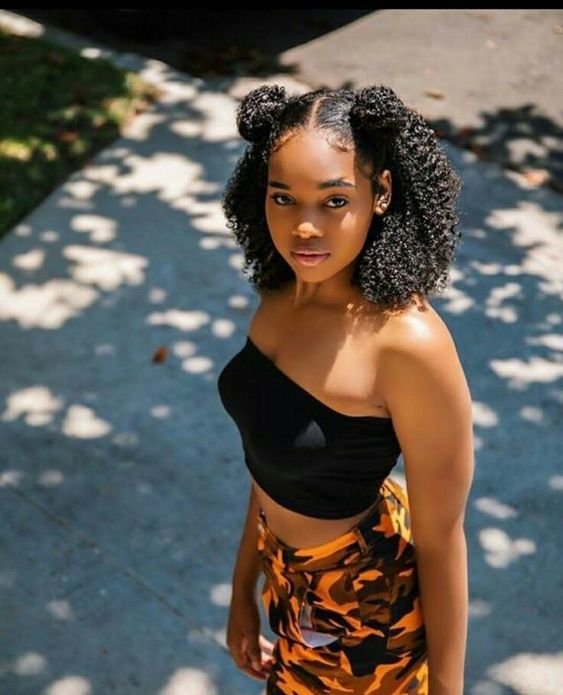 [td_smart_list_end]