These Hairstyles For Diamond Face Shape Make Heads Turn!
Don't believe that hairstyles for diamond face shape can totally change the way you look? Well, answer this question, then: what can make us look more attractive if not a new haircut or hairstyle? Your hair is your natural accessory, so you should know how to wear it right, based on the features of your face.
Diamond face shape is one of the sexiest face shapes ever: the forehead and jawline are narrow and subtle, while the cheekbones are the widest and prominent point. Remember that no hairstyles for face shapes can spoil your look, but there are some that can enhance your beauty. Today we want to show you how you can get the most out of your diamond-like face; are you ready to face the cutest cuts and styles?
Full And Lively Long Bob With Side Part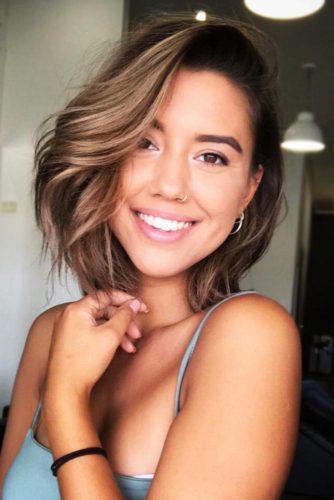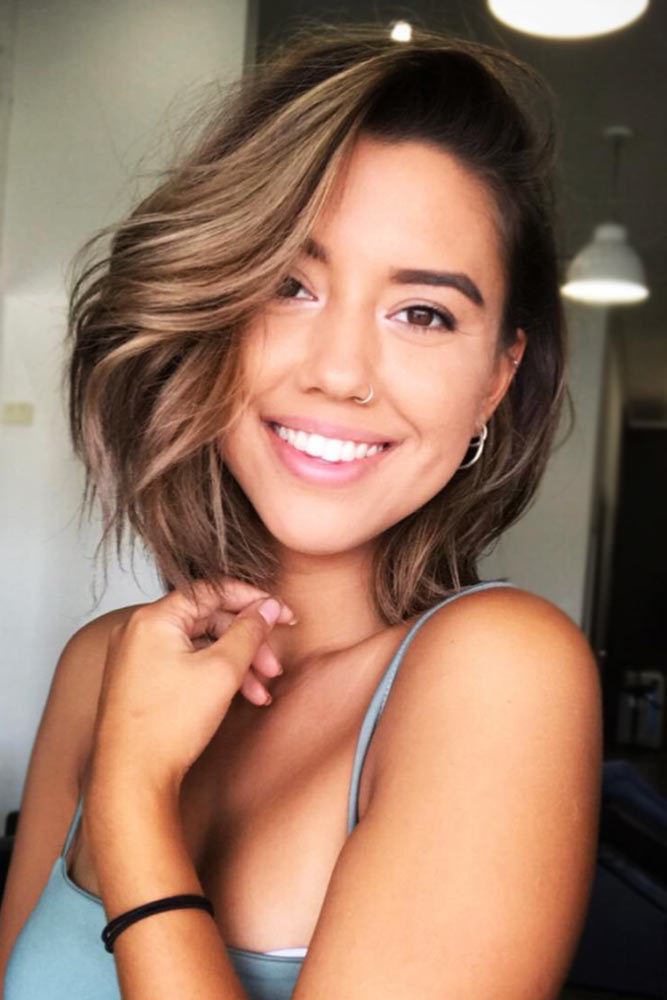 Source: chelseahaircutters via Instagram
All the girls with the diamond-shaped face should always keep their face as open as possible: your awesome cheekbones should be in the spotlight. And your hairstyles for diamond face shape should keep the balance in your look, without outweighing it. This long bob with side part knows how to do that right: the silhouette is full and well-balanced, and your cheekbones shine bright!
Face-Framing Long Wavy Hairstyle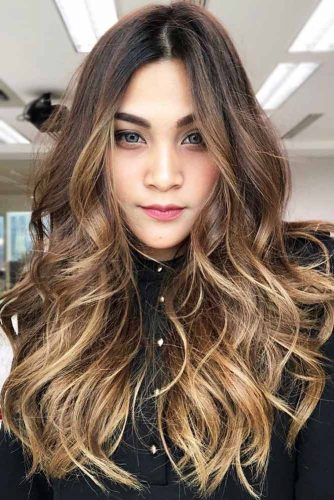 Source: chelseahaircutters via Instagram
Sometimes your narrow jawline and forehead make your face appear too long and slim, which doesn't look natural and attractive. When a woman with long face wants to create a sophisticated look, she opts for wavy hairstyles. So if you have long hair, just wave it and see how nicely the front locks smooth out the look, balancing everything out.
Stylish And Easy Top Knot With A Headband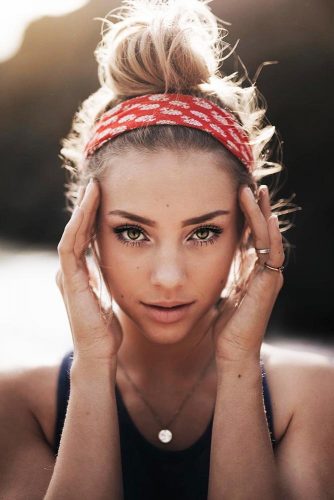 Source: charlyjordan via Instagram
There's nothing you should hide; every feature of your face needs to be highlighted! Unlike round or square face, you don't have a prominent point that makes your face look wider or bigger, as your projecting cheekbones don't make things worse. Show it off with the easiest updo - messy top knot, and accessorize this cutie with a bright headband.
Layered Sleek And Straight Hairstyle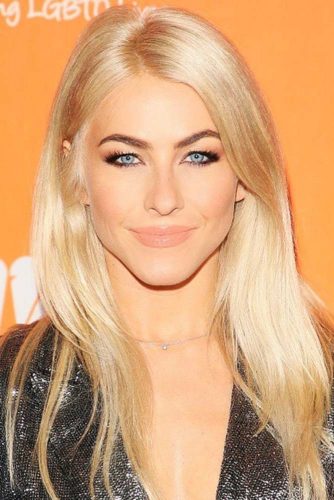 Source: riawna via Instagram
Want to narrow out your cheekbones? Layers know how to make it real. Some diamond-like faces are quite harmonious, but some of them may have a bit square shape in cheekbone area. Layered hairstyles for diamond face shape, where layers are of different lengths, create a very seamless, yet full silhouette that can make your face look more oval.
Stylish Long Messy Hairstyle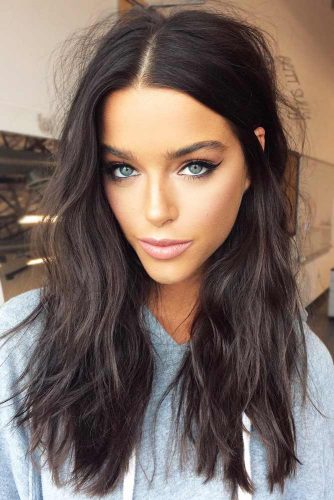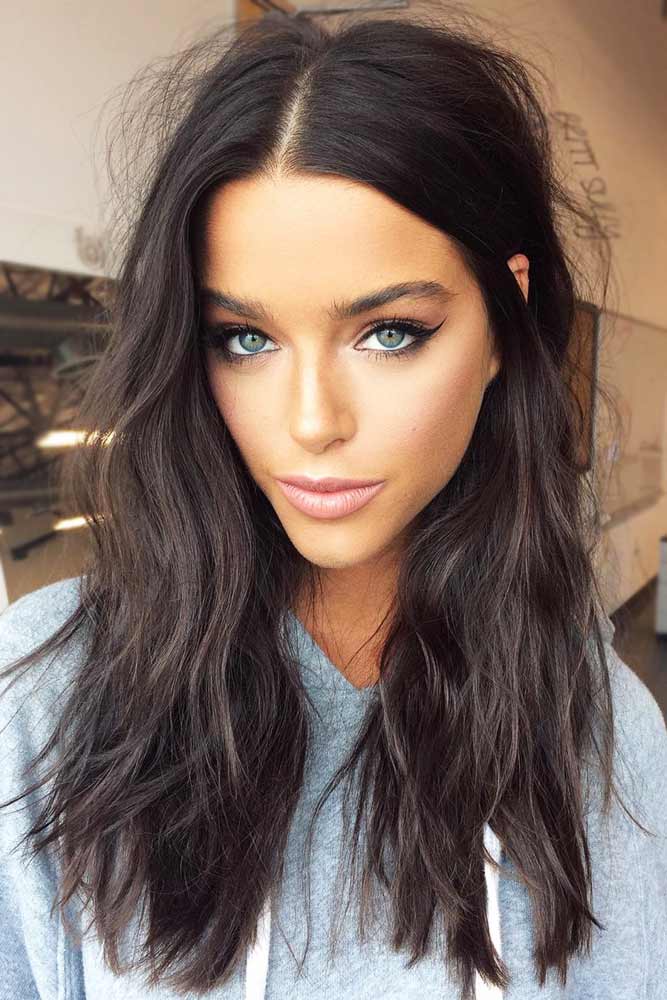 Source: brittsully via Instagram
Believe it or not, but air-dried hair can beautify your face so lovely that you will be greatly impressed by your reflection in the mirror. You can also blow dry your hair with a diffuser, but make sure you do that without styling products so that your a bit wavy hair looks natural. Though this silhouette is quite messy, it brings the needed balance to your face shape.
Elegant Double Braids Headband Half-Up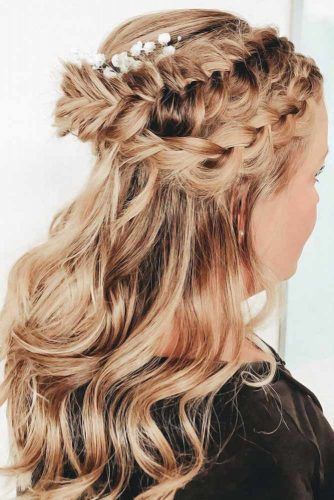 Source: braidsbyellie__ via Instagram
Fortunately, nothing can stop you from wearing the cutest updos or half-ups, as there's nothing you want to draw attention from. You've got far more styling options than round or oval face shape, thanks to your neat proportions. How about some braided 'dos? Your beautiful face, adorned with wavy front hair, will look absolutely lovely and girly with this creative headband made out of braids.
Layered Hairstyle With Wavy Bang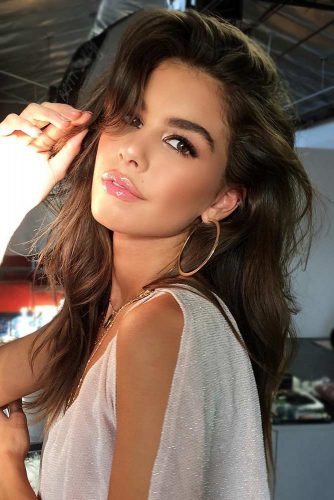 Source: brittsully via Instagram
You already know how powerful layered hairstyles are. But when your layers are paired with bangs, they take this hairstyle to a whole new level. It can be a thin or side-swept bang; it's all up to your taste. The point is that bangs help to soften the angles of your face shape.
Cute Messy Side Braid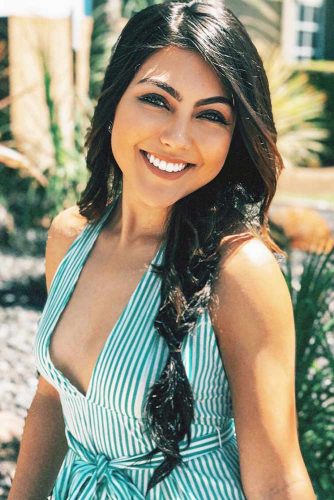 Source: xalliulloa via Instagram
Messy silhouettes, asymmetry, layers: these are three pillars of perfect hairstyles for diamond face shape. Who says that bringing them all to life is hard? Just look at this pic: this simple, yet absolutely lovely side braid is the best way to show off the beauty of your face shape.
Accessorized High Bun On Wavy Hair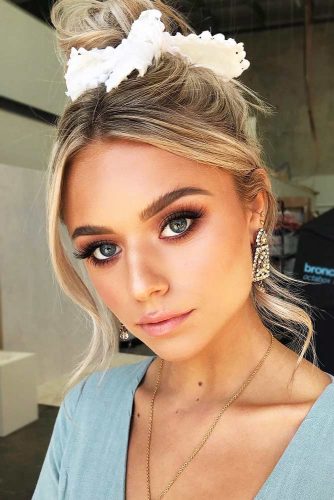 Source: emmachenartistry via Instagram
Once you feel absolutely confident with all your facial features and you fancy getting an updo, this idea will come in handy. Your stunning face is open, all of your hair is put into a messy high bun, accessorized with lace bowknot, and some wavy locks are left to fascinate. This look is another reason to be proud of your diamond face shape, that's for sure.
Low Knot For Medium Hair Length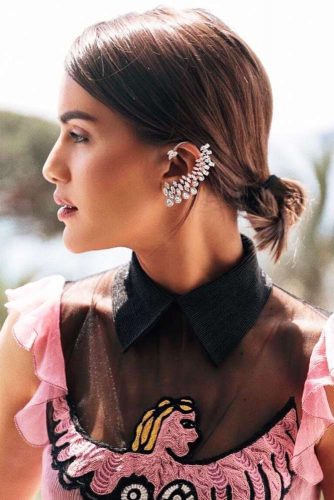 Source: camilacoelho via Instagram
Let's keep it simple, but significant. Here comes another hairstyle that will work perfectly only for your face shape. Slicked back hair is a brave decision, and you're the only one who can make it. This simple hairstyle accentuates your pronounced cheekbones, which automatically makes this hairdo look unbelievably exquisite.
Messy High Ponytail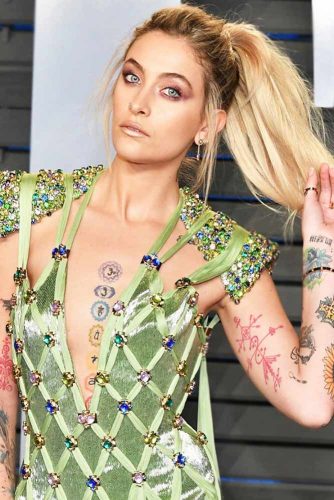 Source: riawna via Instagram
Of course, you can easily get yourself a ponytail. And the messier it is, the better it enhances your cheekbones, drawing attention to the sexiest features of your face. Messy styling gives more volume, and high updos open up your face. Look at this photo: it seems like ponytails were created to flatter diamond faces.
Curly Medium Length Hairstyle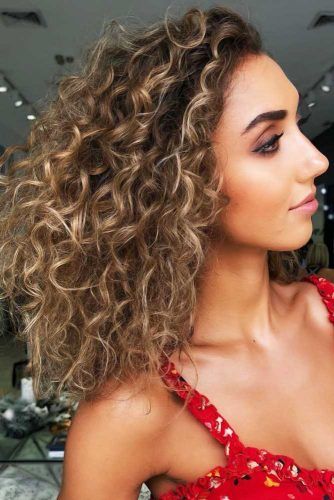 Source: natalieannehair via Instagram
There's nothing impossible about curls! They don't really care about the shape of your face, your hair type or your age: they just know how to make everything look adorable. And the good news is: this is the most versatile idea among all the hairstyles for diamond face shape! It works for every face shape.
Wavy Hairstyle With Thin Bang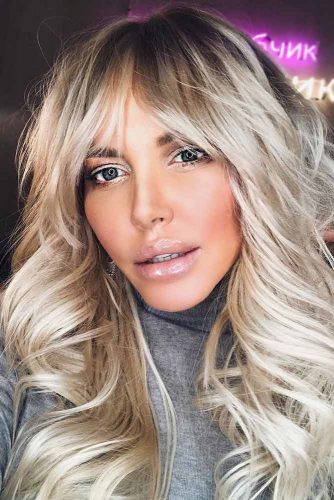 Source: ryabchik.moscow via Instagram
Thin hair is a curse, but thin bang is a blessing! Those who have a very prominent, wide forehead go for blunt bangs to hide it. Fortunately, we don't need that. In this case, we need bangs to balance out the wavy look. If you like the idea of wavy hairstyles, remember that they look ravishing with the bang like the one you see in this pic.
Half-Up Hairdo For Straight Hair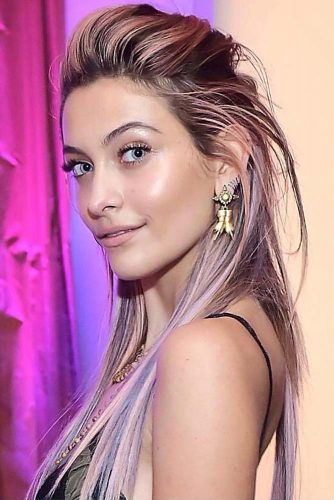 Source: riawna via Instagram
How about hairstyles for diamond face shape with a voluminous crown? The top section of hair brushed to the back will create the fullness you are looking for. It's actually a good idea for ladies with straight and thin hair. To make this half-up look more interesting, you can also twist the top layer into a little bun.
Choppy Layered Pixie Haircut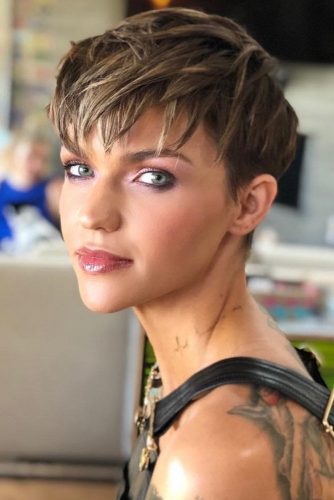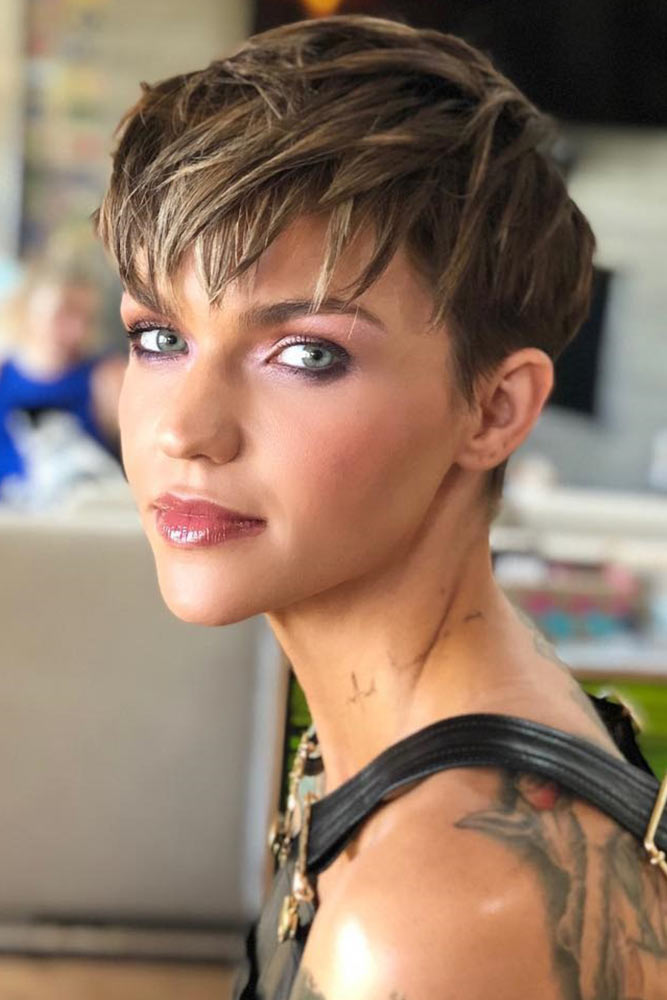 Source: riawna via Instagram
Since your task is to show off your gorgeous cheekbones, there's no way better than cutting your hair short! Don't worry, you still can get layers with short hair length, so nothing can stop you from experimenting with your hair. This choppy layered bob takes a fresh look at your diamond face shape, setting all the focus on your best features.
Wavy Styling For Layered Thick Hair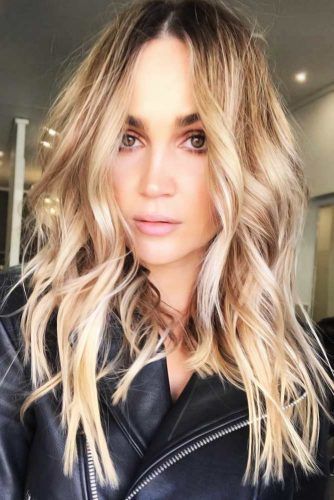 Source: chelseahaircutters via Instagram
Have no idea how to tame your thick hair? No wonder that most hairstyles for diamond face shape feature waves and layers: this duo flatters your face most stunningly, giving you both volume and a face-framing effect. It's better to do massive waves so that the front strands don't obscure your cheekbones.
Long Wavy Half-Up Hairstyle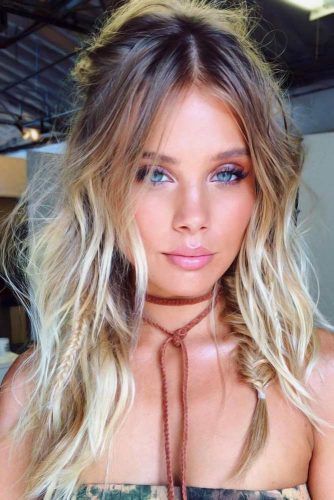 Source: brittsully via Instagram
This half-up is a role model for all the hairdos for diamond-like faces! Everything in her look is totally balanced, harmonious, and matching. Loose waves gently fall on the shoulders, the top layer adds some volume to the crown, the wonderful cheekbones are the perfect finish. Name at least one reason not to steal her look!
Sleek Styling For Short Pixie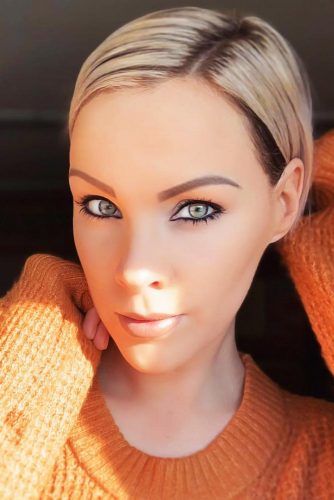 Source: heatheraustrie via Instagram
Sleek and neat short pixie, who could ask for more? You're actually a lucky one: not many women can allow themselves to sport such a minimalistic style. No movement, no volume, no texture, only the beauty of your face can steal the show.
Messy Twisted Braid Into Pony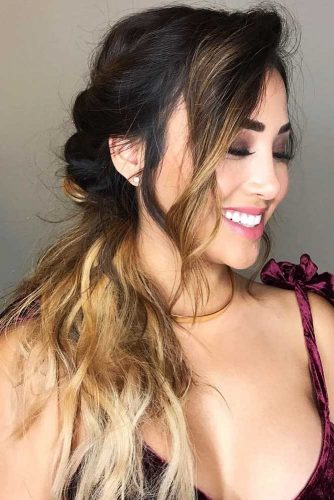 Source: daniellellombard via Instagram
There's no easier way to soften up your pointed angles than to leave some front locks to frame your face slightly. If you like to experiment with braiding techniques and combine different hairstyles, this messy twisted braid that transforms into a ponytail is a must-try!
Space Buns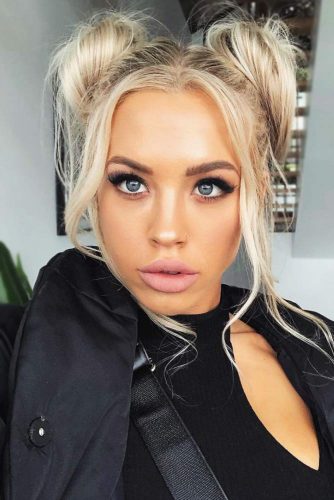 Source: tammyhembrow via Instagram
Everything awesome comes in pairs, remember? And hairstyles for diamond face shape are not an exception. Wearing double space buns is always comfy and fun, and styling them takes less than 10 minutes. To make it work for your face shape, leave some strands to fall on your face, thus smoothing out the whole silhouette.
Simple Half-Up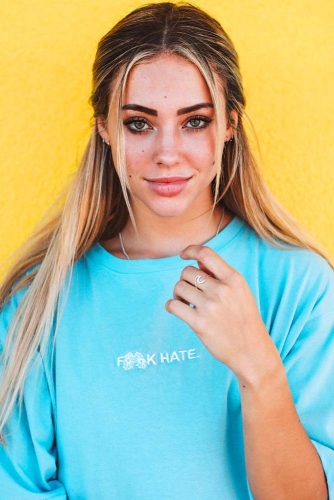 Source: charlyjordan via Instagram
Yes, for diamond-like faces leaving some front tresses is crucial, as they prevent your prominent angles from being in the total spotlight, adding a softening accent. And as you can see, you don't need to make up complicated 'dos to suit your face shape: a simple half up can also sort things out.
Double Dutch Braids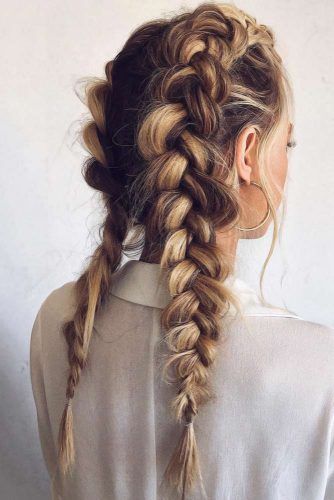 Source: brittsully via Instagram
Although double Dutch braids keep your face as open as possible, their thickness works better than any framing details. The more volume on the top you have, the less attention your broad facial features get. Also, it's not just one of the hairstyles for diamond face shape; it's a stylish idea for casual looks.
Half-Up Ponytail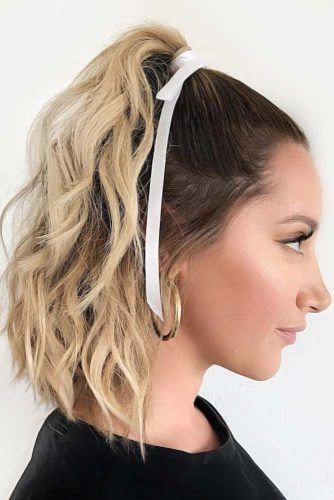 Source: justinemarjan via Instagram
Want to feel comfy with your hair while showing off its beauty? Wearing a high half-up pony is your key! Apart from that, it's a wonderful way to appreciate the charm of your face shape with a perfect style balance.
Half-Up Knot With A Headband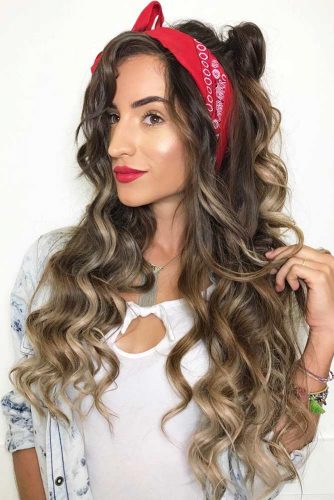 Source: braids_in_action via Instagram
When you need to add more volume to the 'do and keep it in place as long as possible, all you need is a headband. Whether it's a braided updo or your loose wavy hair, with such an accessory, it will be easier for you to manage and secure your style, setting the right flattering silhouette for your face shape.
Hollywood Side Styling Waves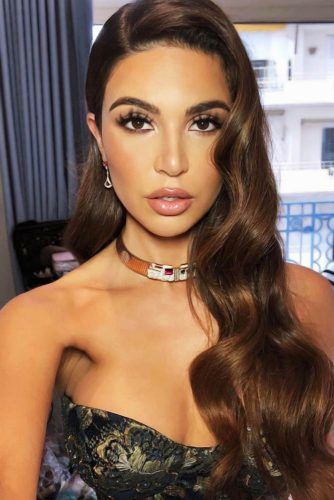 Source: brittsully via Instagram
Hollywood waves are a hair dream of every woman who has a good taste. Some count hours waiting for the big occasion to wear this gorgeous hairstyle, and others even create an occasion to finally rock one. The good news is, the posh waves look amazing on ladies with all face shapes. Still, only a woman with a diamond face has the power to perfect the hairdo: it looks its best on diamond faces!
Center Parted Bob With Hair Clips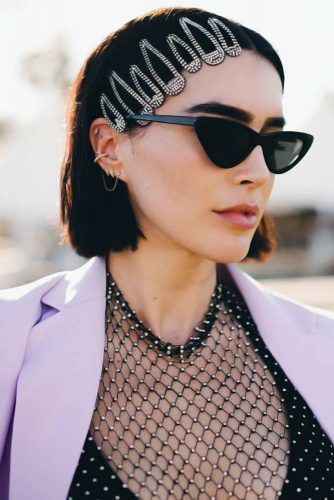 Source: justinemarjan via Instagram
Look how much of a visual impact a simple short bob haircut can bring to your look! In fact, it's all about the details. Believe it or not, but perfection lies in attention to details, which means that accessories should match your face shape as well. Big, jeweled hair clips, for example, can come in handy, giving a nice finishing touch and building the balance in your hair look.
Straight, Side-Parted & Asymmetric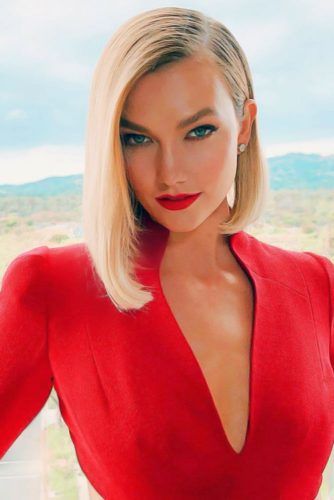 Source: justinemarjan via Instagram
You'd better don't look at this picture too long, as there are hairstyles for diamond face shape that can make your heart skip a beat. Oops, seems like we've just got caught by this seductive, flawless bob. Who would've thought that asymmetry and sleekness would turn out to be that irresistible? Imagine how sexy your facial features will appear with such curvy framing from both sides.
Double Buns Updo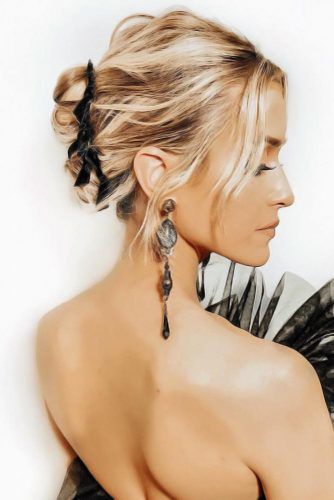 Source: justinemarjan via Instagram
This updo is special not because it features three buns instead of just one; the way it flatters the diamond face shape makes the whole look one of a kind. The hair is a little bit loose and tousled, which gives a lovely effortless twist. As for the front strands, they create a nice framing effect despite being pretty unpretentious.
Wet Pixie Look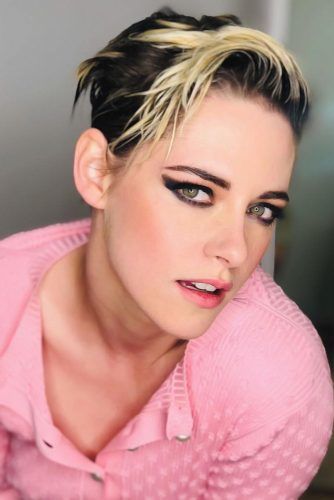 Source: hairbyadir via Instagram
The wet hair trend women are so crazy about is a classy way to add more weight to your thin locks. As you know, hair gets heavier when it's wet, that's why such hairstyles always look voluminous and full. So why don't make this flexible fullness work for your face shape? Just look at how it works on a simple pixie!
Simple, Low & Sleek Pony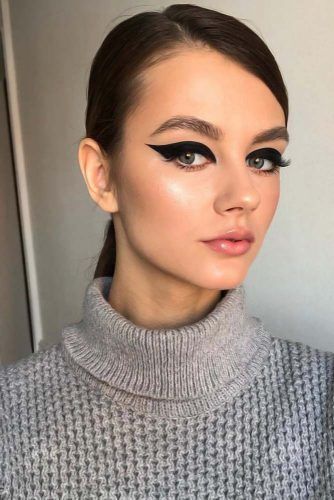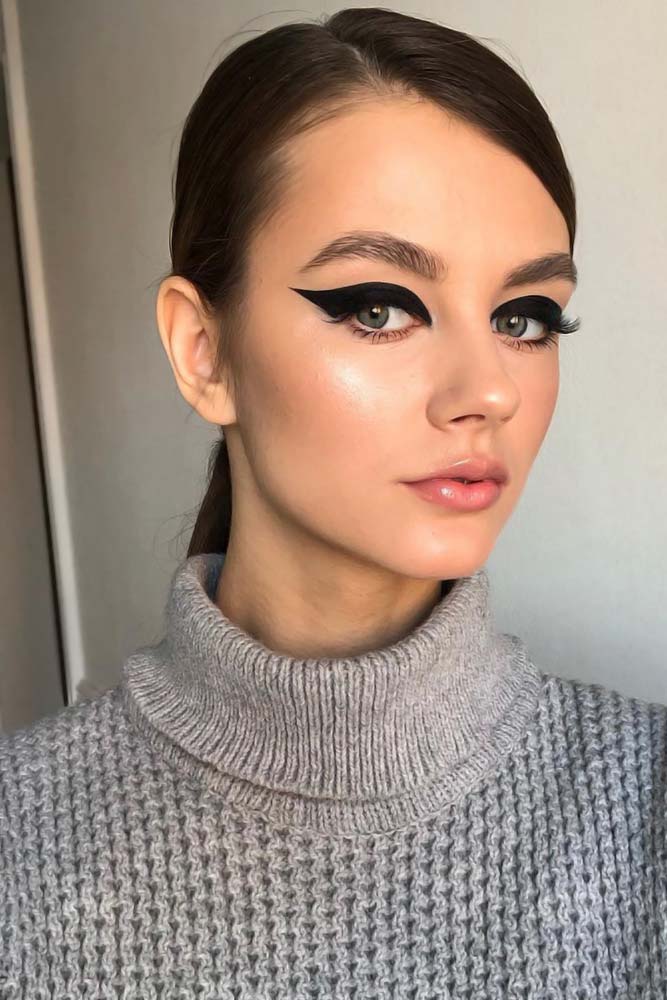 Source: verafursova via Instagram
Another example of how pure simplicity and sleekness can take a familiar hairstyle to a whole new level. Besides the exquisite texture, there's one more detail that makes the look totally harmonic - a side part. Keep in mind this idea when you're short of time and got some shiny products at hand.
Now, there's no way women with diamond face shape don't feel like goddesses, as you know how to sport trendy hairstyles and look gorgeous. These flattering approaches will help you to reach perfection in your style. It's time to give them a try!