How to use aloe vera gel for hair growth.
The hair growth process for your particular hair type may or may not be going how you want it go, because let's be honest we all want our hair to grow at a rapid rate. 
The key to growing hair at a rapid rate is to use the right products with the right ingredients, so the type of products used is not everything, but they do contribute to about 50% of your hair growth. 
To grow your hair you must have a strategy and know how to properly apply product.
So, what exactly should you use to speed up your hair growth? 
I know there are many products and natural ingredients to help, but today we are discussing the many benefits and how to use aloe vera gel for rapid hair growth. 
Deriving from a plant, pure aloe vera gel is one of the most powerful ingredients you can use on your natural hair. 
Furthermore, the gel has many beneficial nutrients and using it on your hair on a consistent basis will change your hair game for good. 
Grab my best-selling ebook, Hair Growth Ninja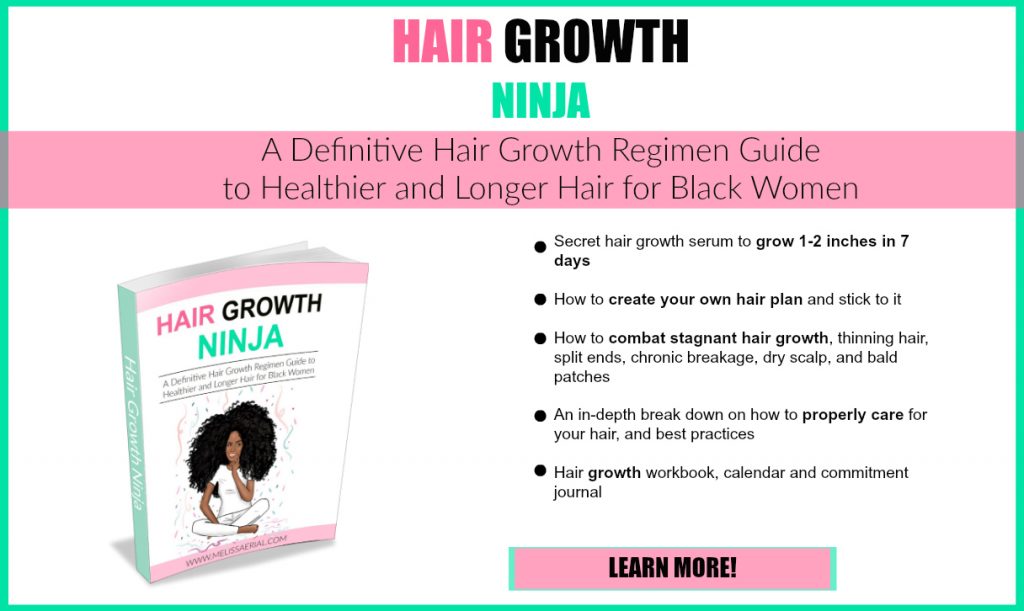 HOW IS ALOE VERA GEL GREAT FOR HAIR GROWTH:
5 WAYS TO USE ALOE VERA GEL FOR HAIR GROWTH
To use aloe vera, it will need to be mixed with other natural ingredients to get its full benefits.
1. RAPID HAIR GROWTH SERUM
INGREDIENTS:
Vitamin E Capsules – Jamaican Black Castor Oil
HOW TO:
Put the aloe vera gel, vitamin E capsules and oil in a blender to mix well. Apply daily to hair for up to seven days. It is best to store the serum in the fridge during use.
INGREDIENTS:
Apple Cider Vinegar 
HOW TO:
In an applicator bottle, add gel, apple cider vinegar and shake well. Apply on dirty hair as a pre-shampoo treatment to remove dirt from hair.  
INGREDIENTS:
Coconut Milk
HOW TO:
Mix gel, and coconut milk together. Use in place of regular conditioner for soft and manageable hair.
INGREDIENTS:
Honey
HOW TO:
Together mix the honey and aloe vera in a bowl until you reach an even consistency, then apply to hair and let it sit for 10 minutes with plastic cap. 
INGREDIENTS:
Olive Oil 
HOW TO:
In a bowl, mix gel, and olive oil for an even consistency. Apply after using moisturizer to seal hair at night. 
OILS TO ACCELERATE YOUR HAIR GROWTH
My Recommended Resources!
Below you will find a curated list of my recommended resources. 
I hope these resources will be able to help you too! Affiliate links included, see full disclosure, here.
HAIR CARE & GROWTH:
1. Hair Growth Ninja: Learn my secrets to growing my hair 2 inches in just one week and proven hair treatments and a hair growth plan workbook that will have your hair growing in no time. Grab your copy here. 
2. Vitamin E Capsules: Known as a powerful antioxidant which helps repair and build hair tissue while helping with hair growth.
3. Aztec Secret – Indian Healing Clay: Contains essential minerals such as sodium, potassium, and calcium which are all important contributors to the hair. This is my favorite way to keep my hair hydrated.
4. Black Castor Oil: I could not live without this product and without this brand. It has worked wonders in moisturizing and growing my hair. 
*See more hair care and growth resources here*
Melissaerial.com is a participant in the Amazon Services LLC Associates Program, an affiliate advertising program designed to provide a means for sites to earn advertising fees by advertising and linking to Amazon.com.
If you purchase anything from the links on this blog, I may receive a small affiliate commission. I only mention products I use and love and would recommend whether I was being compensated or not. Thank you so much for your support of Melissa Erial blog!