Long and Short Faux Locs Styles
Locs are one of the most beautiful ways to wear natural hair, but it takes years to get the real thing. If you're considering wearing your hair in locs for real or you just want to try the style out for a week, faux locs let you mimic the look using synthetic hair. Not only can you use various types of hair to get your own faux locs style, but there are also several different ways to achieve the looks. Read on for faux locs how-tos along with images of 80 gorgeous examples of long and short faux locs styles.
How to do Faux Locs: Individual Braid or Twist Faux Locs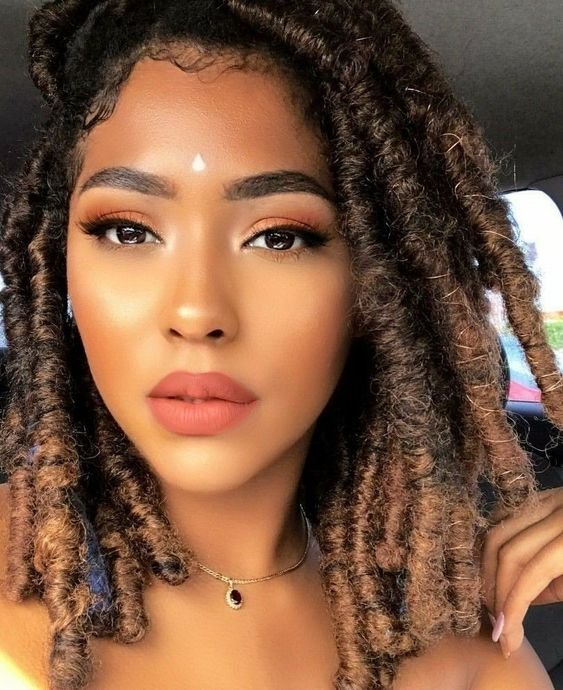 One of the most popular way to wear faux locs involves using box braids or twists as a base. Separate your natural hair into small sections, then braid away from the head, using extensions to add length if desired. Use a piece of synthetic hair to wrap around your each of your braids. Once you get close to the ends, fold the end of your box braid up and wrap so that your braid is completely concealed and you've run out of hair. You can use a lighter to carefully secure each loc and prevent it from unravelling. Marley hair has lots of grip, and is the most popular for wrapping faux locs, but you can use other kinds of synthetic hair or even yarn to wrap your faux locs.
How to do Faux Locs: Crochet Faux Locs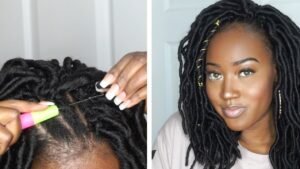 The same method you use to get gorgeous crochet curls can also work with faux locs that come pre-made with crochet loops at the ends. This is one of the easiest ways to install faux locs, and is a good choice for beginners who don't want to worry about individually wrapping all of their own locs. To get crochet faux locs, braid your hair into cornrows. Pattern isn't too important unless you'd like to part your hair in a specific way. Once your cornrows are complete, attach faux locs to them using a latch hook, and your style is ready to go!
How to do Faux Locs: Individual Crochet Faux Locs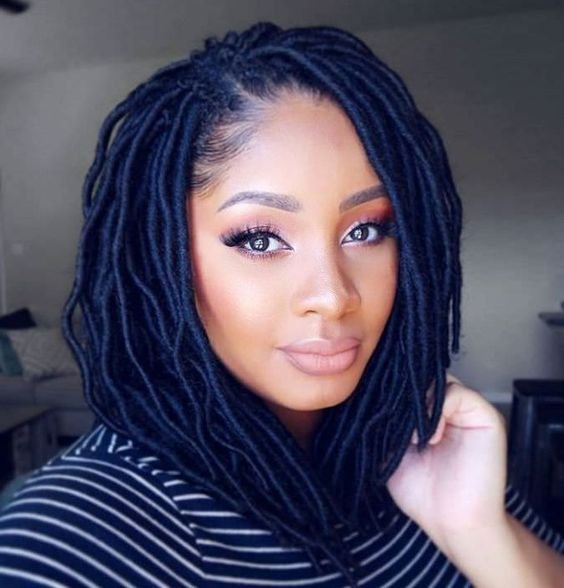 The individual crochet method is a different way to get a faux locs look, but uses the same pre-made faux locs as a regular crochet style. Instead of braiding hair in cornrows, you'll take individual sections of hair and braid them away from the scalp 2 to 3 inches down. Next use a latch hook to pull a faux loc through the braid, then loop the loc through itself to secure. Finally, use the latch hook to thread the rest of your braided hair into the faux loc where it can stay hidden and secure.
How Long do Faux Locs Last?
If you use an individual braided method to get your faux locs, the style can last for two months or more. As your natural hair grows out you'll be left with a fuzzier texture, but this can make your locs look more natural and lived in, which is what lots of faux loc wearers are going for. Unravelling may become an issue after this length of time, so you'll want to make sure locs are well secured. Crocheted faux locs can last anywhere from 1-2 months, depending on how well you take care of them and how quickly your hair grows.
Faux Locs Bob
We love long faux locs, but the protective style also looks great in shorter lengths. Beyond looking chic, this is a great option for anyone who's worried about faux locs feeling too heavy or pulling at their natural hair.
Half Up Faux Locs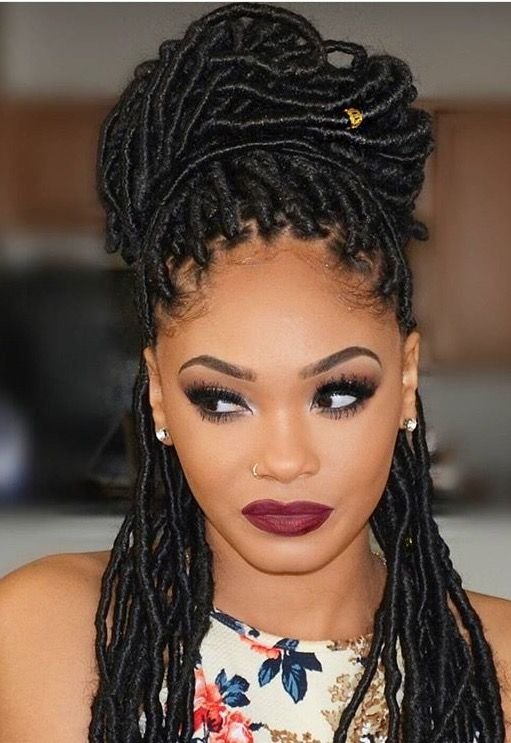 Wearing your faux locs long gives you plenty of options for styling versatility. In this pretty look, locs are styled in a half-up bun that opens up your face and shows off your trendy hair at the same time.
Short Faux Locs with Marley Hair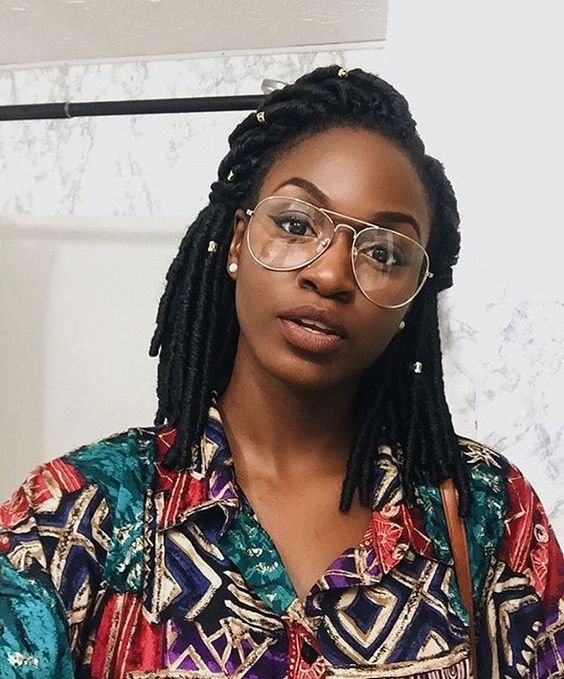 Marley hair helps to give these collarbone length faux locs a natural feel, and is the most popular choice of synthetic hair for faux locs that have an especially soft and lived-in look.
Ultra Long Goddess Locs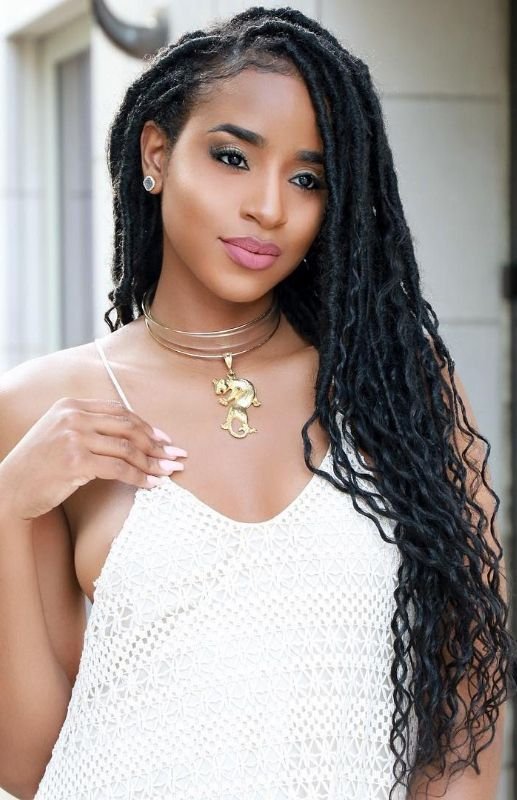 Goddess locs are faux locs with open, curly ends that look ultra natural. If you're inspired to try locs because of celebrities like Lisa Bonet or Meagan Good, go for a goddess locs look.
Wavy Mid Length Faux Locs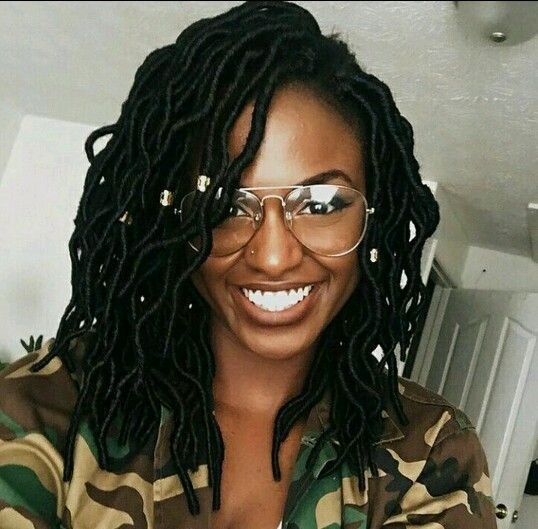 To get this gentle wave texture in your faux locs, braid locs together, then dip in hot water and leave hair braided for several hours or overnight. You can try this method right after installing your faux locs or after a few weeks if you'd like to refresh your look.
Mid Length Crochet Faux Locs
These mid-length faux locs are at an ultra trendy length, and can be easier to manage for busy lifestyles. Because these faux locs were installed using a crochet method, they'll be lighter than locs done as individual braids.
Ultra Long Faux Locs with Marley Hair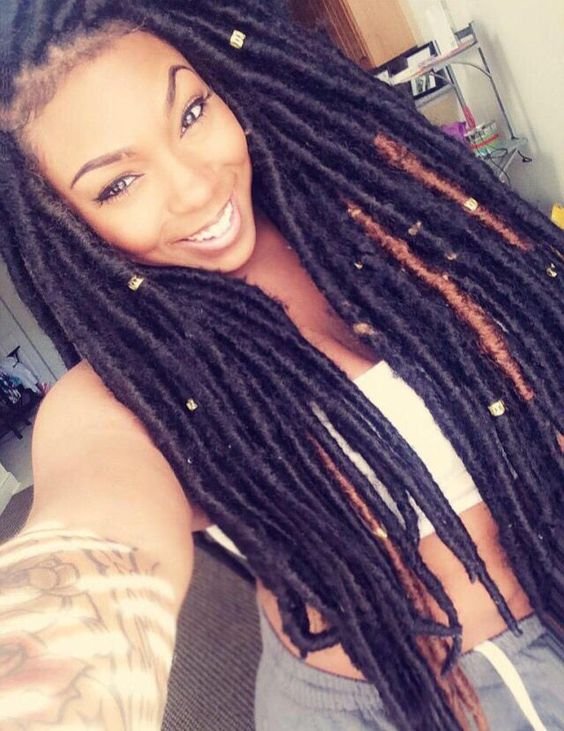 Want your faux locs to have a bohemian look? This style uses Marley hair to wrap ultra natural looking locs, while their thicker texture does a good job of mimicking natural locs. This look will be fairly heavy on your head, so we recommend trying it on hair that's in good condition and not prone to breakage.
Crochet Micro Locs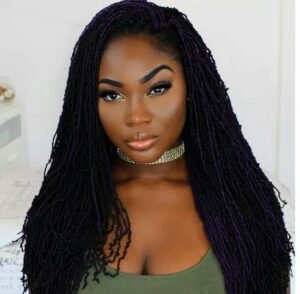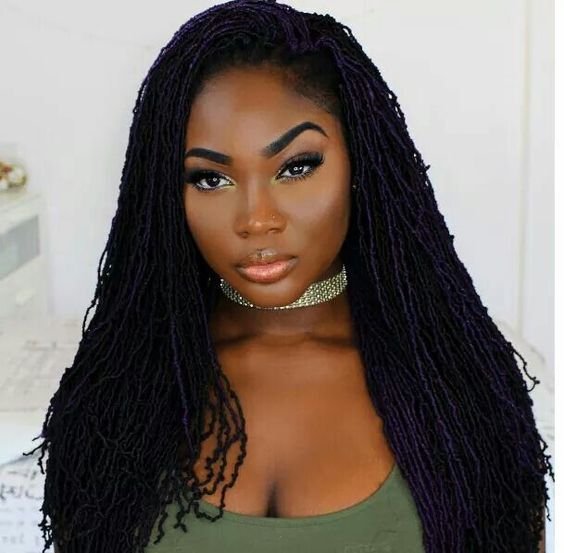 If you're looking for a faux locs style that has tons of flow and movement, try installing some super skinny micro locs using the crochet installation method. You'll have the same look as locs with even more options for wearing your hair in ponytails, braids and updos.
Faux Locs Lob
Try wearing your faux locs in a long bob shape if you're looking for an easy to maintain style that's flattering on oblong faces. These locs are still long enough to tie up, but won't feel as heavy as some styles.
Faux Locs Bun
Much like box braids, faux locs provide a great structure for updos like this high bun. If you're planning on having this protective style installed for several weeks at a time, this is a perfect go-to look for special occasions.
Grey Faux Locs
Grey hair has been super trendy for the past few years, and protective styles like faux locs and box braids make it easy to wear grey hair without the damage or permanence of bleaching.
Chic Faux Locs Updo
Yaya Dacosta's faux locs updo is perfect for a red carpet event, but will also work anytime you want to make a regular day feel a little more glamorous.
Long Jumbo Faux Locs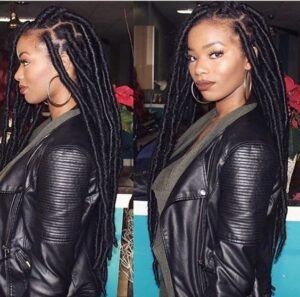 These jumbo faux locs are thicker than usual, creating a look that's more bold and edgy. Using the individual braid method to install your faux locs gives you complete control over the thickness of your locs, while it may be harder to find pre-made crochet locs that are this thick.
Short Red Faux Locs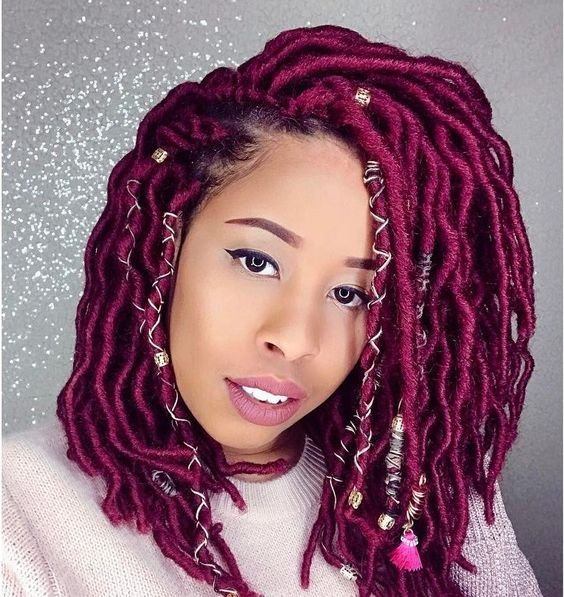 The vibrant, purplish red of these faux locs makes for an extra bold style, and beautifully compliments tan skin tones. Loc accessories give this look some extra bohemian flair, making it a perfect choice for a summertime style.
Long Faux Locs with Marley Hair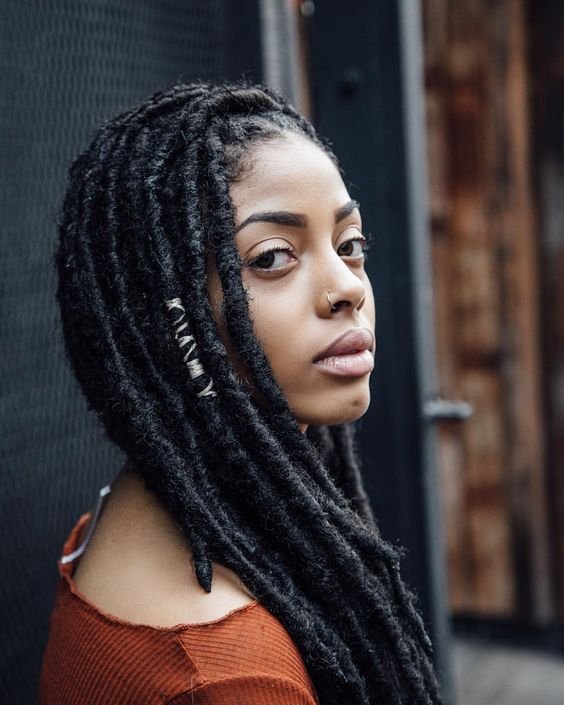 Ultra long faux locs with Marley hair are about as natural looking as faux locs get, creating a beautiful style that reflects your earthy sensibilities.
Short Jumbo Faux Locs with Marley Hair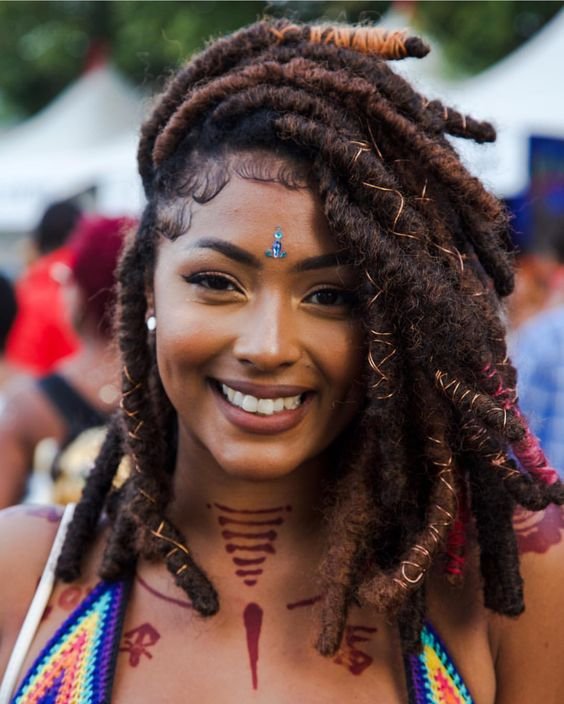 Extra thick jumbo faux locs are a great choice for festivals and vacation. You can use accessories to make your jumbo locs stand out even more, or leave them off for a more subtle look.
Ombre Faux Locs
These faux locs are enhanced by a subtle touch of ombre color. You can get this look by installing faux locs using the individual braid method, using a second piece of lighter synthetic hair or yarn to finish wrapping your braids.
Grey Jumbo Yarn Locs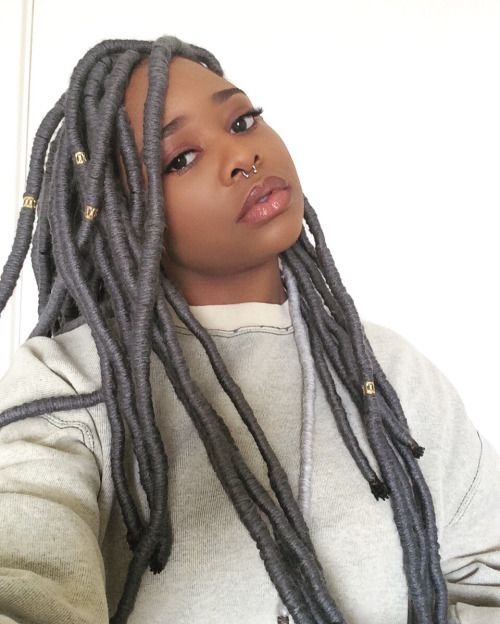 Using yarn instead of braiding hair to wrap your faux locs gives you tons of options when it comes to color, and is generally a less expensive option.
Rainbow Faux Locs with Marley Hair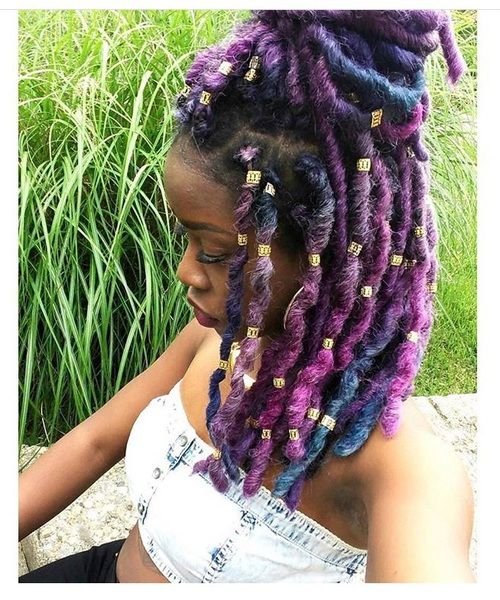 Marley hair in a light color like blonde or grey can by dyed using a mixture of rubbing alcohol and acrylic ink. Use this trick to create your own custom color palettes like these blue and purple rainbow faux locs.
Chic Faux Locs Bob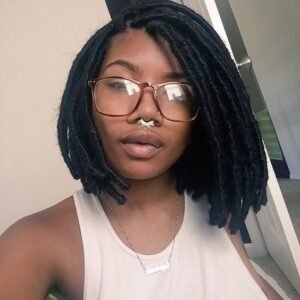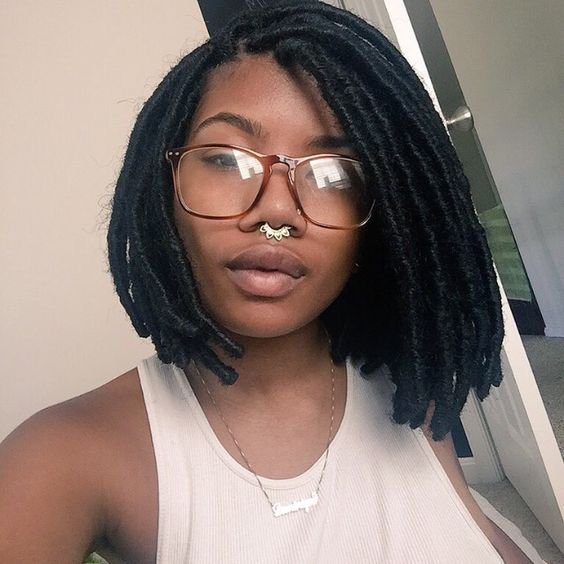 If you're tired of ultra long protective styles or you're looking for a lighter way to wear faux locs, this bob look is both chic and practical.
Tri-color Yarn Faux Locs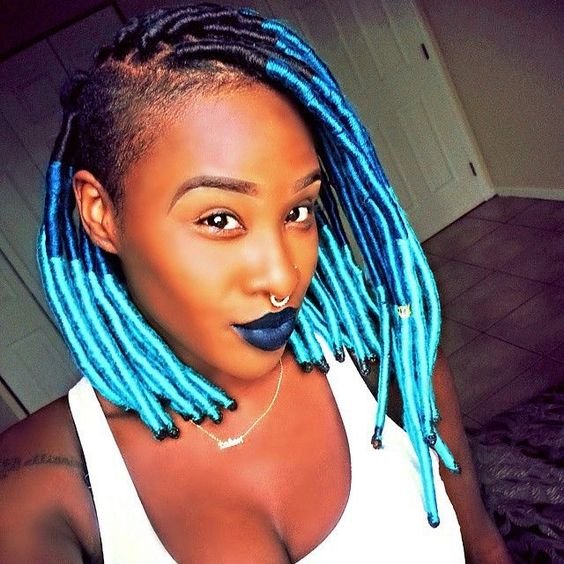 This style is a gorgeous example of how many different looks are possible when using yarn to wrap your faux locs. Not only is this tri-color style fresh and innovative, but the material makes it super friendly on your wallet.
Long Jumbo Faux Locs with Marley Hair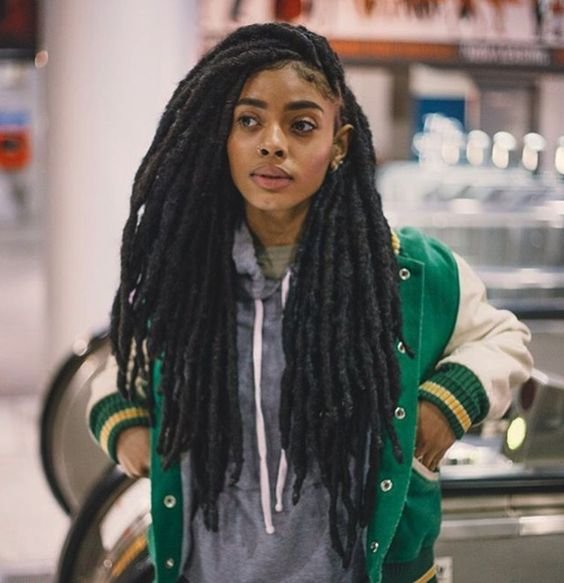 Long, thick, and impressively dense, these faux locs with Marley hair are a good choice for anyone who's a fan of traditional locs.
Blonde Faux Locs with Marley Hair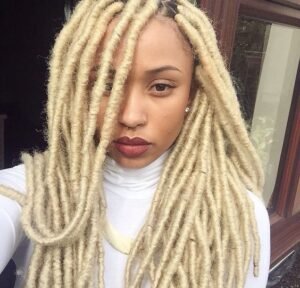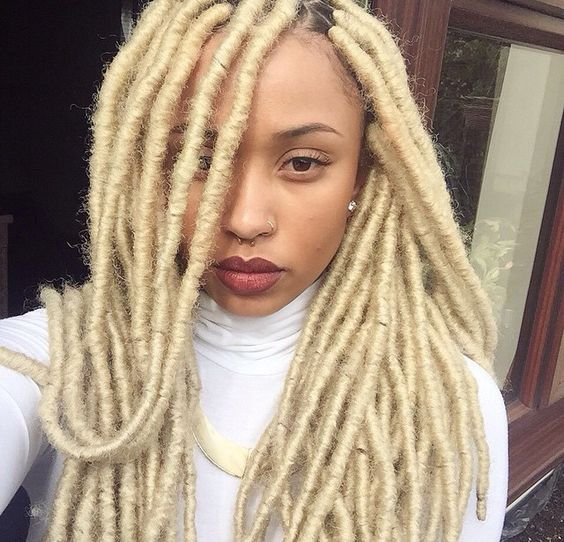 Searching for blonde faux locs that look soft and natural? Marley hair comes in shades of blonde to suit every skin tone.
Faux Locs with Bangs
This half-up faux locs look is a cool new style that uses a fringe to create height and help frame your eyes.
Grey and Black Faux Locs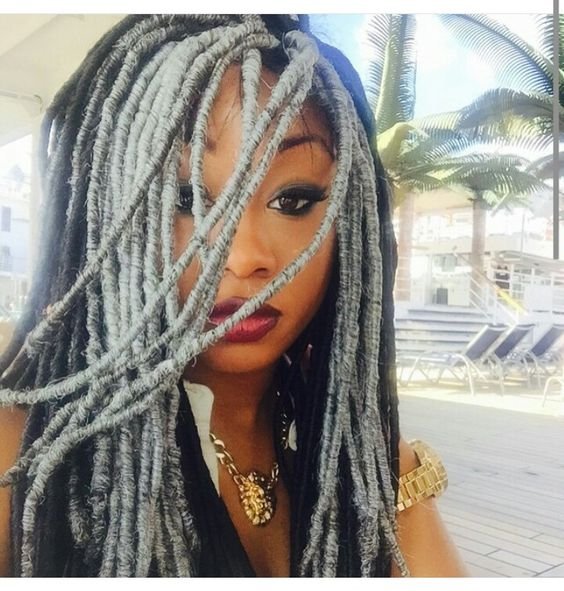 This two-tone faux locs look features grey hair in the front and black in the back, giving off an edgy vibe that's perfect for fall or winter.
Short Faux Locs with Side Shave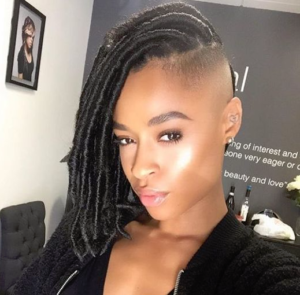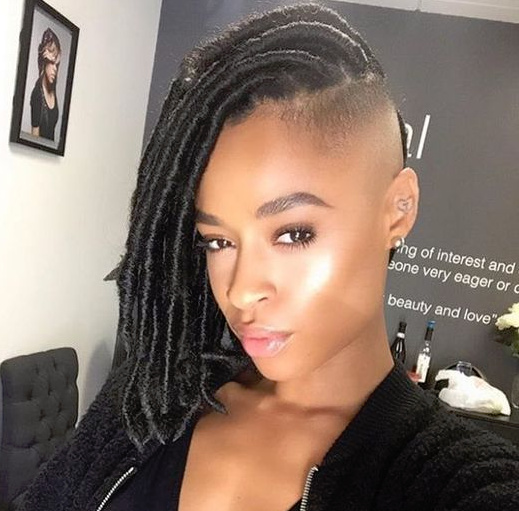 Mixing faux locs with a side shave will bring some extra edge to your protective style.
Faux Locs with Marley Buns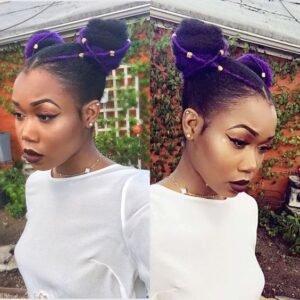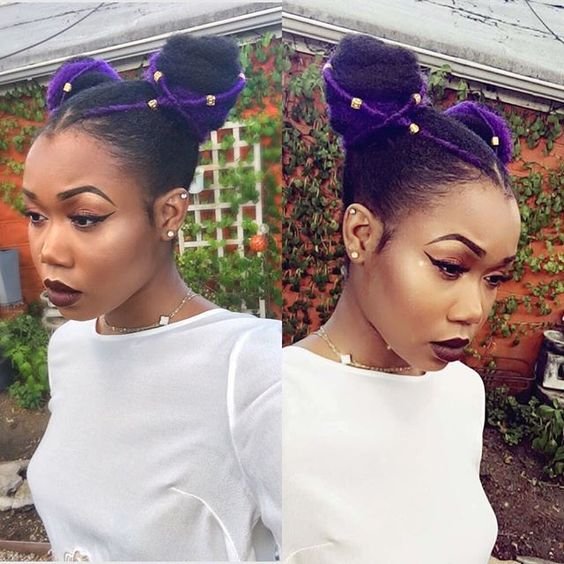 Installing faux locs can be time consuming, but this cute new style shows how just a couple of locs can complete your style. Use Marley hair to create these fluffy buns, then create two faux locs at the front of your hair using the individual braid method.
Red Ombre Faux Locs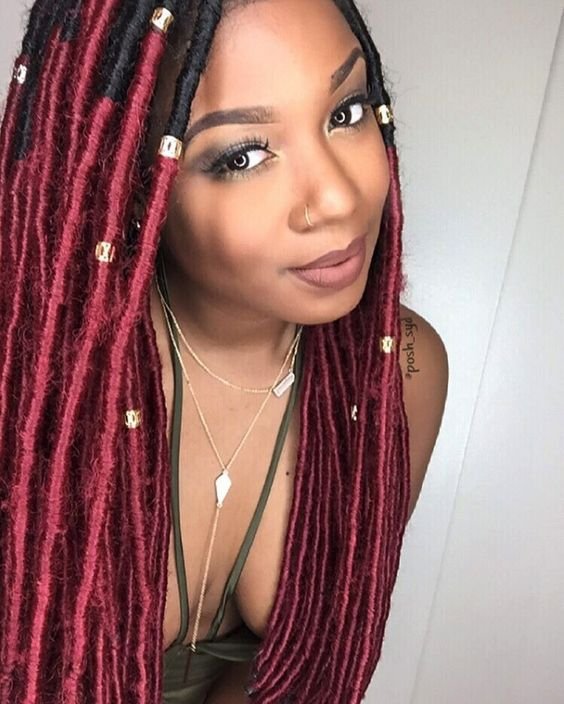 If you've got a bit of black braiding hair left over from another protective style, you can use it to create a black root effect against red faux locs.
Teal Crochet Faux Locs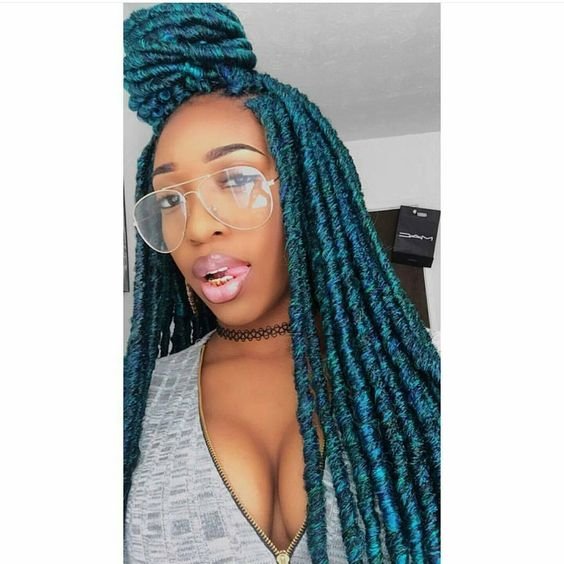 These crochet faux locs mix blue and green together to create an ultra trendy teal style.
Pulled Back Faux Locs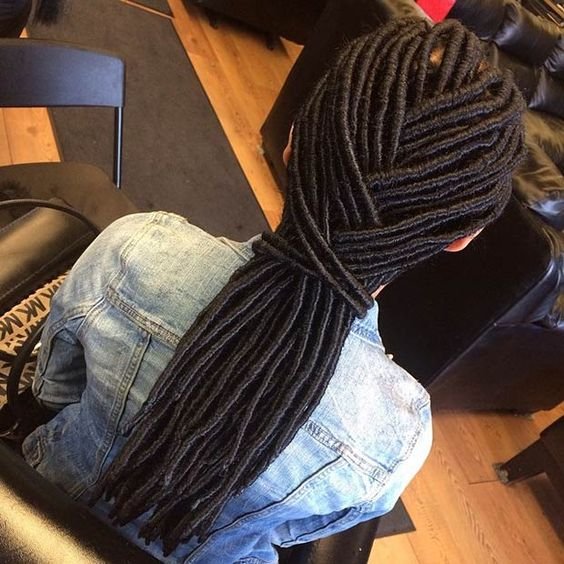 Faux locs allow lots lots of styling versatility, like this easy pulled back look for days when you want to keep your locs secured and out of your way.
Bold Blue Faux Locs
Cobalt blue looks great with most medium to dark skin tones, and lets you try out a new vibrant look without damaging your natural hair.
Mid Length Micro Locs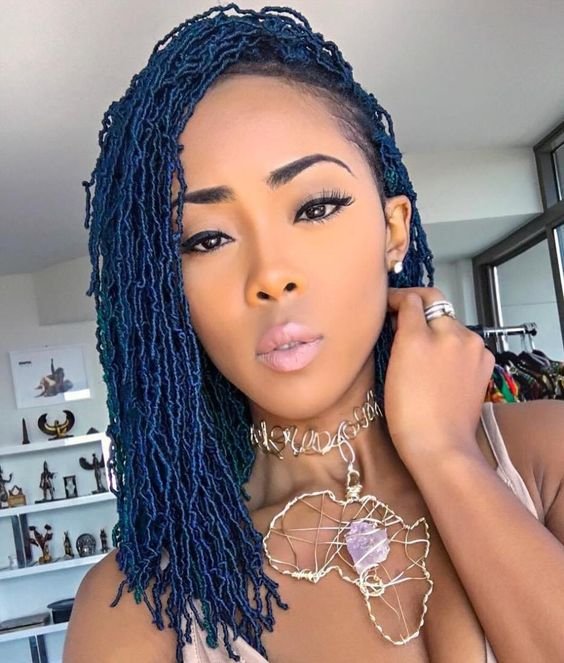 Between the dark blue color and trendy collarbone length, these shorter micro faux locs are one of our favorite ways to wear the protective style.
Rainbow Yarn Locs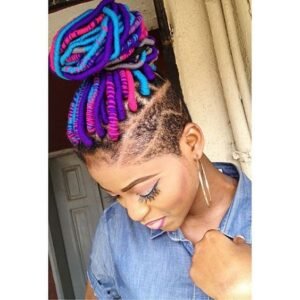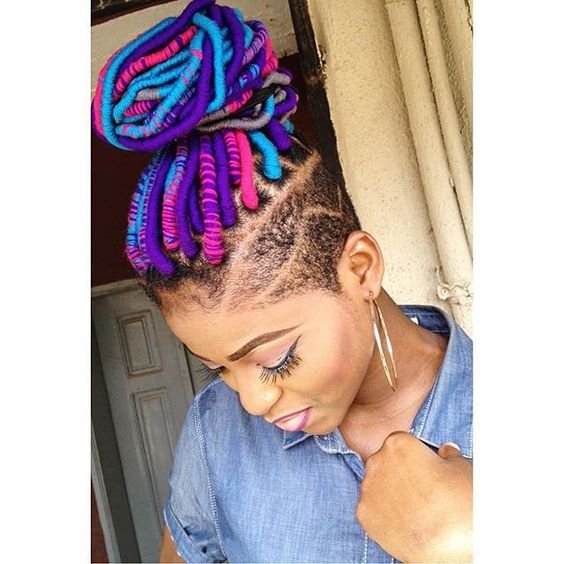 Another gorgeous example of how yarn can be utilized to create bold faux locs, this rainbow inspired style features tons of different shades in one ultra vibrant hairstyle.
Curly Faux Locs
You can get a deeper wave in your faux locs by using flexible perm rods to curl them. Simply wrap locs around a rod then dip in hot water to set the style.
Jumbo Blonde Faux Locs
Try these jumbo blonde faux locs for fall, or any time you're looking for a protective style with lots of character.
Layered Faux Locs Bob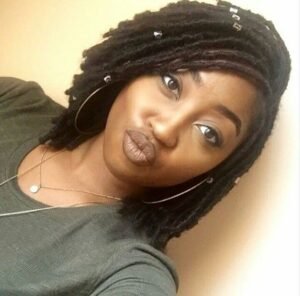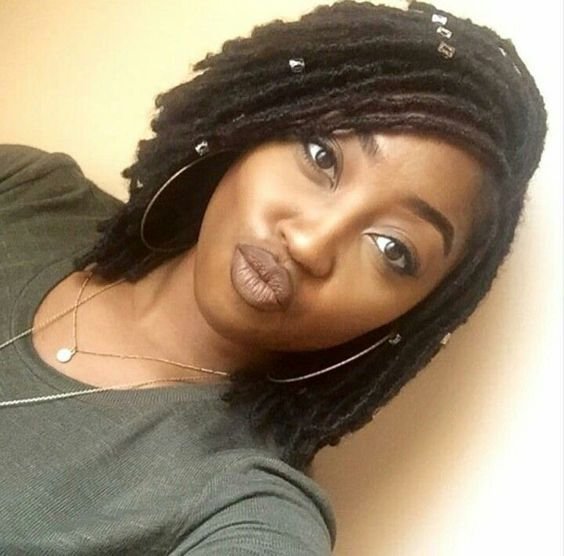 Install layered faux locs that are slightly shorter on top if you want to create a voluminous bob that helps add some width to an oblong face.
Faux Locs Mohawk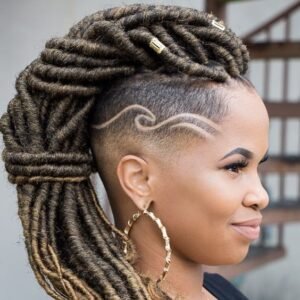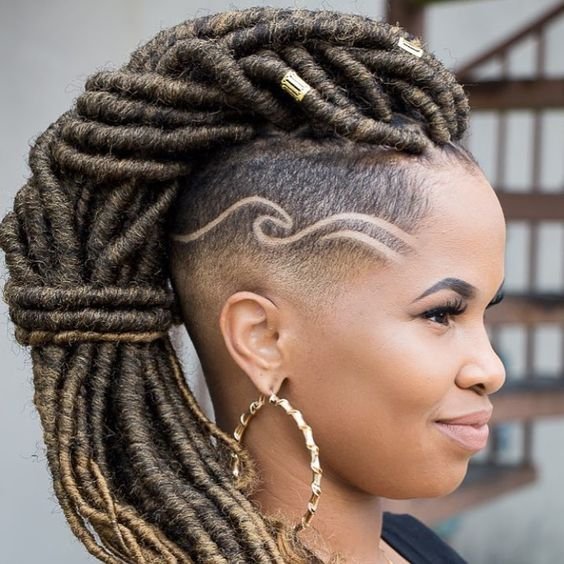 With an undercut around the back and sides of the head, these faux locs create an edgy and fun mohawk silhouette.
Mid Length Goddess Locs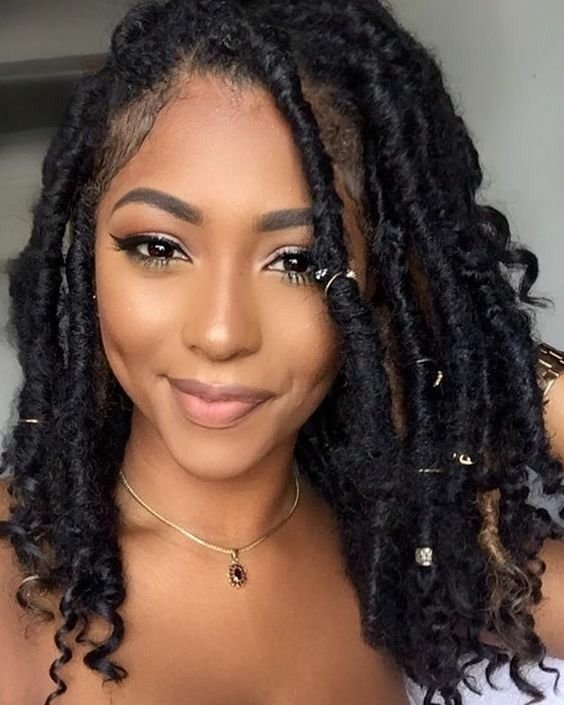 If you want your short faux locs to look soft and bohemian, try using the goddess loc method that leaves some loose curly hair at the end of each loc.
Auburn Faux Locs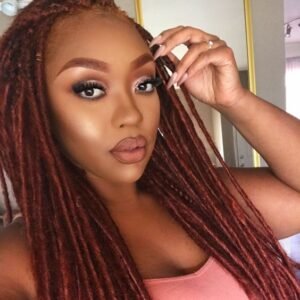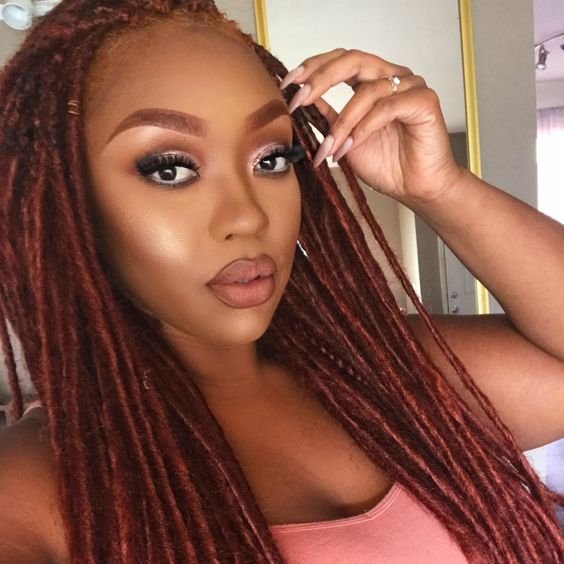 Want a faux locs style that's brighter than basic black but not as light as blonde? Reddish brown colors like this auburn style are the perfect in between shade.
Layered Brown Faux Locs
This faux locs style is full of layered shades of brown, which makes for an interesting and dimensional look. Try this style out if you've got leftover hair from different brands and shades that you're looking to do something fun with.
Bohemian fox locs
Locs and boho style is a great combo! What makes this bohemian locs style so special is the colorful strings wrapped around the locs.
Purple Faux Locs
Purple faux locs are so trendy and look absolutely gorgeous! Jazz up your look with jewelry and beads..
Super Long Curly Faux Locs
With this gorgeous style, you don't need any decorations to add to your locs! This crochet goddess faux locs is super long and you can either leave it all down or half up like in the photo.
Faux Locs Bun Updo
What a gorgeous way to pull off goddess faux locs. The locs are secured into a high bun while there are a few loose locs on one side of the head, creating this glamorous chic look!
Shiny Goddess Locs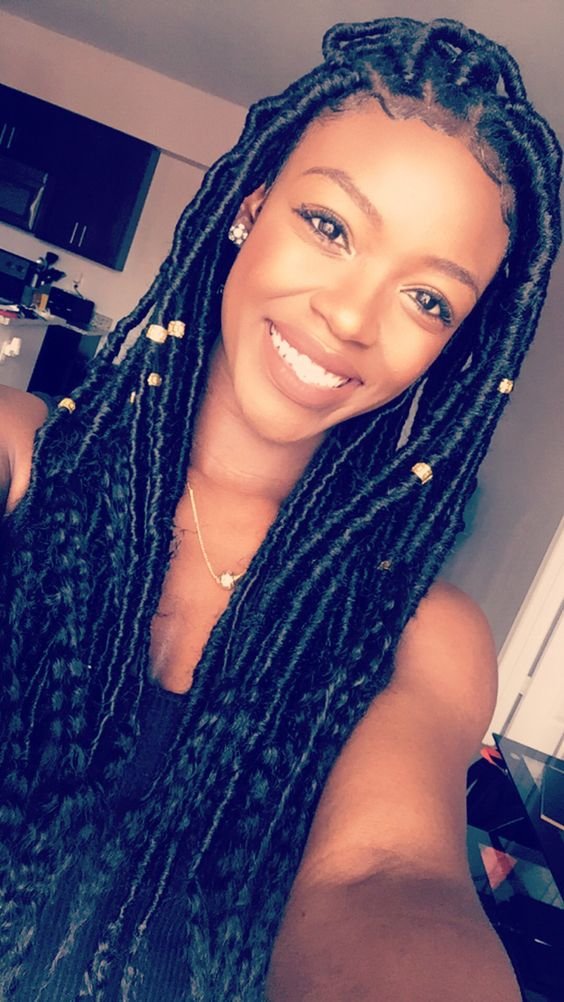 It all started when Meagan Good was rocking these gorgeous goddess faux locs and now it has become a huge trend! What can we say?! we are in love!
Long Faux Locs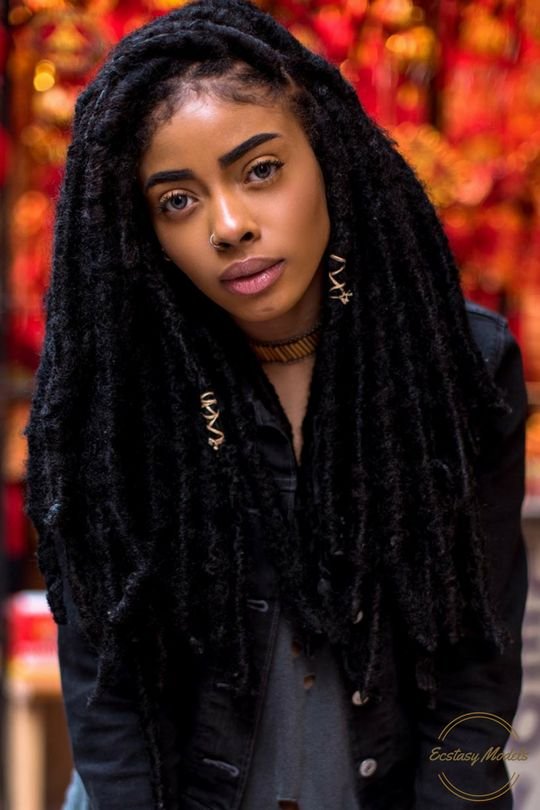 Jazz up your long faux locs with a side-swept style and jewelry like hair braiding strings.
Boho Faux Locs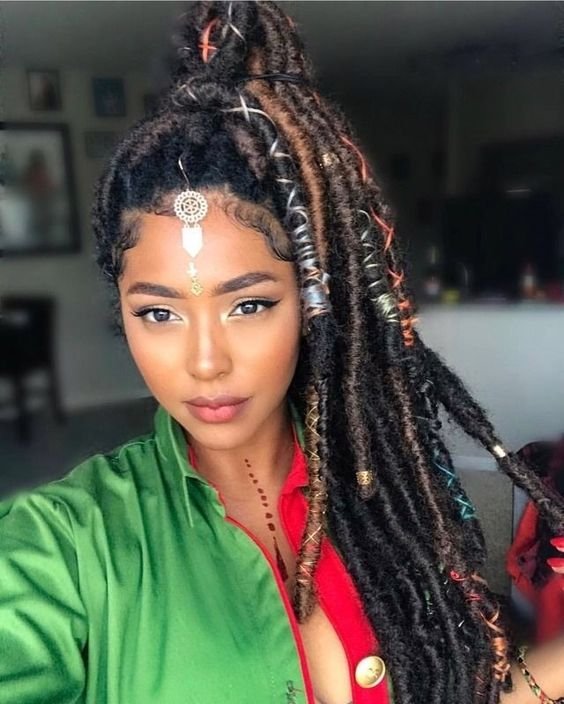 These super long locs are absolutely stunning! The mix of colors, hair jewelry and baby hair is so unique and chic! If you love bohemian, this style is for you!
Curly goddess faux locs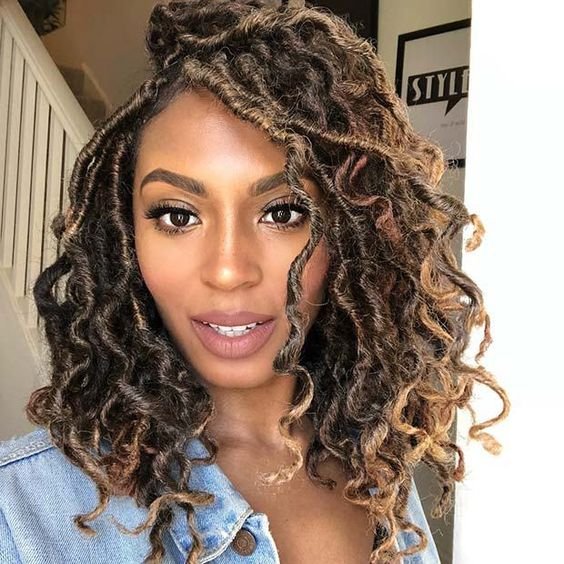 If you like curly style, these curly goddess faux locsare absolutely beautiful! The Ombre color give extra volume and bounce to the look.
Curly crochet Faux Locs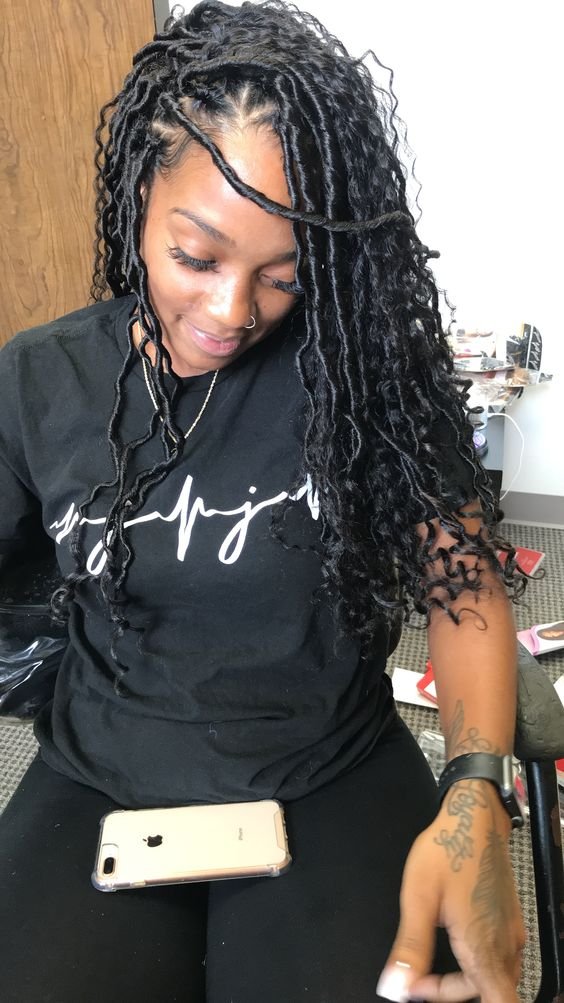 Whether you know how to crochet braids and want to create your own spiral faux locs at home or go to a pro at the salon, this long style is so natural and would look great for any occasion!
Half up boho faux locs
Another gorgeous bohemian faux locs. This style is super long and effortless looking.
Half up bun faux Locs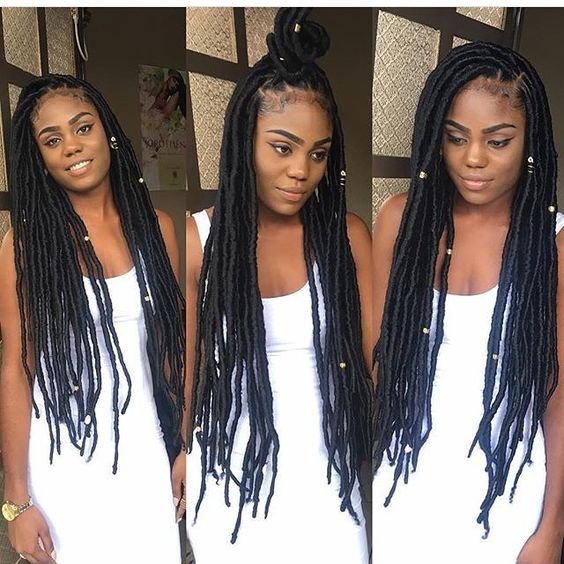 Faux locs can be worn is no many ways. Here you can see two options on how to wear these super long locs; either swept to one side or pulled half up into a high bun.
Shaved high bun locs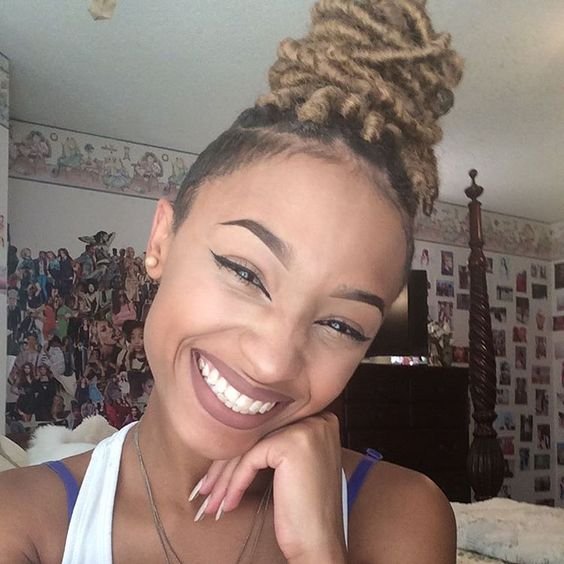 We have a combination of blond faux locs pulled up into a high bun and shaved sides. This look is so chic and really defines her features.
Blonde crochet faux locs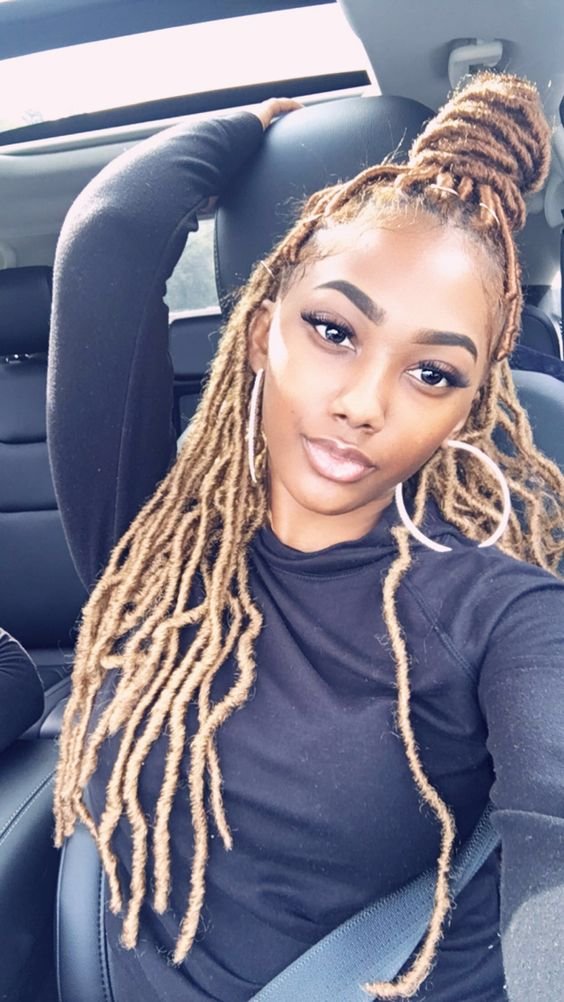 And if you like your blonde faux locs falling down, you can still take a small section to pull up into a high half up bun.
Honey brown locs
If you're having a hard time deciding between having a light or dark blonde, why don't you try this amazing and natural looking honey brown color?
High messy bun faux locs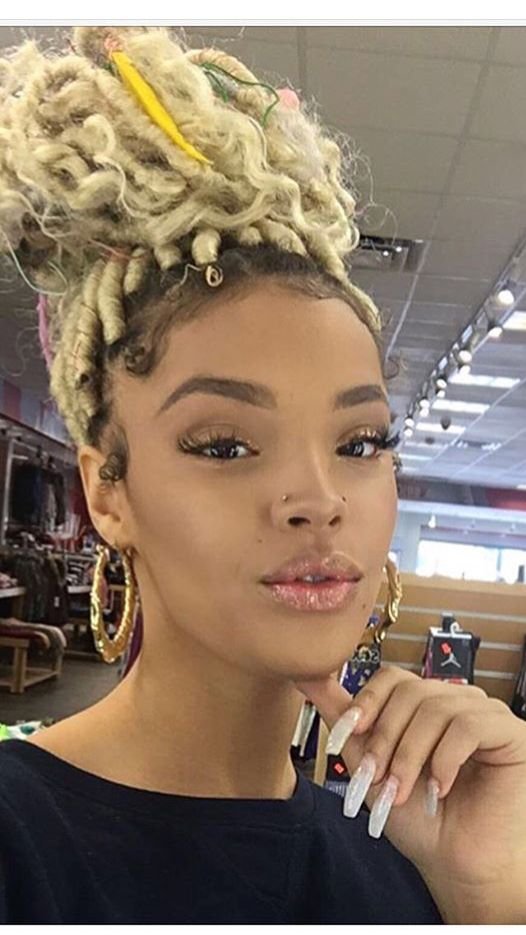 We love this messy crochet style, all pulled up into a gorgeous blonde messy bun.
Red burgundy goddess locs
Wine burgundy is one of the hottest hair color trends this season! These burgundy locs are bold and beautiful and surely turn heads!
Crochet faux locs updo
Spice up your crochet braids updo with a few sections loosed down at the front and the back.
Rihana Faux Locs
We love Rih Rih's beautiful lush locs. She sure knows how to make a statement!
High ponytail faux lcos
What a beautiful protective style! Pull your long lush goddess locs up and add baby hair to frame your face!
Side boho locs
Add colorful hair strings and flowers if you want your long faux locs to look more bohemian.
Bronde goddess locs
This style features a unique mix of bronde and black goddess locs all blended together creating a super chic look, especially with the added pink and gold hair strings.
Bronde mermaid locs
Mermaid locs are definitely on our wish list! These bronde curly mermaid locs look so bobo chic and romantic!
Jamaican Glam Locs
We love this stunning chunky goddess locs style! With the baby hair, makeup and jewels this looks is just breathtaking!
Bright red goddess locs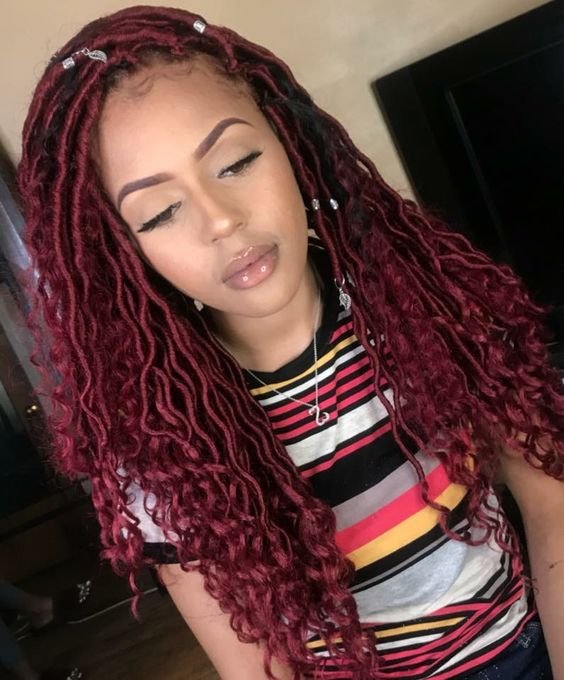 Another bright burgundy goddess locs style that we love!  Silver hair jewelry perfectly match this hair color!
Loose and long locs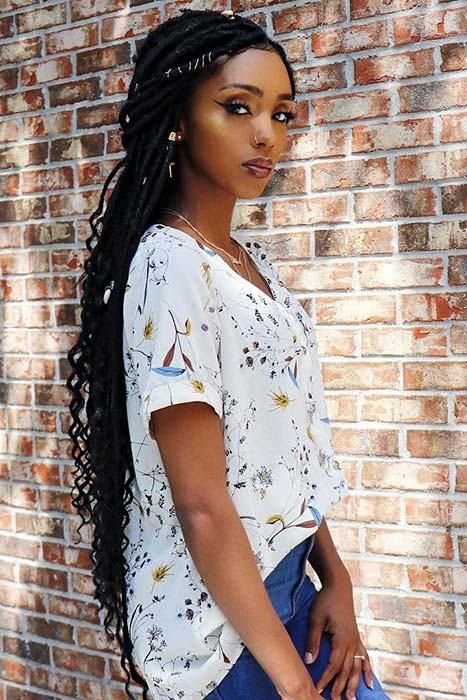 There are endless ways to wear faux locs. For a casual effortless look, take a few sections from the front and pull them loosely to the back.
Ultra blonde locs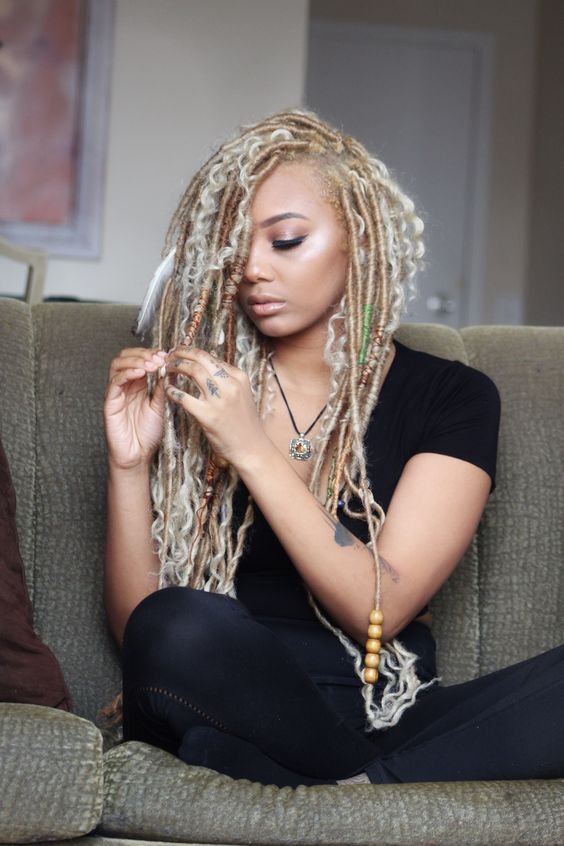 Play around with your faux locs color and spice it up with hair jewels and matching makeup!
Curly faux locs updo
Pull up your pretty curly locs into a cunky high bun updo! This is a great and comfortable protective style for an everyday look.
Medium Faux Locs Ponytail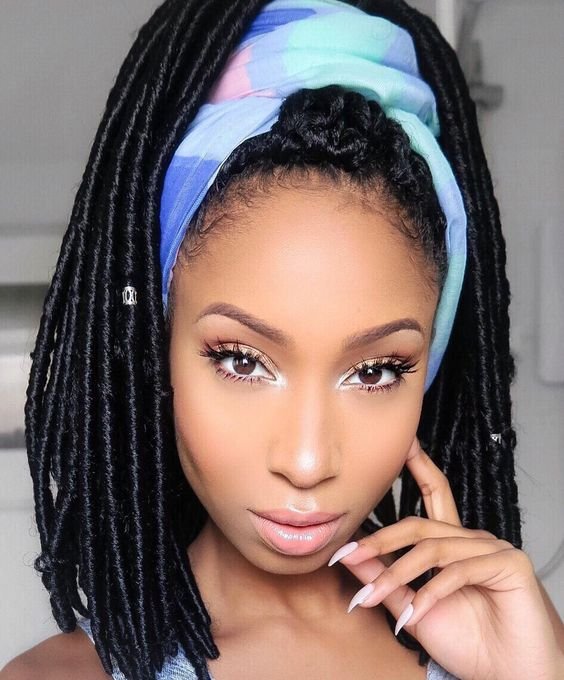 These well defined medium locs are super cute, pulled up into a high pony with a beautiful silk wrap.
Natural Faux Locs
These long faux locs are voluminous and look stunning pulled half up into a high ponytail with a few chunks of locs falling at the front framing the face.
Faux Locs with marley hair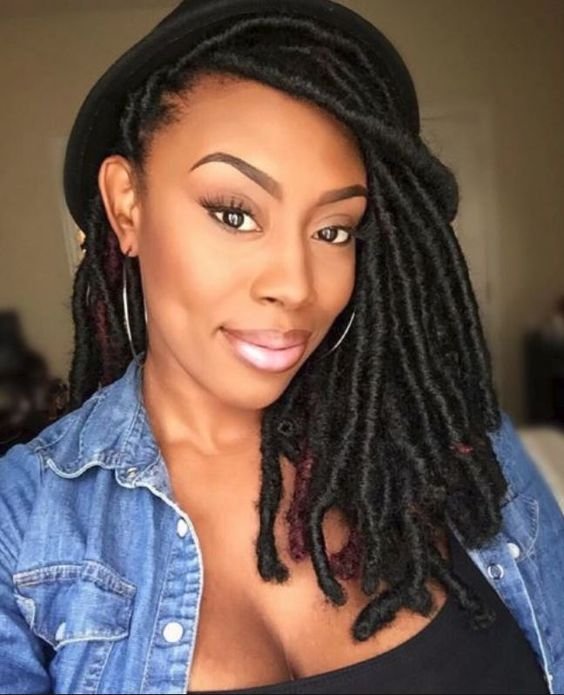 How gorgeous are these black and burgundy faux los! For these medium size faux locs you will need about 10 packs of Marley hair to achieve this look.
Blonde and black Faux Locs Mix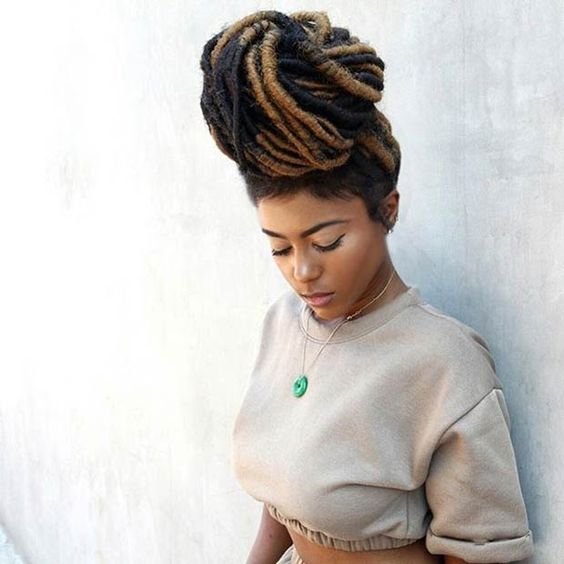 Add the wow factor by combining a few colors to your locs, like blonde or white with natural shades.
Pink Faux Locs
If pink is your color and you want to add more than just a hint of color you should try this beautiful pink locs!
Faux Locs Brown and Black Updo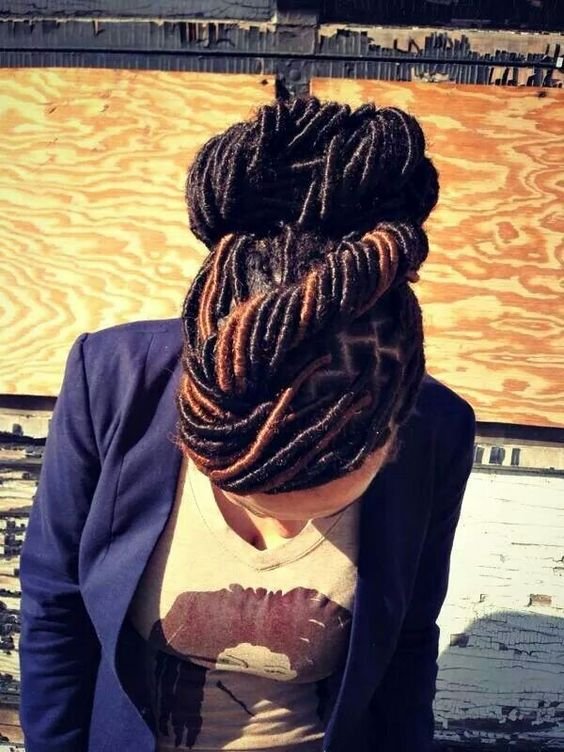 There are so many ways to style your long faux locs up. n this style, the locs are ulled at the back into a ig low bun and a chunk of locs is twisted and pulled from the front o to the back.
Subtle Pink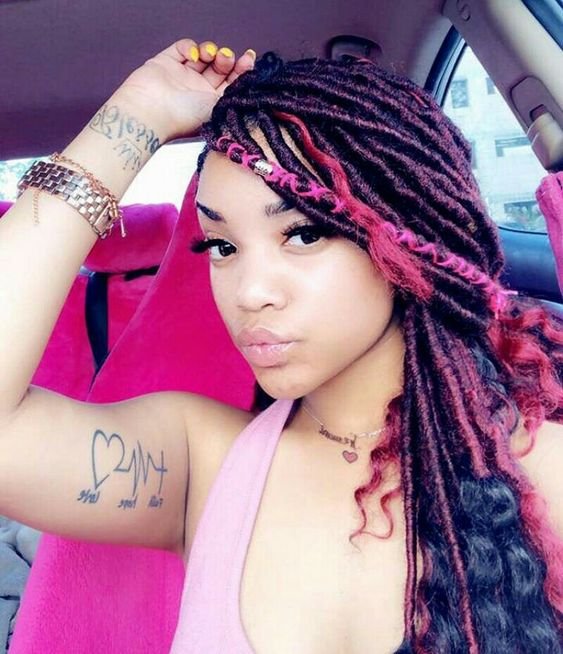 You like pink but don't won't to go way over the top with your locs? This style features beautiful goddess locs with a much subtler pink-burgundy color.
Up High Faux Locs
There are so many gorgeous styles you can create when using a head wrap! You can wear your locs half up or fully wrapped high into a bun, like this style.
Faux Locs Queen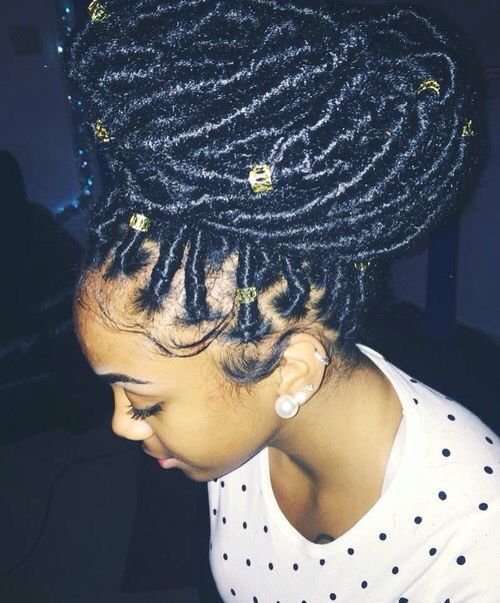 Crowning your hair with jumbo faux locs can really revamp your overall look!
Boho Do'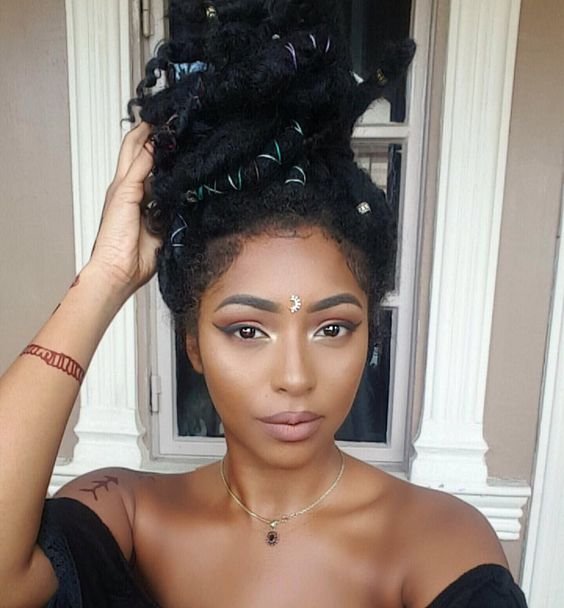 You can look stunning with your locs up in a messy super casual style. You can always freshen up your look with the right makeup and accessories.
Sun Kissed Brown Faux Locs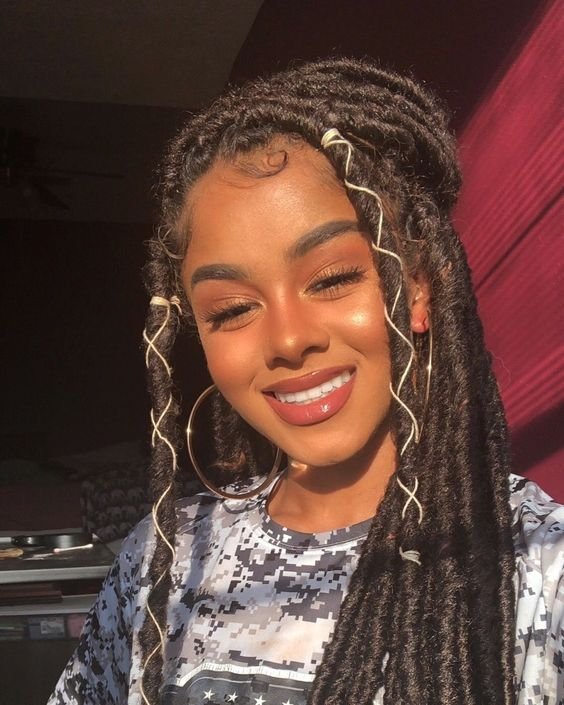 We love boho locs, and these sun-kissed brown babies look stunning, with a few pulled loosely up and the front locs accessorized with hair strings!
Half up bob locs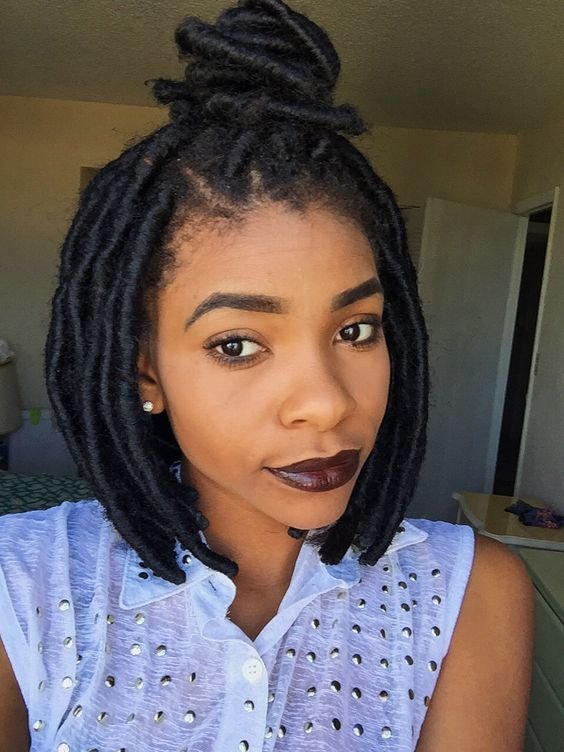 We already mentioned the bob faux locs and ho comfortable and easy style it is to maintain If you want to play with your look, simply ull it half up into a high bun or add a few beads.
Messy Faux Locs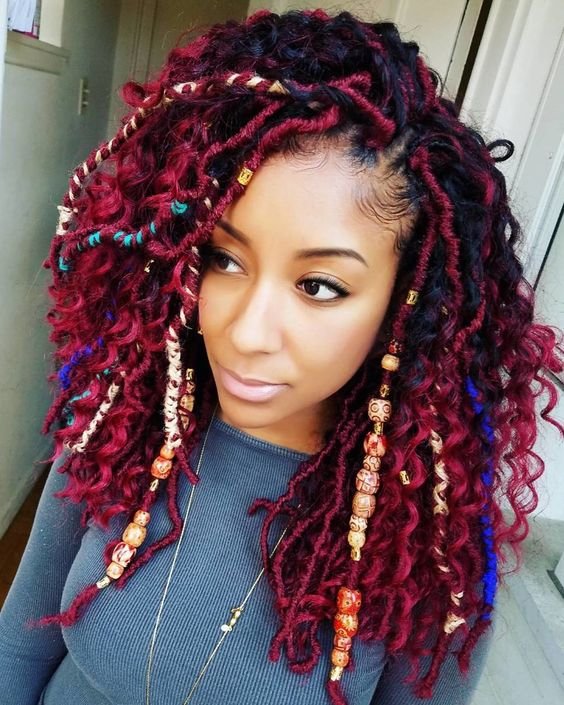 You don't have to go for a full head with locs. Youcan mix your natural curl with faux locs. This style features red ombre curls and locs with added beads and colorful hair strings.
Faux locs curly bun
A simple updo like this curly bun locs style can look super chic and will make a great comfortable daily style.
Natural locs
These locs are natural looking and pulled a bit back, creating a sexy and stylish faux locs look.
Super long locs and beads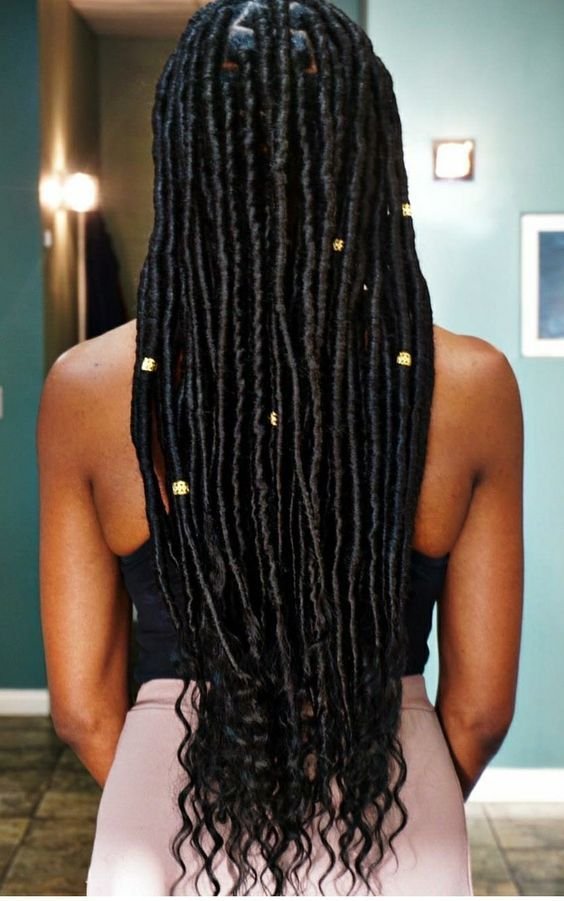 Straight goddess locs with curly ends.
Criss Cross Strings and Beads
Chunky short side-swept faux locs with colorful strings and beads.
Golden beads locs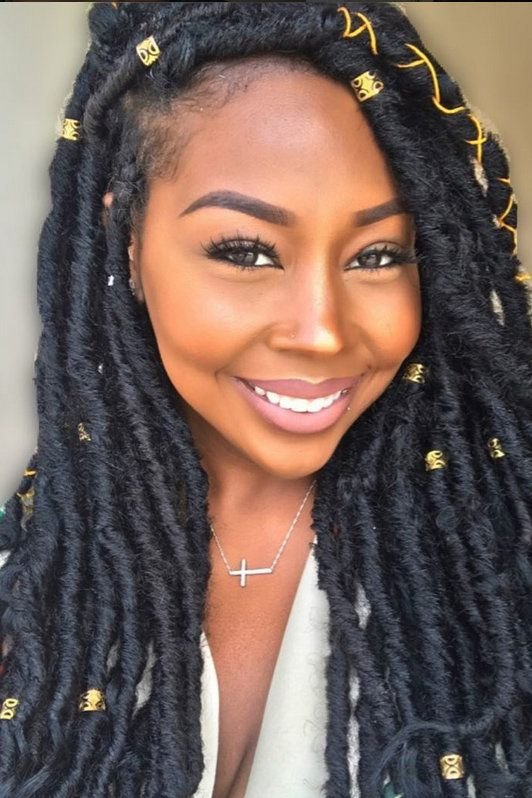 Breathtaking goddess locs with golden beads and hair strings. A gorgeous style paired with golden makeup. Love!
Elegant locs
A simple yet elegant goddess locs style with loose curly ends and baby hair.
Crochet Ponytail Boho Locs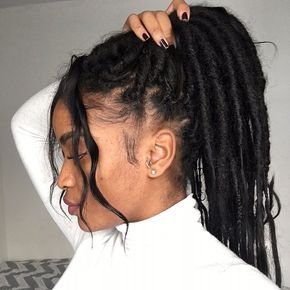 This crochet style look super cute and natural! An excellent protective style for an everyday look.
Body Wave Faux Locs
These chunky faux locs look so glamorous with the golden strings and beads!
Dark Blonde Locs
This style features a half up chunky top knot with baby hair framing her face. The dark blonde and natural makeup look so gorgeous!
Fire Red Faux Locs
Ok so if you really like something really bold and bright this fire red is a must try and will surely not gonna be missed by anyone!
Glam Long and Black Faux Locs
We are in loooove with these chunky long black locs! So chic and flawless with baby hair and this gorgeous makeup.
Blue Faux Locs
Blue is definitely a unique color and we love the combination of this deep blue and silver beads.
Brown Curly Crochet Faux Locs
Do you want your crochet faux locs to look boho like and natural? This warm brown color and curly ends look so beautiful and natural!
Half Up Locs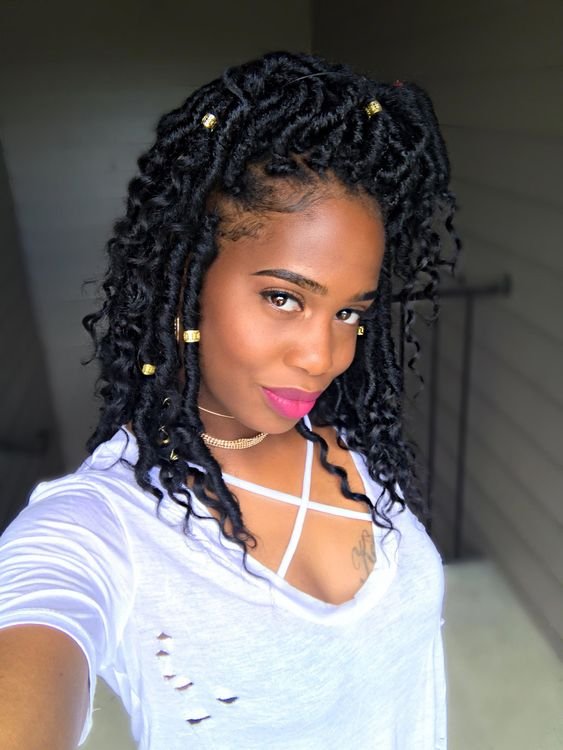 This style features black medium faux locs with curly ends half pulled at the front and decorated with golden beads. Stunning!
Super Curls Faux Locs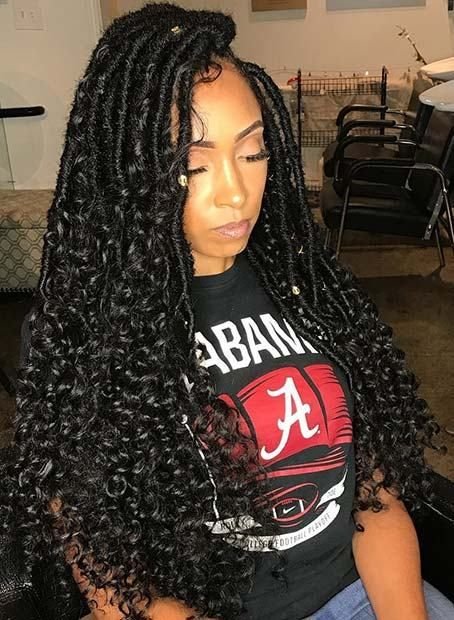 Do you like curls? Do you like Long Locs? Then you should definitely go for this voluminous eye-catching faux locs style.
Highlighted Faux Locs Half Bun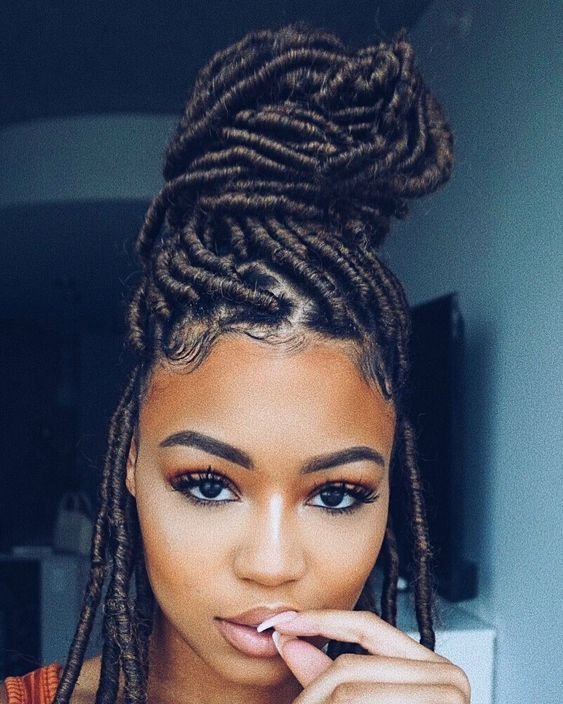 If you're looking for a unique color for your crochet locs, then you should go for something a little different like this ash brown color.
Sleek Faux Locs Half Top Knot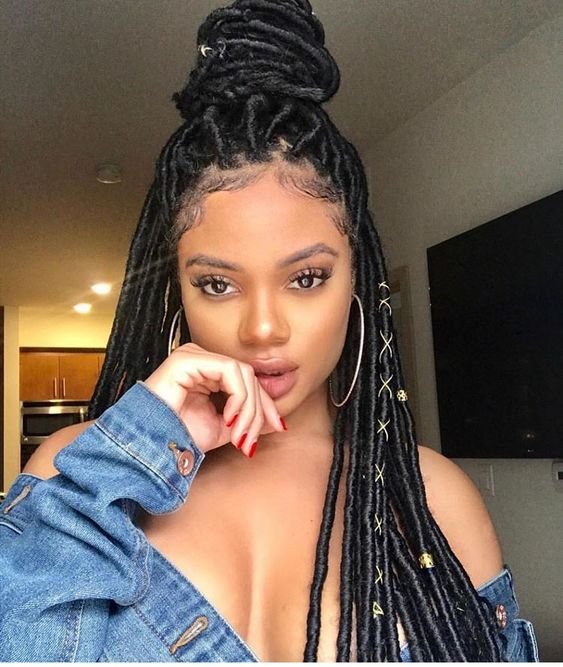 A great way to spice up your locs is by adding the right hair strings, beads and jewelry like these large basketball hula hoop earrings.
Super Blonde Faux Locs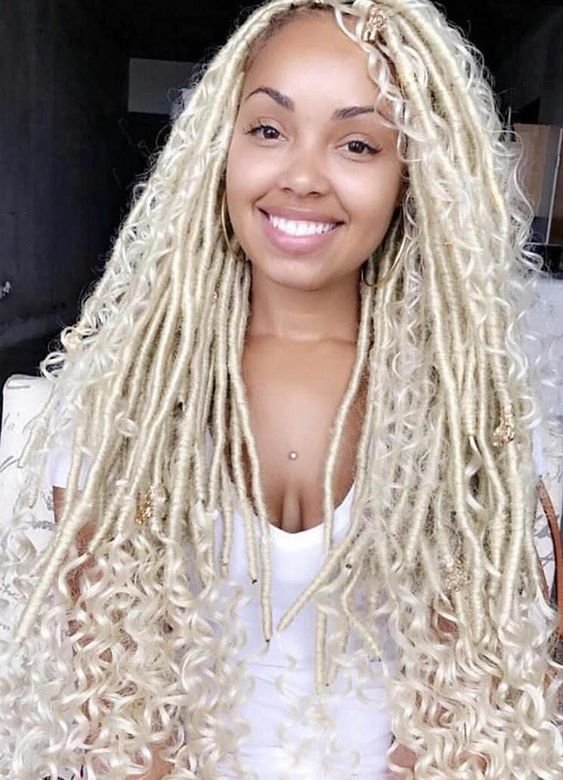 This style is a mix of platinum blonde faux locs and curls. Sooo gorgeous!
Long Boho Faux Locs
We hope you've found your next go-to faux locs style! Now you can take a look at the Faux Locs tutorials below.
Stylish Blonde Faux Locs with Kanekalon Hair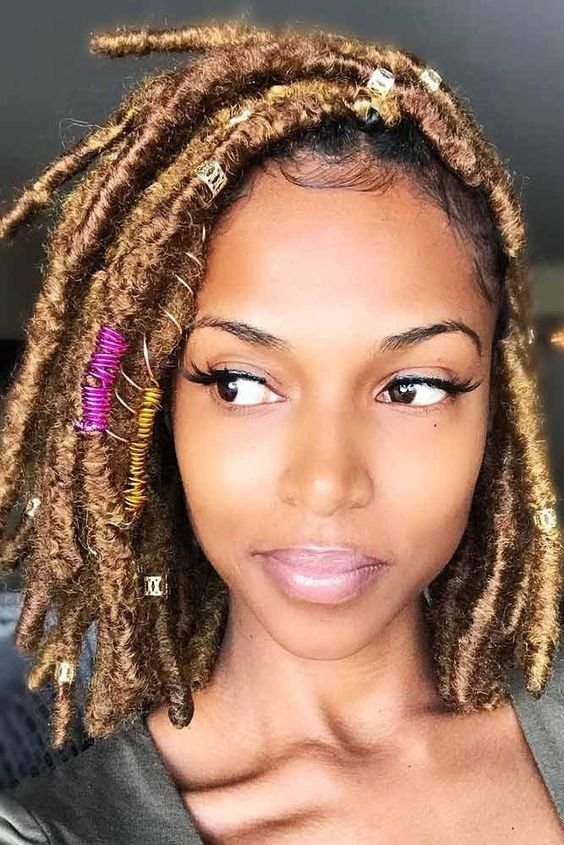 Soft Faux Locs and Curls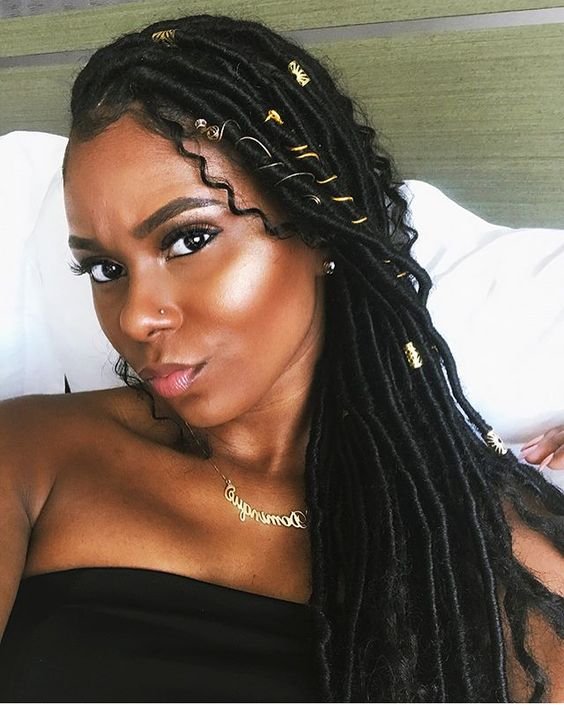 Faux Locs Updo and Pearls
Asymmetrical Bob Faux Locs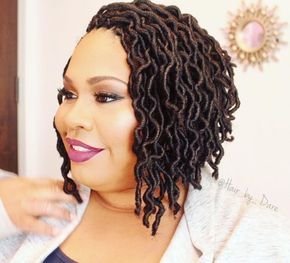 Big Half-Bun Long Faux Locs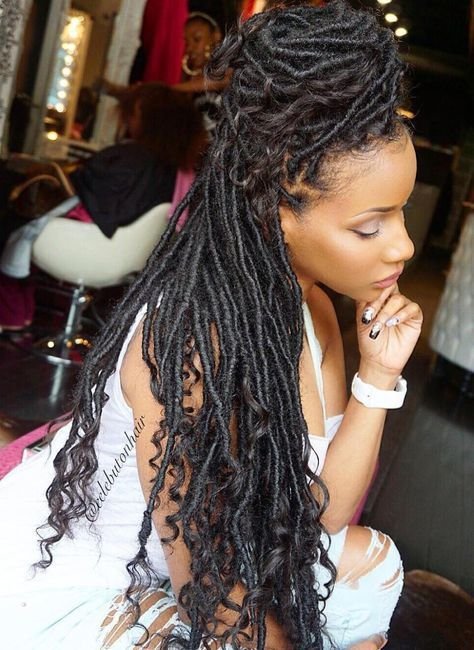 Blonde White and Purple Ombre Marley Faux Locs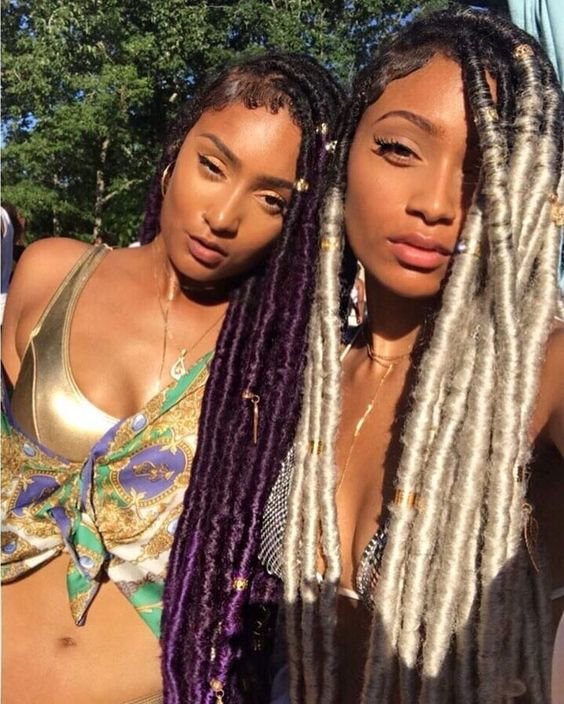 Boho Crochet Faux Locs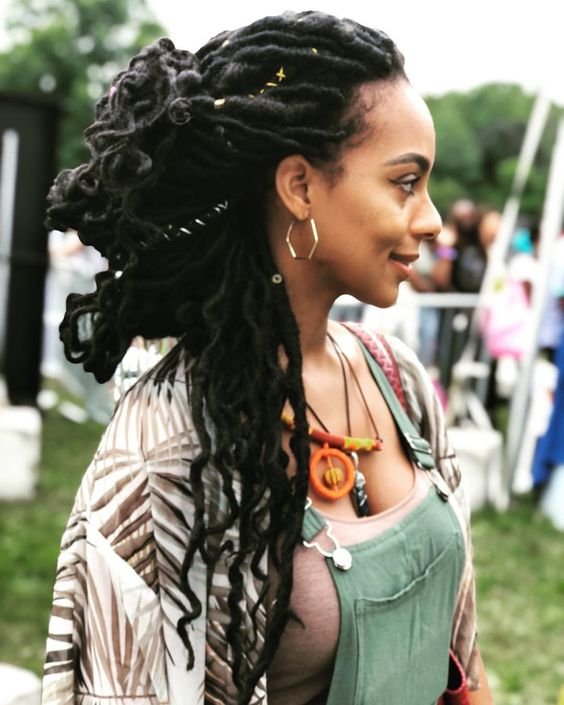 Chunky and Short Faux Locs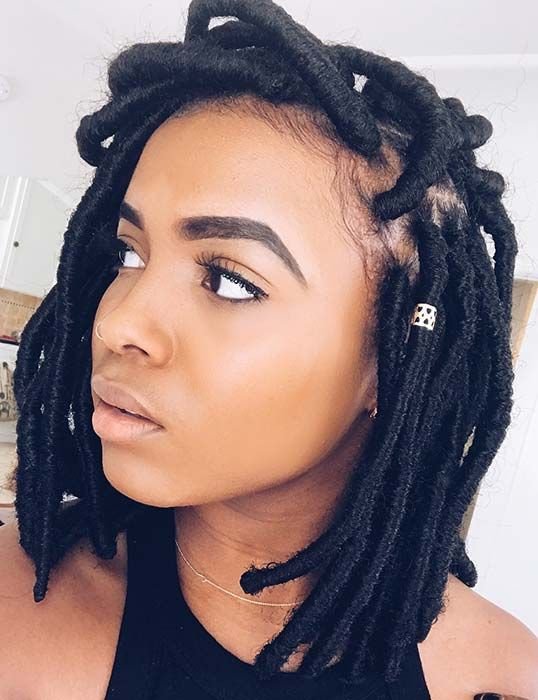 Side-Swept Chunky Faux locks Bob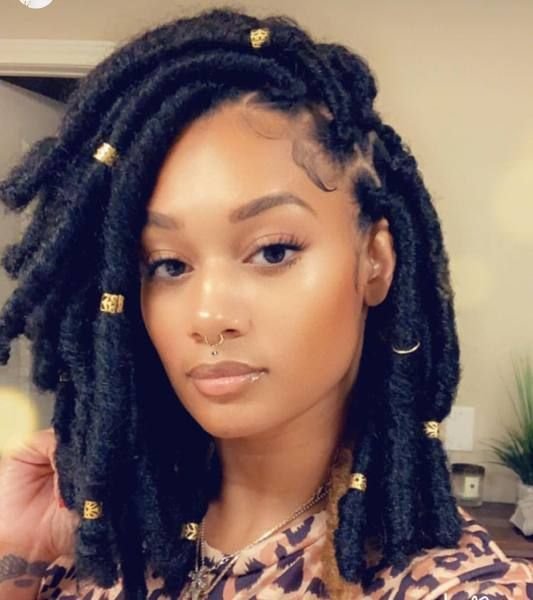 Faux Locs Pigtails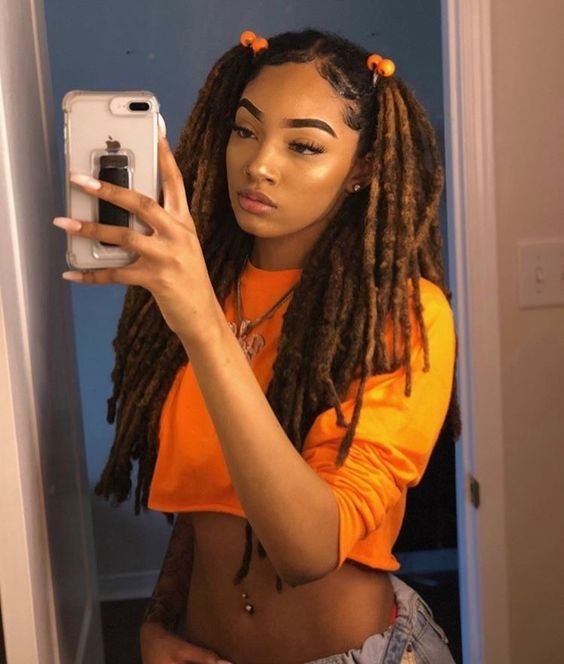 Red Faux Locs Head Wrap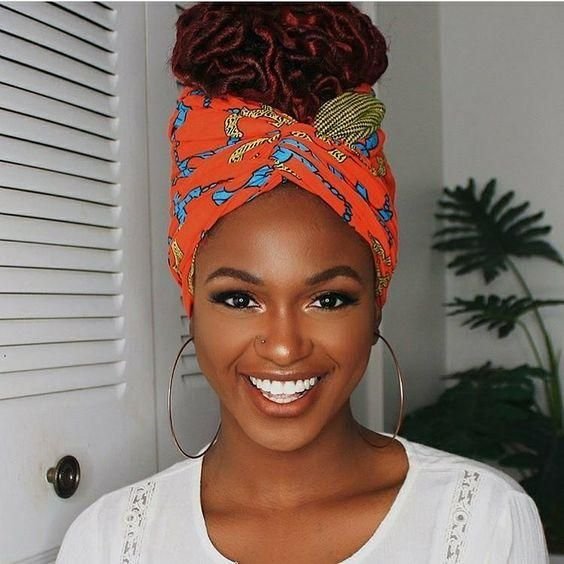 Defined Curls Goddess Faux Locs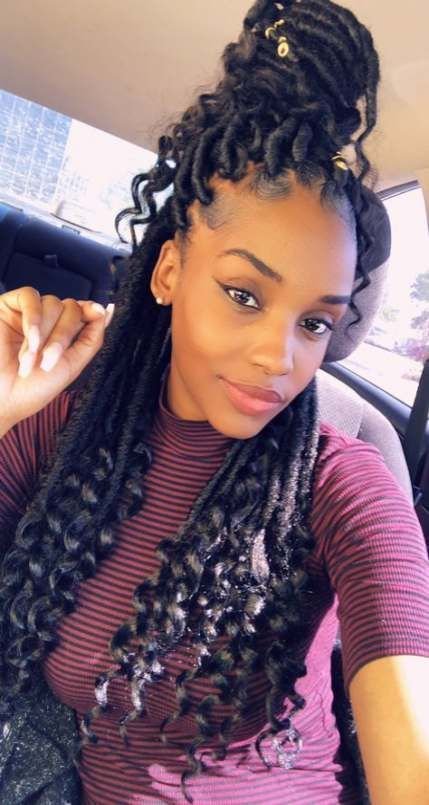 Goddess Faux Locs Pony Wrap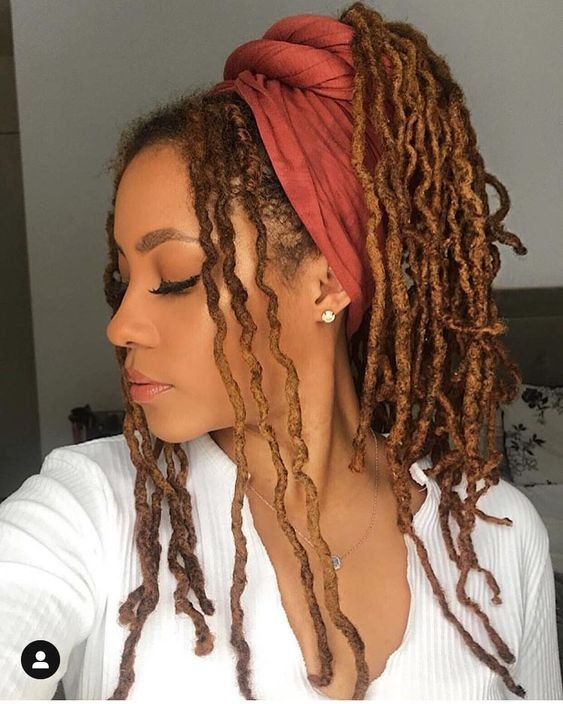 Half Up Faux Locs with Beads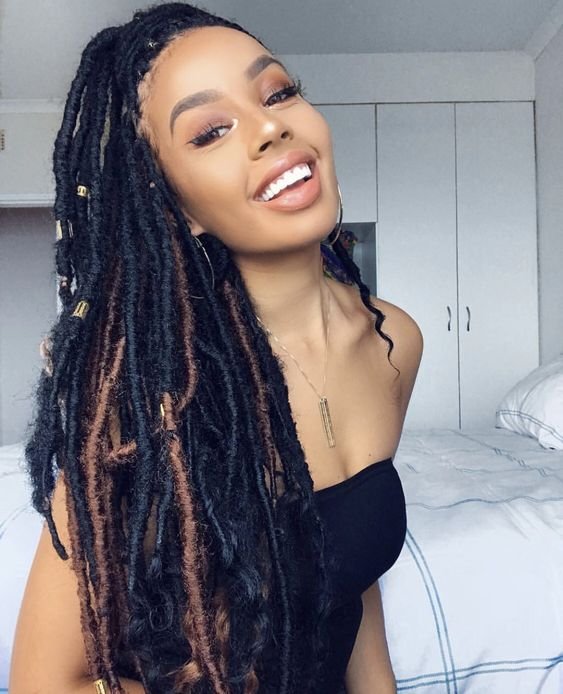 High updo faux locs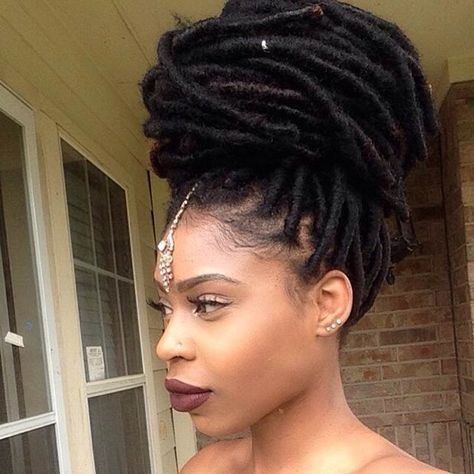 Honey brown Goddess Faux Locs messy bun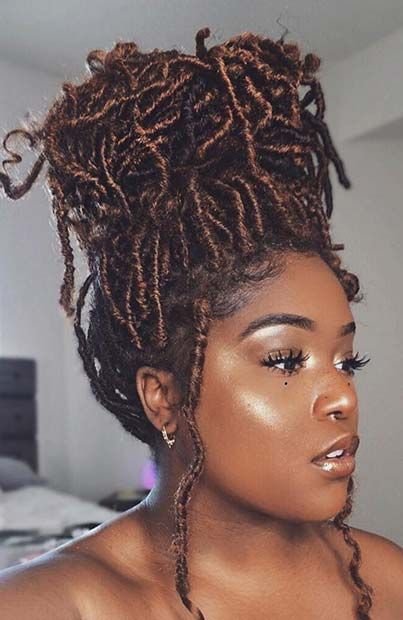 Jumbo faux locs bun
Long Curly Goddess Loc Half Up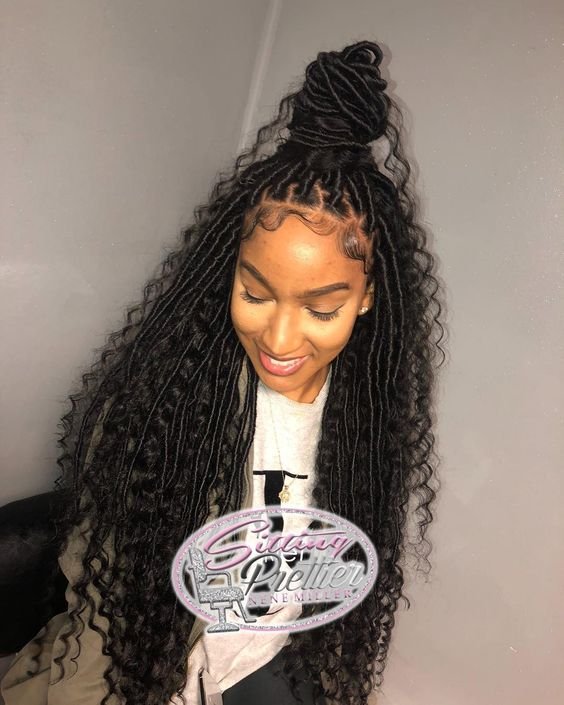 Ombre Goddess Locs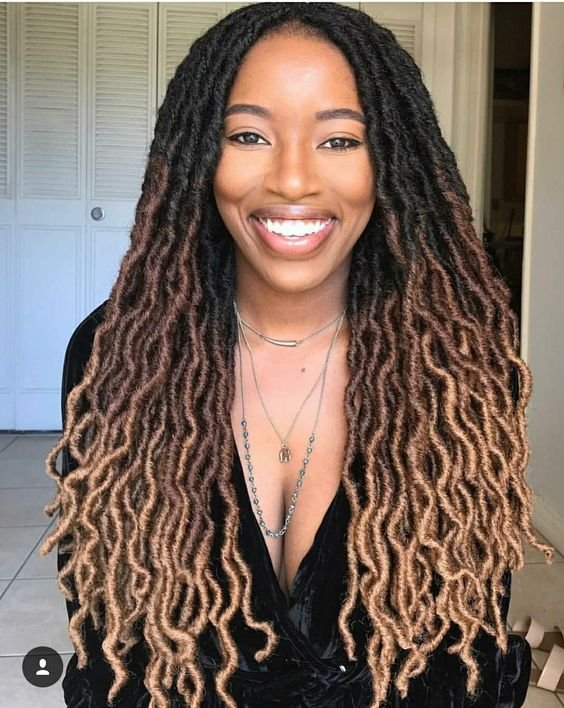 Purple Chunky Faux Locs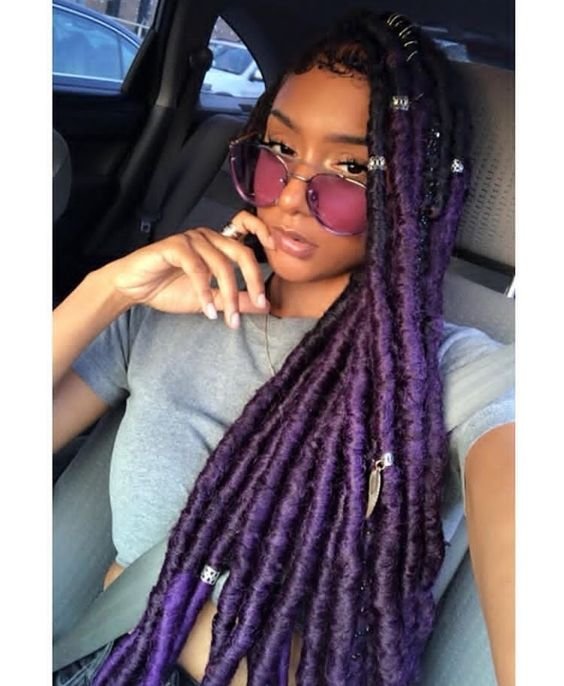 Sexy curly goddess locs with golden hair strings
Short blue pink side-swept locs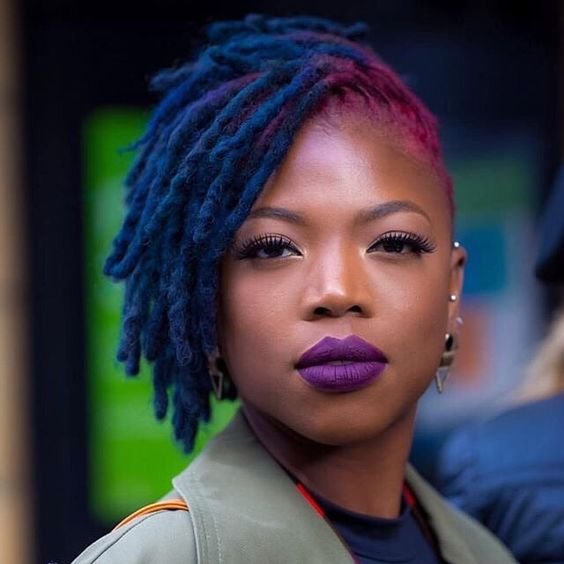 Chunky bun faux locs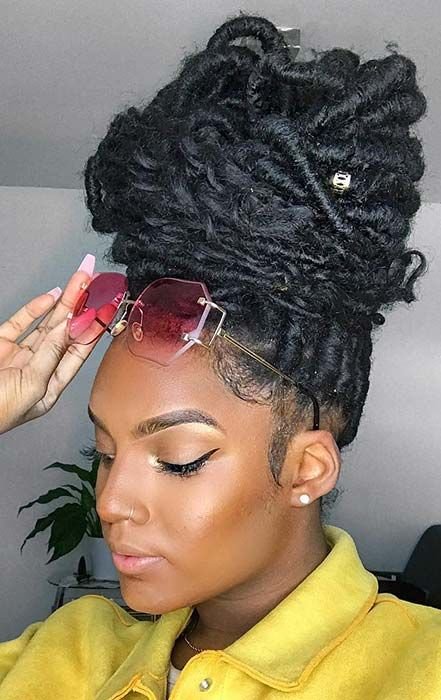 Medium Goddess Faux Locs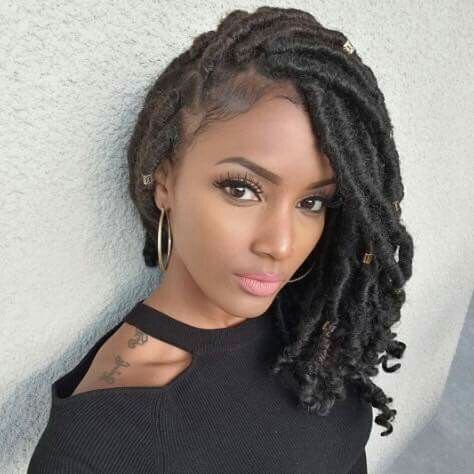 Simple faux locs style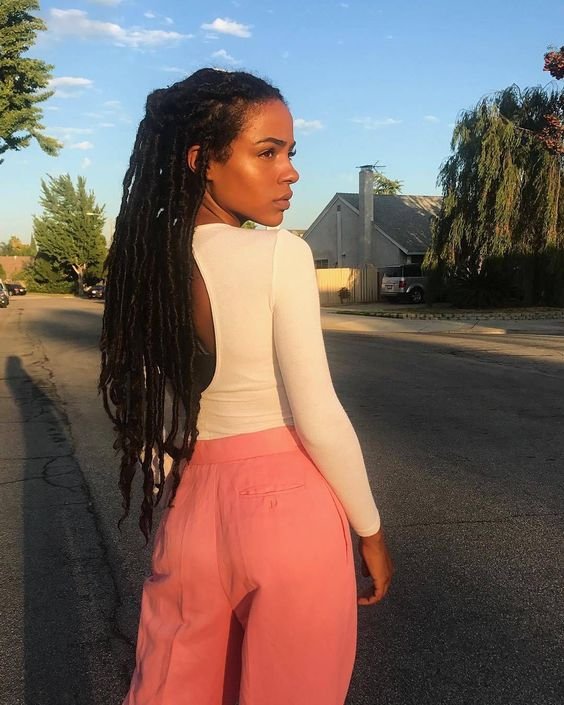 Summer faux locs headwrap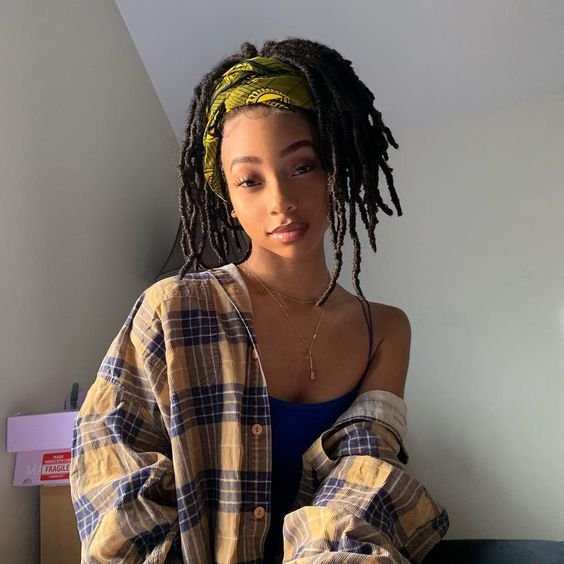 How To Do Faux Locs – Video Tutorial
Check out these simple faux locs tutorial.
How To Do Crochet Faux Locs Tutorial
This YouTube video by TheChicNatural is a great example of how to install faux locs using the individual crochet method:
[td_smart_list_end]