Cute Haircuts: 60 Best Curly Short Hairstyles
Curly hair can feel like a blessing and a curse. Your locks might not look dull and flat, but they can sometimes feel unruly and difficult to control. Although many women gravitate towards wearing their curly hair ultra long, shorter styles can help to bring more shape and structure to your textured hair. From close-cropped pixies to trendy lobs, we've gathered 60 short and curly hairstyles to prove just how many looks are possible with hair that isn't straight.
Curly Shag Bob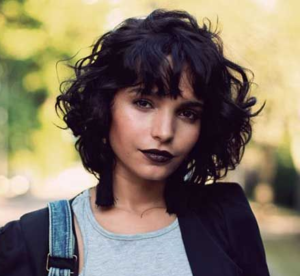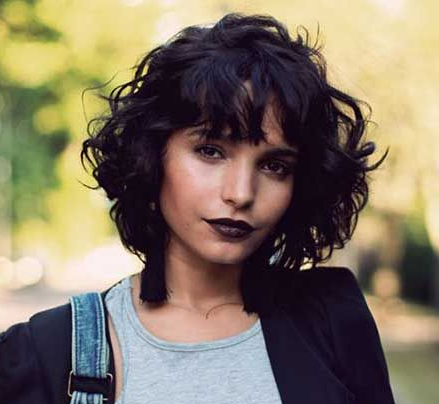 If you want a short, curly hairstyle with tons of layered sass, try this shaggy bob that's got just the right amount of retro-inspired edge. By mixing '70s shag with '80s curls, this short style manages to be a nod to the past without fully falling back into it.
Tapered Natural Curls
Some women are worried about wearing their natural spiral curls in a style that's above shoulder length, because styling hair can be more difficult when it's not long enough to weigh itself down. Going for a tapered cut that's been expertly shaped by your stylist will help to remove some of that styling anxiety, and can give you a super cute style that will actually saves time when it comes to daily maintenance.
Spiral Curls Pixie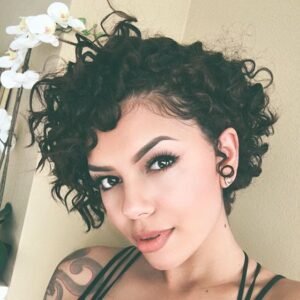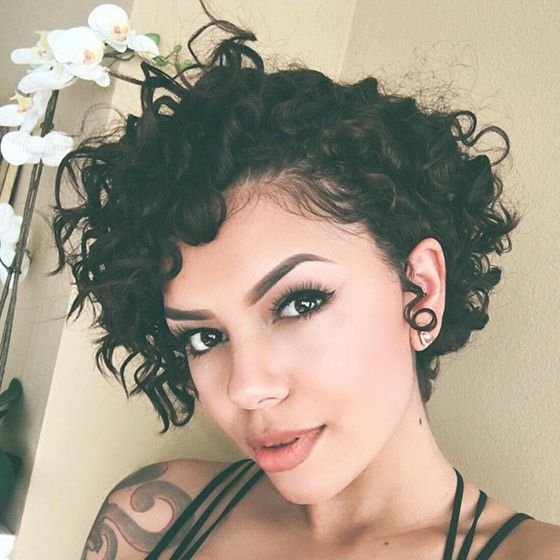 Looking for a cut that's short and feminine for your spiral curls? This long pixie/short bob hits the perfect in between length, and is tapered in all the right places to frame your face while being super easy to style.
Emerald Green Pixie
The internet is awash with fun colors in balayage and ombre styles on ultra long locks, but that doesn't mean you can't do some experimenting with a shorter style. This rich, saturated green goes all-in on the unnatural color level, and even doubles down with some funky green eyebrows.
Wavy Stacked Bob
Whether your hair has a natural wave or you've decided to add some texture using heat or chemicals, this stacked bob is the perfect length for showing off that texture without being difficult to style. Women with thicker hair will love how this hairstyle feels light and weightless at the back of the neck.
Soft Blonde Bob
If your curly hair is on the finer side, ditch the choppy layers in favor of a soft bob that's mostly cut to the same length. Although middle parts continue to be chic this year, we love a deep side part for giving your curls a casual, windswept look.
Curly Mohawk
Bring some edge to your short hairstyle with this sultry mohawk style. Shaved hair around the back and sides of the head make this look both edgy and trendy, while the softness of curls on top adds some contrasting femininity and glamour to the style.
Triangle Bob with Bangs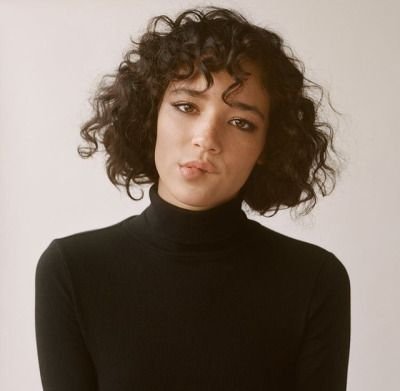 Embrace the triangle shape created by a naturally curly bob, and you'll be rewarded with a fashion-forward style that's surprisingly flattering on women with oval or heart-shaped faces. The little curly bangs in this style are especially helpful in framing your eyes or concealing a larger forehead, and help to bring some softness into this geometrically shaped bob.
Curly Undercut Pixie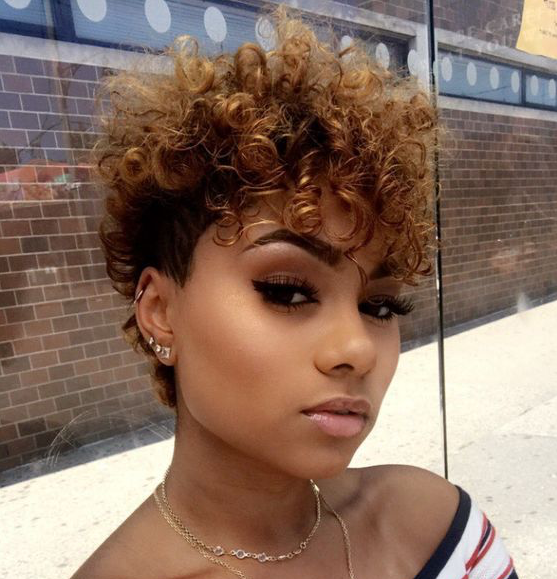 The tight sides in this pixie haircut haven't been shaved right down to the scalp, but they're short enough to create a nice contrast between the longer curls on top. If you like short hairstyles with a mohawk silhouette but want to keep it sophisticated enough for any workplace, this undercut pixie is the perfect way to wear your curls.
Raspberry Curls
This curly bob is a great hairstyle for women with textured hair who want to look stylish without spending a ton of time. Expert cutting and the right products can make this look as close to wash-and-go as it gets, and the raspberry color gives you a way to stand out without adding to your daily styling routine. Just have it touched up every 6 weeks when you go in for a trim.
Curly Top Pixie
If you're looking for a cute new way to wear your thick, curly hair, this pixie could be the big hair change you've been looking for. With hair that's kept closer at the sides and longer on top, this short hairstyle is a good choice for round faced women who are looking for some cheek-slimming definition.
Thick Curls Cut
This curly hairstyle keeps it simple, letting your thick curls speak for themselves. Some light layers in the back help to make this style more manageable, allowing you to focus any styling or taming efforts on the longer pieces up front.
Blonde Blunt Bob
A long bob is the perfect short hairstyle that anyone can pull off, while textured ends can make the cut work for a variety of hair textures. When combined with these messy, platinum curls, a side parted lob becomes the perfect rock-and-roll hairstyle.
Side Swept Curls
These side swept curls create a fun silhouette that draws the eye sideways. Give this style a try if you're looking to frame your face or minimize your forehead.
Blonde Layered Curls
With blonde color layered overtop of a medium brunette shade, this curly bob looks endlessly dimensional and full of bounce.
Curly Mohawk Updo
Looking for a new way to wear your curly bob in an updo style? This fun curly mohawk is created by pinning hair up, leaving you with a mohawk silhouette for a fancy occasion that doesn't require any shaving.
Thick Curls Pixie
If you're after a short hairstyle that works with thick curls without completely hiding them, this tapered pixie is the perfect mix of easy styling and sophistication.
Thick Bangs Bob
These thick bangs do an incredible job of framing your face, and can help take some of the weight away from thicker curly hair.
Curly Undercut Pixie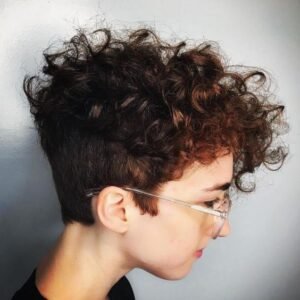 This funky undercut pixie is a great way to get your curly hair ready for a new season, and will have an instant slimming effect on your face.
Curly A Line Bob
Keep your curls looking chic and sophisticated with an A-line cut that's shorter in the back and longer in the front. This hairstyle is highly customizable, and you can go for as steep or subtle of an angle as you'd like.
Natural Curls Mohawk
Bust out the side shaves and turn your regular tapered cut into a brand new mohawk style. Not only will this seriously up the edge factor, but it'll naturally contour your face.
Modern Italian Cut
Channel Hollywood icons like Elizabeth Taylor with this modern version of the famous Italian cut. Short curls have never looked so timeless and sophisticated.
Shaggy Pixie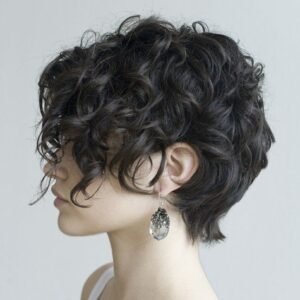 If you like a little bit of shag but aren't looking for a long style with tons of layers, this pixie is a great choice for your curly hair. Longer pieces in the front allow curls to take shape, while shorter hair in the back cuts down on your styling time.
Short Tapered Curls
This ultra short curly style is great for women who love a cut that's daring, low maintenance, and shows off their features.
Curly Layered Bob
With just the right amount of layers, this bob will keep your curls perfectly in shape, meaning you can show off your natural texture without feeling like you have to fight against it.
Side Shave Pixie
Thick curls make the perfect canvas to create this edgy side shaved pixie. Not only will the undercut help to slim your face, but it'll make washing and styling even easier.
Collarbone Length Curls
With a fairly blunt cut that lands just above the collarbone, this curly hairstyle is short enough to be chic and trendy, but long enough to tie into a ponytail on busy days.
Short Retro Curls
Anyone who loves '50s glamour will be all over these short retro curls.
Curly Pompadour
Wear your hair in these gravity defying curls if you're looking to put a modern, edgy spin on a classic men's hairstyle.
Tousled Pixie Shag
The perfect amount of messy texture makes this pixie haircut look fun and youthful with just the right dose of femininity.
Undercut Mohawk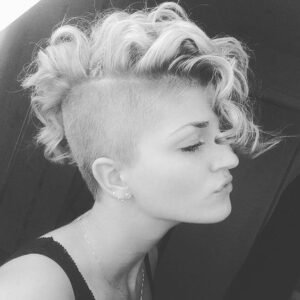 With an undercut that wraps all the way around the back and sides, this curly style has a mohawk shape thanks to longer pieces that can trail down the back of the head.
Messy Waves Bob
This tousled bob is the perfect lazy hairstyle for girls with textured hair that falls somewhere in between stick straight and spiral curls.
Tapered Kinky Curls
This short curly hairstyle has just the right amount of retro flair to bring some throwback charm without looking too caught in the past.
Curly Bob with Short Bangs
Whether your hair has a slight curl that needs a few inches of growth to develop or you like to put lazy waves in your bob, we love the contrast between the longer pieces of textured hair and short straight bangs.
Rainbow Mohawk
If a short, curly mohawk isn't unique enough for you, try coloring it with some fun rainbow shades!
Short, Curly Bob
Typically one of the first styles a woman considers when cropping her hair, the bob looks good on different face shapes and can work with any hair texture. After your cut, use a paddle brush and hairdryer to work you hair after the shower and curl with an iron as necessary.
Mixed 'n Matched
The combination of a curly, wild bob with straight cut, rounded bangs creates a beautiful frame for your face. This style is one of the most popular short curly hairstyles for women this year! Touch up your bangs with a flat iron and keep your curls bouncy with mousse and texturizer. This look is versatile and can be embellished for special occasions.
Curled Faux Hawk Pixie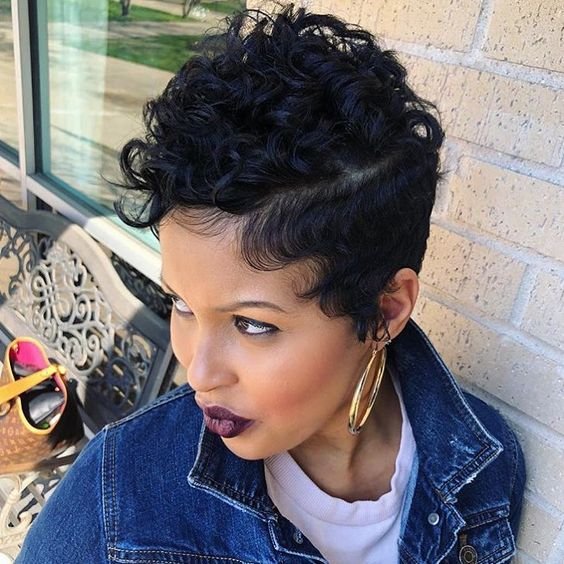 The faux hawk pixie is a very punk, rockstar 'do so only attempt if you're ready to be confident, cool, and collected. After cutting your sides, keep your top curled with mousse and a curling iron for a funky texture that pairs well with thick eyeliner and a pair of combat boots.
Slant-Cut Pixie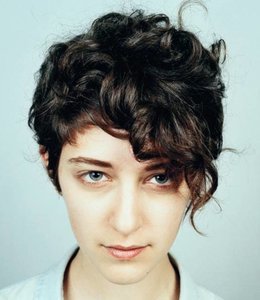 If you're looking to breathe new life into your curly pixie, have your stylist cut your bangs in a downward slant when she creates your style. Texturizer, mousse, and a curling wand are key to keeping this style. Although it requires a bit of maintenance, the payoff is one trendy style!
Red Carpet Ready Curly Hairstyles for Short Hair
Take a page from Old Hollywoods book with these sleek, retro curls. Invest in a good set of hot rollers or roll your hair before bed the previous night; release from your rollers and smooth things with hairspray and a paddle brush. Swipe on a cat eye and some red lipstick and you are good to go!
The Marilyn
Another retro look, Marilyn Monroe's signature short curls are a surefire hit for everyday glam, special occasions, or a go-to office 'do. Again, hair rollers are key to achieving this style, but ditch the brush–comb through curls with your fingertips and set with hairspray or pomade.
Technicolor Curls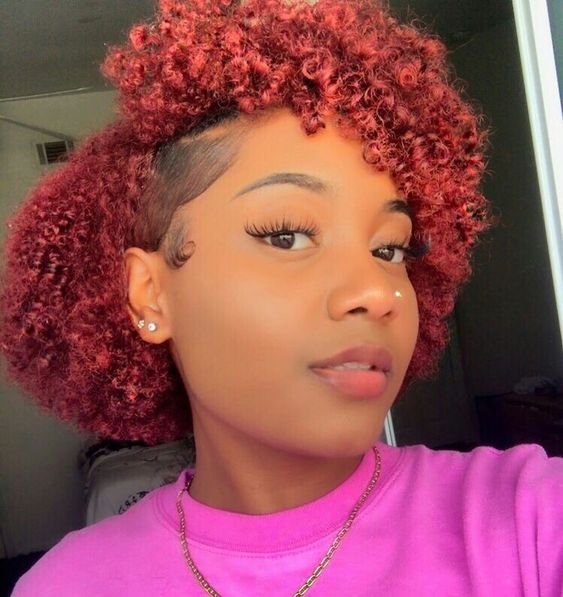 If you're really looking for a big change, switch up your color instead of your cut! A bright pink, purple, or any other color is sure to be a hit with short curls. Be careful, though: many workplaces prohibit unnatural colors, so check with your boss before heading out to the salon for your bright new 'do.
Krimped Queen
Hello, 90s! Krimping your hair is coming back in style and you can go ahead and hop on board while this trend is still rebooting. After running your hair through a krimper, use mousse and gel to style your kinky strands into loose waves (note: a low-heat curling wand will do just as well).
Curly Two-Tone Top
If the faux hawk is more your style but you want extra 'wow', color your top strands a different shade from your sides. For a real transformation, select pastel shades like this bubblegum pink and platinum blonde. Again, check with your workplace before coloring your hair.
Braided Crown Bob
Braids are no longer exclusive to long-haired ladies. To recreate this chic style, take two sections of hair and french braid along your head, pinning at the back of your hair. Style the rest of your look with a curling wand or iron and set your 'do with hairspray. This look is perfect for everyday or girls' night out!
Flower Crown Queen
Get in touch with your inner wild child with a beautiful flower crown. Play around with blossom sizes and colors to find the one that works best for you; we love the model's honey hair paired with whites and peaches. Flower crowns are great for special occasions, every day, or date nights!
Gatsby Bling
Bring back the Jazz Age with pin curls and a chic, bejeweled headband. After stepping out of the shower, set wet hair into pins against your head and either sleep on them or go ahead and heat with a blow dryer. Release the pins and comb through with your fingers, setting with hairspray; toss on a jeweled headband and you're ready to go (Pearl headbands also work well!)
Snow White Curls
Take a note from one of your favorite Disney princesses and recreate Snow White's sweet curls-and-headband look. To achieve this royal 'do, use your curling iron to create loose curls. Pull on a headband and tuck your curls into the band, tugging loose to create volume. For added bonus, select a band that has a cute bow at the top!
Short Natural Curly Hairstyles: Extreme Side Part
If you're looking for something daring that you can also wear to the office, try a deep side part with extra volume. Part your hair low on one side, then texturize the other and use a wand to create rows of loose, beautiful curls. Tease your larger side out and set with hairspray.
Stylish Side Shave
For the truly daring ladies, contact a local barber about getting a design shaved into the side of your hair–this works best with pixie cuts, undercuts, and faux hawks. Go for geometric lines like the model or design something uniquely your own. The possibilities for a side shave design are endless! For more amazing short curly hairstyles for black women click here.
Sweet Hair Bow

Any short, curly style can instantly receive a spoonful of sugar when you add a big, floppy headband into the mix. Gauzy textures and sweet patterns like polka-dots add to the whimsical, delicate feel of this style. Pair your new accessory with ringlets or soft curls for a sweeter touch.
Overgrown Sideburns
The next time you go to get your pixie trimmed, have your stylist leave your sideburns alone and grow them out an inch or so more than the rest of your hair. Wrap around a curling wand in the mornings and style the rest of your hair accordingly and you are all set to face the day! This style is perfect for busy college students or no-nonsense ladies.
Bobs 'n Bangs
Pairing a modern bob with side swept bangs is a dynamic combo. Straighten your bangs before styling and pin, then curl your sides with a wand (looser curls) or iron (tighter curls). Release your bangs and sweep to the side, then set everything with a few quick bursts of hairspray. This is another style that's incredibly versatile and can go from home to office to a party.
Sweetheart Bob
Combine overgrown bangs with finger-teased ringlets for a sweet, innocent style that creates a cute frame for your face and looks perfect with bows and headbands. To tame flyaways and keep your sweet style frizz free, try a smoothing serum or tie your hair up at night with a silk scarf.
Embellished Headband
Dress any pixie or short cut up with a decorative headband. After curling your hair, run some texturizer through your locks and then pull on an embellished headband. Play with different styles to create your own signature look–we personally love the models gauzy, feathery flower band!
Pinned Back Side
If you want a special occasion style that doesn't require hours in front of the mirror or in a stylists chair, create a deep side part and then curl your hair in ringlets. Comb through your hair and then pin the short side with a decorate barrette. Flowered or feathered pins look especially lovely with this style.
Shaggy/Overgrown Pixie
Instead of going in for routine maintenance on your pixie, let your strands grow wild and style with rollers or a small curling wand. Keep everything in check with pomade or gel. If you feel like you're starting to look more homeless than chic, have your stylist cut in some shorter layers and trim dead ends.
Choppy Chin-Length Curls
Choppy layers with a chin-length cut make a trendy 'do. Curl your hair with a wand and then spritz your locks with sea salt spray, scrunching and teasing with your fingers to add in texture. This look works well for class or every day, but you may want to choose something else for the office.
Sideswept Swoop
Lengthy, sideswept bangs add a touch of mystery to any day! Curl your bangs with a larger curling iron and then keep in place with hairspray and bobby pins (if needed). This look is versatile and works well with thick hair.
Short natural hairstyles: Retro Head Wrap
If letting your curls fly free isn't for you, invest in a retro head wrap. Gather your curls at the top of your head and tie your wrap at the base, keeping them gathered atop your head. Spray with hairspray and you are ready to face your day!
Curled wave pixie cut
Pin curls is a super chic haircut that looks so stylish on short natural haired ladies. It looks stunning and very easy to achieve and maintain.
Braided crochet style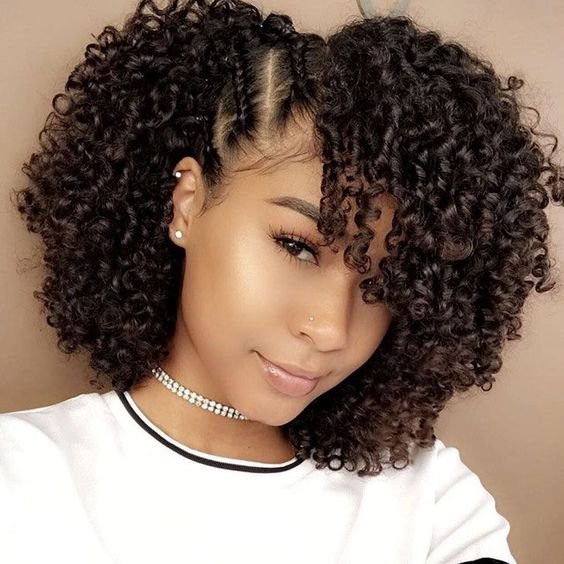 This curly crochet look super cute with the braided hair on one side! If your hair is too short you can use crochet braids to get this look.
Short Curly Highlights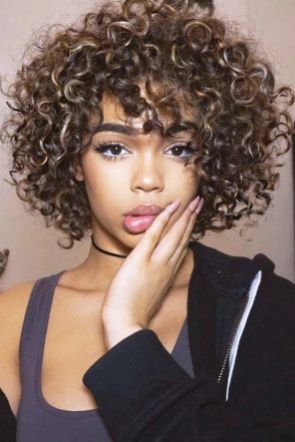 Add some chicness to your short curls by adding a bit of color or highlights.
Elegant waves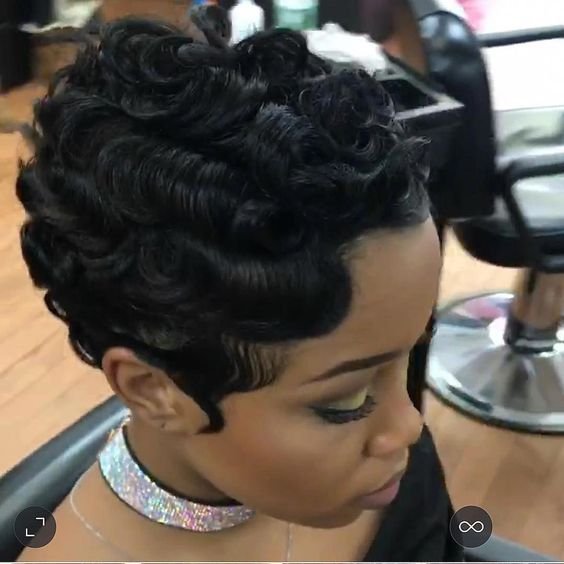 We are in love with these waves! Like we already said, Pin curls are so glamorous and they are an easy way to maintain natural black hair.
Short Spiral Curls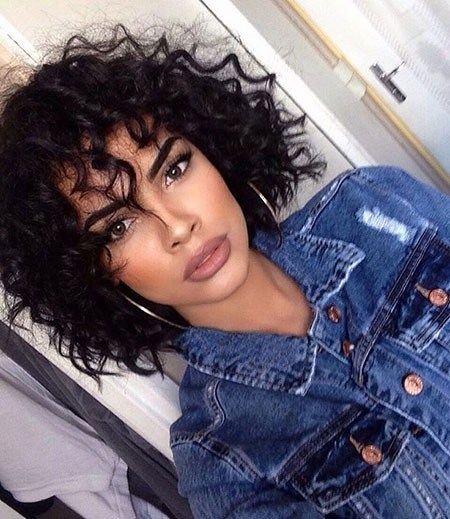 This style features messy spiral curls with bangs. This style can look perfect for the office but also for night outs and events.
Short Voluminous Curls
Curly hair looks fabulous, especially with added volume. These big defined curls are just stunning!
Curly Pixie Bangs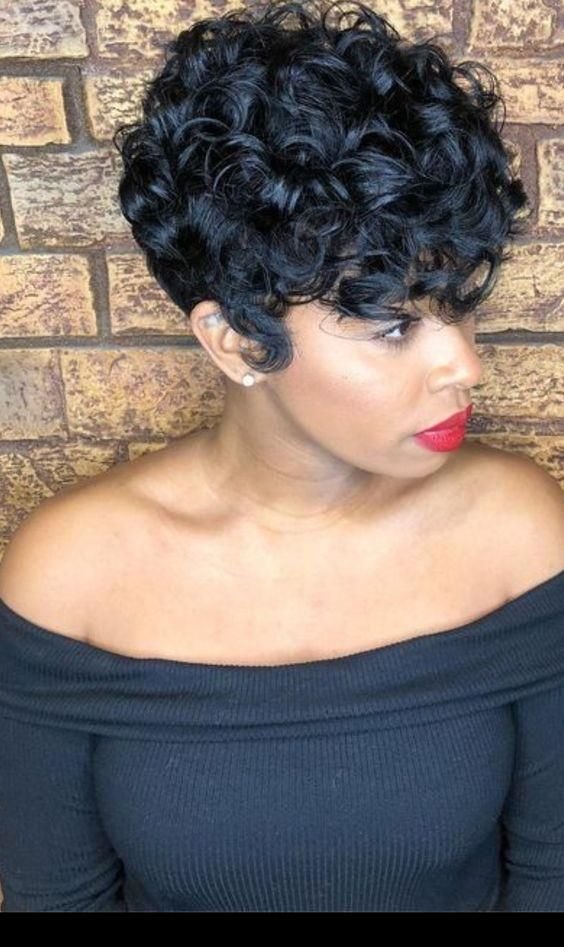 Here's a pixie cut with long side curly bangs. The curls are wide and open, creating a super chic look! Another great pixie style we love!
Bob Balayage
Balayage highlight is also a great way to add style and volume to your curls. This balayage bob cut is absolutely amazing!
Short Natural Cut
This short curly cut is simple yet so fashionable. Spice up your look with eye-catching makeup and statement earrings.
Blonde TWA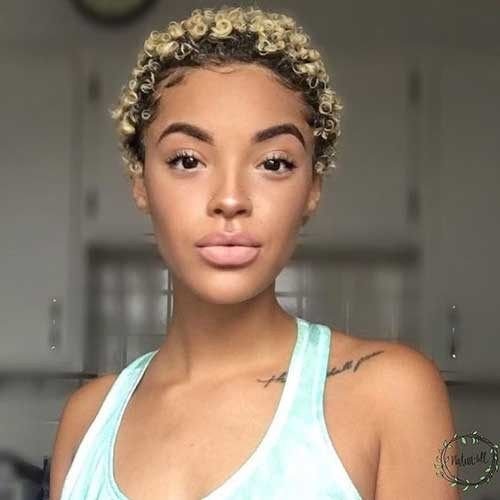 A great way to freshen your short TWA is by adding a bit of color. We love these short platinum curls!
Defined Short Blonde Curls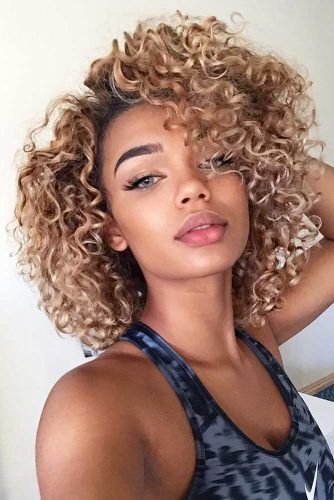 This gorgeous curly style features choppy gradual layers that add lots of volume and chicness!
Kinky Curly Pixie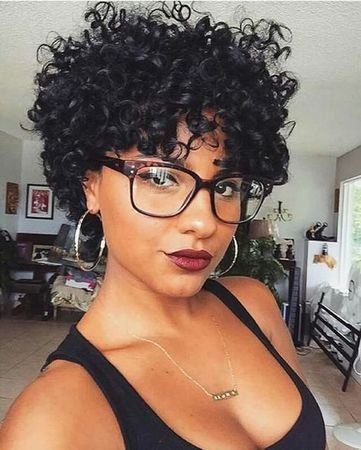 Want to own your short locs?? Pixie cut is ideal for short curly hair as it is easy to maintain and can be styled in many different ways.
Gorgeous Curly Lob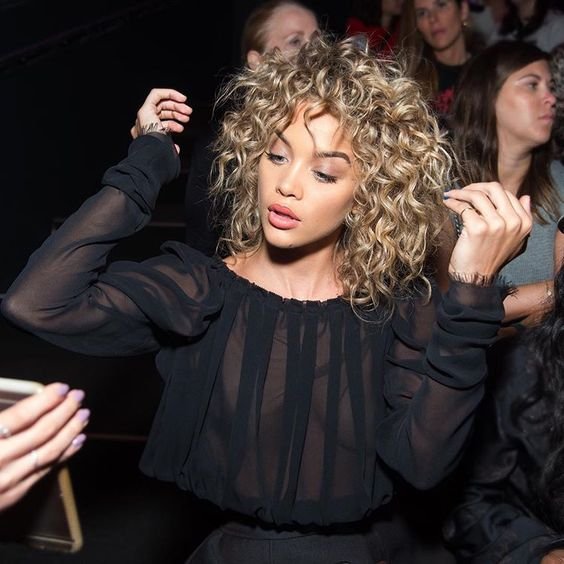 Sometimes you don't need much to create a glamorous look. Console your hairdresser whats the right length and hair color that works for you.
Teeny Weeny Afro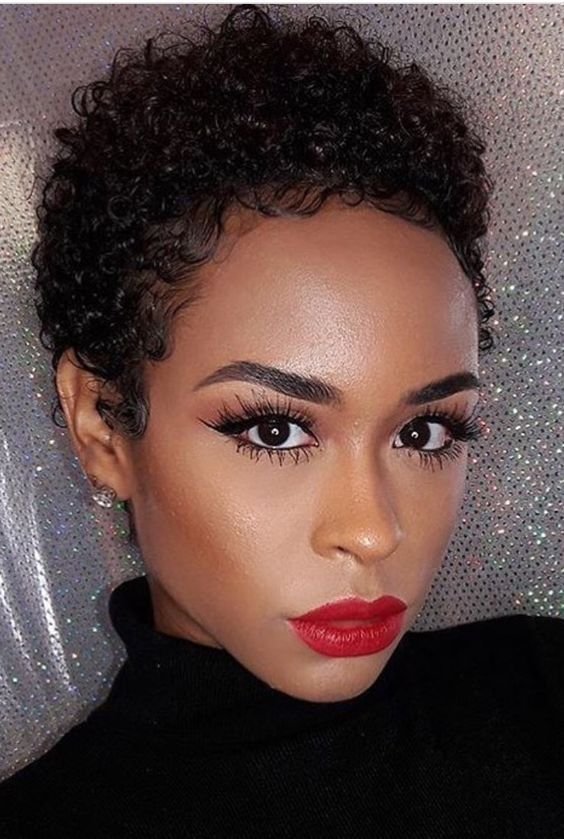 Embrace your natural coils! Teeny weeny afro is a great style to wear after the big chop and you can style it in different ways such as tapered fade or with waves.
We hope you've found your new hairstyle in our list of short hairstyles for curly hair!
[td_smart_list_end]