Brown Balayage Ideas
If you don't already know, balayage is a highlighting technique in which the dye is painted on by hand to create a natural, graduated effect that is usually lighter towards the tips. It differs from ombre in that it is not a solid color, more slices of colour over a base colour. Brown hair offers a great base for a balayage as it complements so many other colours, from the subtle to the bold. If you are thinking of updating, take a peek at some of our favourite balayage brown hair looks.
Sun-kissed Balayage

This brown hair balayage is so perfect for summer as it has a great sun-kissed. The big slices of golden blonde have a natural sun-bleached effect that is so beautiful and beachy. Gorgeous!
Silver and Ash Brown Balayage

Silver and ash brown hues have been blended together through the lengths of this dark chocolate hair to create a stunning multi-toned balayage that is so gorgeous and will work with most skin tones.
Balayage Light Brown Hair

If you have really dark brown hair and just want to give it a little life, go for a balayage in a lighter shade of your natural colour. The effect is incredibly soft and natural.
Ash Blond Balayage in Long Hair

An ash blonde balayage will look so good on hair that is a cool shade of brown. The tones complement each other, which makes for a more natural effect than if a brighter tone of blonde was used.
Chocolate Cake Balayage
Chocolate cake hair is a new colour trend for 2019 and it is simply delicious. Gorgeous chocolaty tones are mixed together to create a rich and gorgeous hair colour that looks good enough to eat.
Mushroom Balayage on Dark Brown Hair
Mushroom is a big hair colour trend for 2019 and the greyish shade of brown looks beautiful as a balayage in this dark chocolate hair. The fine slices of colour highlight the messy waves and give this hair such great texture.
Copper and Mahogany Balayage

Warm up dark brown hair for summer with a balayage in a rich and vibrant shade. This copper and mahogany balayage has really warmed up these dark chocolate locks and looks so multi-faceted when styled into waves.
Super Natural Brunette Balayage

If you want the most delicate of touches, go for a natural balayage with just a few slices of hand painted hair in a few shades lighter than your base colour. It will add some extra depth to a dark hair colour that can sometimes look a little flat.
Emerald Green Balayage

Don't feel you have to restrict yourself to a balayage in a natural colour. Just take a look at this gorgeous brunette bob that has a peek-a-boo emerald balayage. Such a unique take on the balayage trend.
On Trend Tortoiseshell Balayage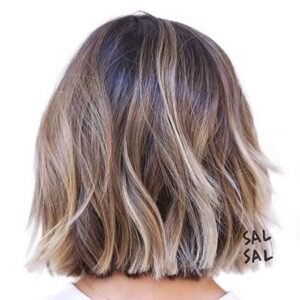 The blunt cut of this bob is absolutely gorgeous and those choppy edges are accentuated by an on-trend tortoiseshell balayage. The tortoiseshell hair colour trend involves blending caramel, honey, chestnut, and platinum highlights together to create a tortoiseshell effect.
Subtle Rose Gold Balayage
Rose gold tones are still going to be popular throughout 2019 and this balayage in rich chocolate hair is such a beautiful and subtle take on the trend. The rosy hues will really shine under natural sunlight, whilst looking a little more muted in artificial light. Gorgeous!
Smokey Honey Blonde Balayage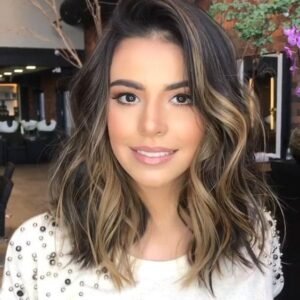 The smokey honey shade of highlights in this balayage is amazing. It complements the model's skin tone to perfection and really stands out against the deep brown shade of her lob.
Lavender and Caramel Balayage
For a more youthful and contemporary brown hair balayage, experiment with colour. Lavender has been blended perfectly through the tips of this chocolate hair thanks o some caramel highlights. So fresh!
Golden Brown Hair with Caramel Balayage
There is such a laidback and beachy vibe to this golden brown hair with caramel balayage. The natural highlights really give the hair extra depth and help to define the big, bold waves.
Short Hair with Toffee Ombre
A balayage can look really effective on short and straight hair, just look at this lovely toffee ombre on dark brown hair. It has added definition to the blunt edges, which also creates depth and the illusion of extra volume.
Chunky Mahogany Balayage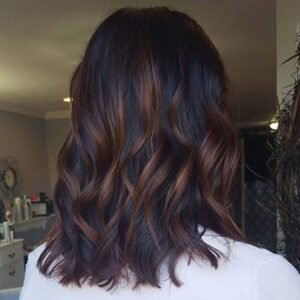 This luxurious and rich shade of mahogany looks so stunning against an almost black shade of brown. It has helped to pick out the subtle tones of the base colour as well as defining gorgeous curls. Love it!
Icy Blonde Balayage
Chunky slices of icy blonde have really lifted this dark ash brown and created such a strong contrast that is so striking. Looks amazing styled into loose curls, but will also look lovely when poker straight.
Stunning Ash Brown Balayage
Chocolate Hair with Golden Brown Ombre
Beautiful Navy Balayage
Soft Tortoiseshell Brown Balayage
Caramel and Toffee Balayage
Ash Brown Hair with Platinum Balayage
Bronze Balayage in Short Hair
Dark Chocolate with Chestnut Balayage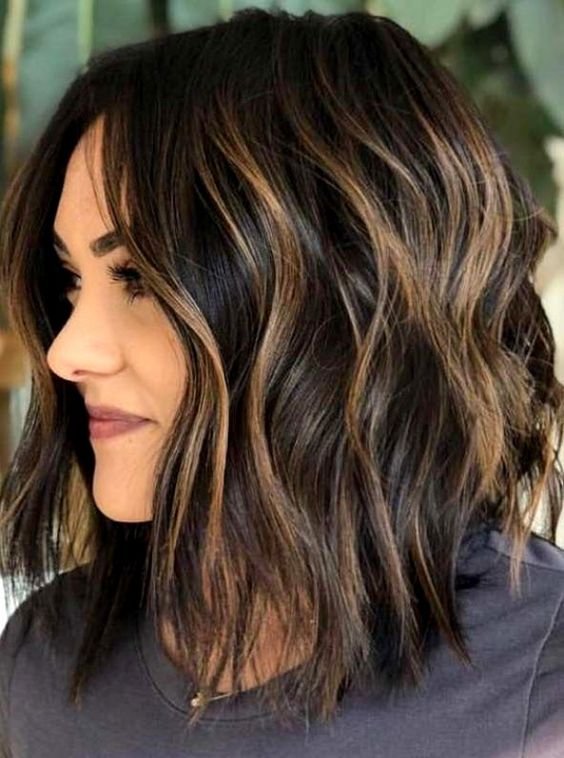 Silvery Grey Balayage
Dusky Pink Balayage
Rich and Warm Auburn Balayage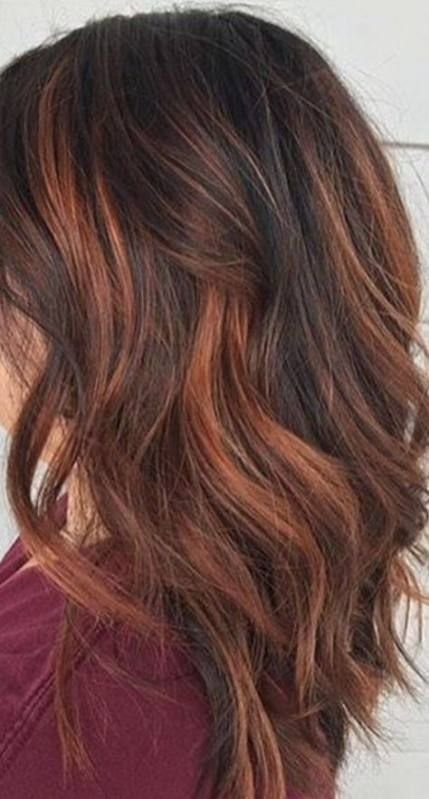 Deep Purple Balayage Dark Brown Hair
Gorgeous Ashy Balayage
Magenta Dark Brown Balayage
Toasted Coconut Balayage
Toasted Cinnamon Balayage
Bright and Sunny Balayage
Blue Lilach Brown Balayage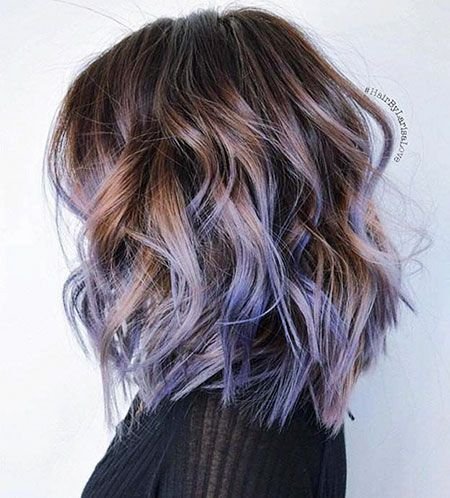 Natural Light Brown Balayage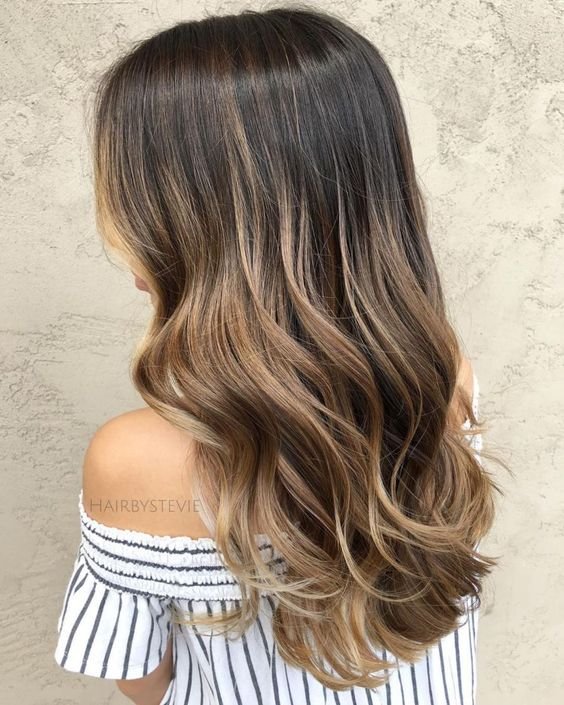 Mushroom Brown Balayage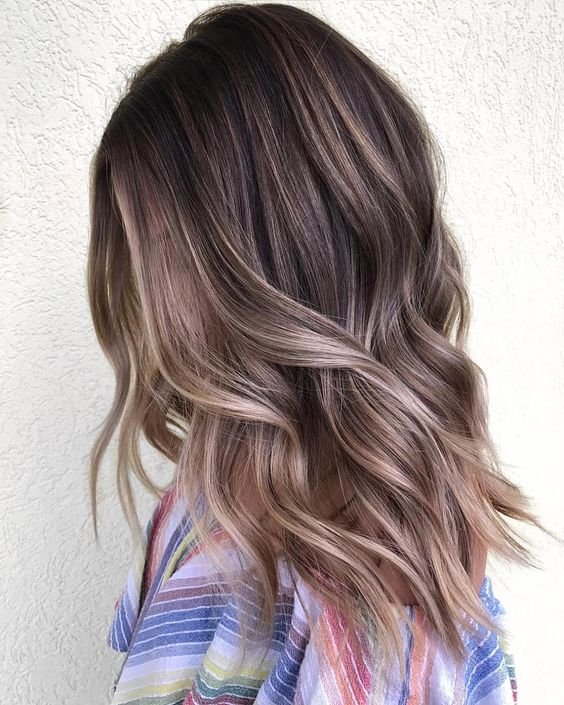 Subtle Balayage on Dark Brown
Mousy Brown Balayage Hair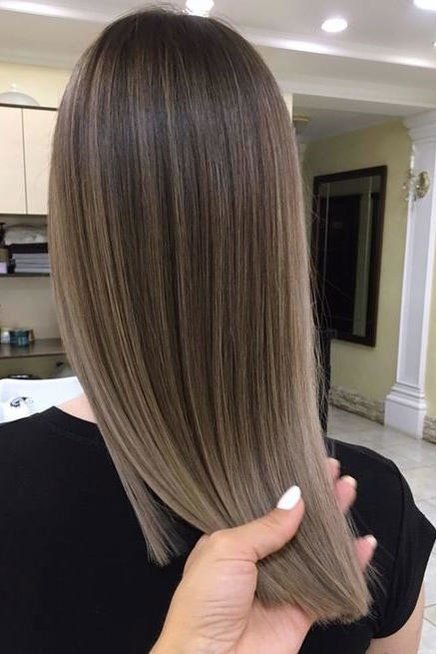 Warm Brown Balayage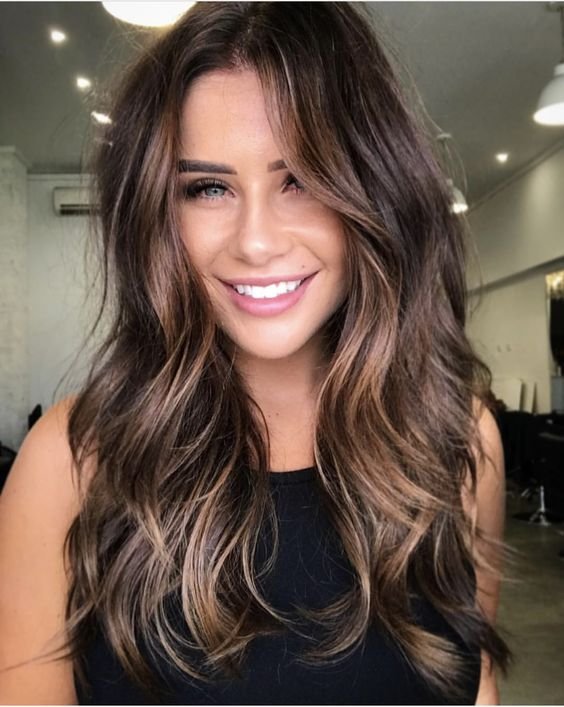 Brown On Brown
Subtle Brunette Balayage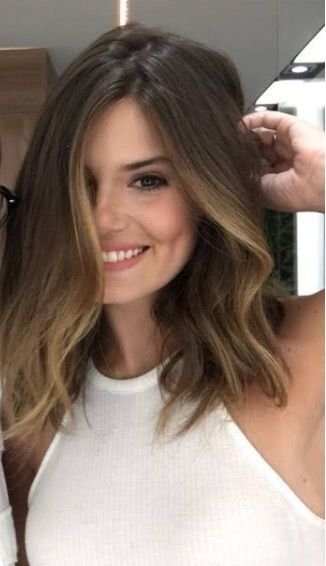 [td_smart_list_end]
There are so many great brown hair balayage looks to try out, how will you choose? If you want something more natural, choose a balayage colour that is just a few shades lighter than your base colour. Or choose a lighter blonde shade and fine highlights for that beautiful sun-kissed effect.
If you are looking for a bolder balayage, go for a colour that contrasts against your shade of brown so it really stands out, such as caramel or auburn, etc. If you want something more original, go for non-natural colours, like greens, blues, purples, and pinks for a really striking effect.
If you are on a tight budget, there are some really good at home balayage kits. They come with an applicator brush, which helps to create that naturally highlighted effect. Just be sure that you always do a patch test, as you should do with any at home hair colour.
The plus side of going to a salon for you balayage is that your stylist will be able to go through your options with you and even create a bespoke colour, just for you. Professional stylists will be super skilled at applying hair colour free-hand, so the blend between your base/natural colour and balayage shades will be so smooth.
Don't forget to invest in a good colour care regime to keep your brunette balayage looking its best for as long as possible.